For the last fifteen years, Renault Trucks has been partnering Renault's activities in Formula 1. For the 2016 season, Renault Trucks Range T vehicles, fitted with the Euro-6 DTI ...
READ MORE +
Feld Entertainment® announced today that a brand new Monster Jam® truck, the VP Racing Fuels' Mad Scientist®, will compete on the 2016 Monster Jam tour and debut on January 8 in ...
READ MORE +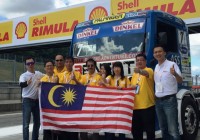 It was truly a money-can't-buy experience for the lucky winners of the recent Shell Rimula global promotion contest.The seven Malaysians; Chong Kong Jam,  Foo Kuek Hua, Gan ...
READ MORE +
Last weekend concluded the first twin-round pairing in this year's FIA European Truck Racing Championship. Two rounds on consecutive weekends — there's three more of those to ...
READ MORE +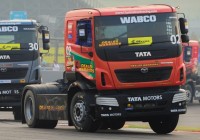 There will be 12 Tata Prima trucks on the track for this 2015 T1 Prima Truck Racing Championship, a single make truck race. The 12 Prima trucks will be representing six teams ...
READ MORE +
Barely weeks before the start of the FIA European Truck Racing Championship, some of the teams have arrived for extensive testing at the Autodrom Most in the Czech Republic. ...
READ MORE +
The partnership between Castrol and the Hahn family team has been a well-oiled machine since 2012. After two titles together in the FIA European Truck Racing Championship, they ...
READ MORE +
Date Circuit Country 24-26/04/2015  Valencia  ESP 16-17/05/2015 Red Bull Ring AUT 23-24/05/2015 Misano ITA 20-21/06/2015 Nogaro FRA ...
READ MORE +
Dakar Rally organizers held a press conference for Dakar Rally 2015 in Paris, the capital of the race's home country of France, where previously unreleased information was ...
READ MORE +
Together again, ready to fight for a place on the podium at the 2015 Dakar: Iveco and FPT Industrial will once again feature at the world's biggest rally – the Dakar – as ...
READ MORE +