Category:
Commercial Vehicles
Isuzu Malaysia is heralding another new year on an upbeat note as the brand has sealed the No. 1 position in two categories for the year 2020 - as Malaysia's No. 1 truck for the ...
READ MORE +
The new Volvo FH, Volvo FH16, Volvo FM and Volvo FMX will be the first commercial heavy-duty trucks to come with Alexa built-in. The trucks with Alexa will be available from ...
READ MORE +
In the future, every transport can be electric, and for a more sustainable world, most must. However, replacing a diesel truck with an electrified one is more than simply ...
READ MORE +
Scania Malaysia today announced that Heba Eltarifi has officially taken over as the new Managing Director of Scania Southeast Asia. She will also be based in Malaysia. Skilled ...
READ MORE +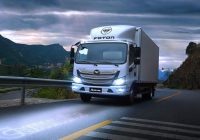 Angka-Tan Motor Sdn Bhd, the sole distributor of Foton trucks in Malaysia, has officially launched the all-new Foton Aumark S Series light-duty truck for the Malaysian market. ...
READ MORE +
Volvo Trucks Malaysia recently handed over 10 brand new Volvo trucks to Konsortium PD Sdn Bhd. The 10 trucks are part of a delivery order which comprises a total of 31 units ...
READ MORE +
Toyota and Hino Motors, together with Seven-Eleven, FamilyMart, and Lawson, have agreed to jointly consider using light-duty fuel cell electric trucks (light-duty FCETs) ...
READ MORE +
While many of us are still skeptical about how things would be in 2021, Scania has a solid reason to look forward to the New Year as the brand will be celebrating its 50th year ...
READ MORE +
In an effort to provide customers with more efficient and timelier after sales services, MAN Truck and Bus (M) Sdn Bhd has launched a new outlet in Port Klang. Located at ...
READ MORE +
In an effort to reduce carbon footprint during their day-to-day operations and to keep the environment as clean as possible, Mansang Logistics, one of Scania's most important ...
READ MORE +