Category:
Commercial Vehicles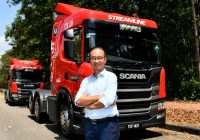 Teo Tuan Kwee Sdn Bhd (TTK) Director, Teo Chee Ben (Ben) signed the Scania Ecolution partnership agreement for 10 of its New Truck Generation prime movers at its branch office ...
READ MORE +
Mitsubishi Fuso Truck and Bus Corporation (MFTBC), recently announced the launch of its new heavy-duty Super Great truck, equipped with a Japan-first driver assistance system. ...
READ MORE +
Iveco recently launched the new Iveco S-Way, the first vehicle in the new Way heavy-duty range, in Korea for on-road missions in the Korean domestic market. Here to succeed ...
READ MORE +
Scania Malaysia recently delivered the brand's first temperature- control boxed type Rigid P250B4x2NZ New Truck Generation (NTG) in Peninsular Malaysia to Bengteng Truckking ...
READ MORE +
Hino Motors Sales (Malaysia) Sdn Bhd recently hosted a vehicle handover ceremony for its existing customer, Vertex Mission Sdn Bhd, a haulage company based in Klang. The ...
READ MORE +
Chemtrax Sdn Bhd (Chemtrax) recently took delivery of the first three units of Scania New Truck Generation. The keys to two units of the Scania New Truck Generation P410 ...
READ MORE +
 VinBus Ecology Transport Services Limited Liability Company officially opened and put into operation the first smart electric bus in Vietnam. The first electric bus lines will ...
READ MORE +
Shell and digital road freight platform Ezyhaul are partnering to further transform the Malaysian freight market. Equipped with over 60 years of global fleet management ...
READ MORE +
Hino Motors Sales (Malaysia) Sdn Bhd (HMSM) recently handed over 32 units of the HINO XZU720R-HKFRL1 midibus model to its loyal fleet customer, Majlis Amanah Rakyat (MARA). The ...
READ MORE +
After almost half a decade of working hard for business owners in Malaysia, the Daihatsu Gran Max light commercial vehicle has been finally updated for 2021, and was officially ...
READ MORE +