Category:
Commercial Vehicles
Volvo is currently testing its electric buses in warm climates as part of challenging test programmes in countries like Spain and Mexico, among other places. For example, ...
READ MORE +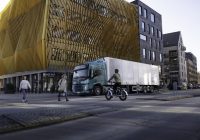 Starting on 1st July 2021, all new electric vehicles in the EU are required to emit a certain sound level when travelling at speeds below 20 km/h to make things safer, which is a ...
READ MORE +
Renault Trucks' fleet of electric trucks is being further expanded with the European launch of the D Wide Z.E. Low Entry Cab. This all-electric vehicle is equipped with a new ...
READ MORE +
Scania Malaysia today announced that its customer in Sarawak, Mansang Logistics Sdn Bhd (Mansang), is the company responsible for safely transporting the Covid-19 vaccine to ...
READ MORE +
Daimler today announced that it has now delivered more than 250 units of the all-electric Fuso eCanter truck around the world since the beginning of small series production in ...
READ MORE +
All Hyundai Grand Starex registered from May 1st  in Malaysia are now pre-installed with a Telematics System for enhanced driver and passenger safety should there be any untoward ...
READ MORE +
Two fully electric Mercedes-Benz eCitaro urban buses have covered a combined 200,000 kilometres within the space of exactly one year of tough regular-service operations, proving ...
READ MORE +
Volta Trucks has confirmed the appointment of CPC Group, Europe's largest composite manufacturing company, to develop and supply the sustainable and recyclable composite exterior ...
READ MORE +
At the end of last year, the Mercedes-Benz Sprinter Panel Van and Chassis Cab variant with rear-wheel drive were given a new and more powerful OM654 four-cylinder diesel engine. ...
READ MORE +
Remember the Nissan Frontier pickup truck we had like a decade ago? Nissan has officially started production of the latest all-new 2022 version of the Frontier at ...
READ MORE +