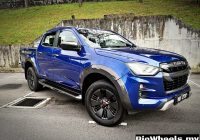 From purpose-built workhorses, pickup trucks have evolved into stylish lifestyle vehicles that many owners buy just to look cool. In fact, some manufacturers have even released ...
READ MORE +
When the folks at Suzuki Malaysia contacted me to inform that the 2021 Suzuki GSX-R1000 was ready to be reviewed, I wasn't really looking forward to it because superbikes were ...
READ MORE +
After many quiet years in Malaysia, the Hyundai brand came back with a bang in 2021, releasing product after product in various segments  beginning from the Sonata, followed by ...
READ MORE +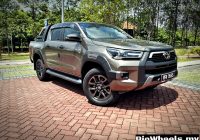 Malaysia is currently in the midst of recovering from arguably the worst flooding the country has seen in decades, with more than 20 deaths and thousands of destroyed homes. ...
READ MORE +
When one mentions "Japanese middleweight naked bike" in Malaysia, the first couple of bikes to pop-up in our minds are probably the Kawasaki Z800 or the Yamaha MT-09, as there ...
READ MORE +
Out of all the new cars that were launched in Malaysia throughout 2021, the model that impressed me the most was not a Porsche, not a Mercedes-Benz or a BMW, or any other premium ...
READ MORE +
Having been around for three years now, the Modenas Dominar D400 has gone through a midlife model change in Malaysia with a few discreet upgrades. So, in order to find out if ...
READ MORE +
The pickup truck segment in Malaysia recently welcomed a newcomer in the form of Angka-Tan Motor's all-new JMC Vigus Pro 4×4, which we spent a couple of days with in ...
READ MORE +
When Hyundai first revealed the Hyundai Staria via a Digital World Premiere back in April 2021, I was very much impressed with what I was looking at, as the MPV looked like it ...
READ MORE +
Let's face it – SUVs have taken over the world. Now that we have models ranging from as low as RM59,000 all the way to your Bentley Bentaygas and Rolls-Royce Cullinans, eight out ...
READ MORE +