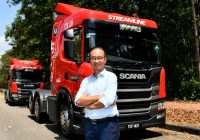 Teo Tuan Kwee Sdn Bhd (TTK) Director, Teo Chee Ben (Ben) signed the Scania Ecolution partnership agreement for 10 of its New Truck Generation prime movers at its branch office ...
READ MORE +
Michelin Malaysia recently kicked off its first-ever Michelin Virtual Racing Series 2021, an e-Racing competition that runs across June and July, with time trial submissions ...
READ MORE +
After a series of teasers on its social media platforms over the past week or so, Volkswagen Passenger Cars Malaysia (VPCM), the sole distributor of Volkswagen vehicles in ...
READ MORE +
The Renault Zoe E-Tech has set a new hypermiling record by covering a phenomenal 765 km on a single charge. Mission Motorsport, which aids in the recovery of those who have ...
READ MORE +
Volkswagen Commercial Vehicles has revealed the all-new Multivan, featuring a fresh design, more flexible interior, improved connectivity, and, for the first time, a plug-in ...
READ MORE +
Lexus announced the world premiere of the all-new NX, the first model of Lexus' next-generation range. Based on the "Lexus Electrified" electrification vision, the new NX will ...
READ MORE +
Hyundai-Sime Darby Motors, the sole distributor of Hyundai vehicles in Malaysia has launched 'Cl!ck To Buy', Hyundai's online shopping platform via its website, in an effort to ...
READ MORE +
BMW has given the BMW X3 and the BMW X4 a comprehensive refresh, featuring a new look, improved equipment and a range structure which has been optimised for customers. The ...
READ MORE +
The folks at Honda in Japan decided to launch a teaser page on the brand's company website yesterday to release initial information on the all-new Honda Civic Hatchback which is ...
READ MORE +
Geely Design Shanghai presented a new design vision derived from Geely's "Expanding Cosmos" design philosophy, called the Geely Vision Starburst. According to Geely, the ...
READ MORE +