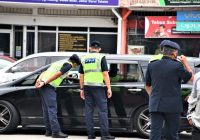 The Road Transport Department (JPJ) yesterday issued an official statement announcing that all road users must renew their permits, licenses, and road tax by the 30th of ...
READ MORE +
Proton today launched the new 2022 Proton Iriz and Persona, offering updated design elements plus enhanced features. Prices are as mentioned below: What is new? On the ...
READ MORE +
GoCar has launched GoCar Garage – a new digital one-stop car service and maintenance solution available via the GoCar mobile app. GoCar Garage aims to address an unmet need in ...
READ MORE +
Sime Darby Auto Performance (SDAP) has introduced the Porsche 911 Targa 4S Heritage Design Edition, a state-of-the-art 911 with design elements influenced by the '50s and '60s. ...
READ MORE +
Sime Darby Auto ConneXion (SDAC), the sole distributor for Ford in Malaysia, is offering a two-year free service package to new owners of selected Ranger models. The two-year ...
READ MORE +
Tan Chong Motor Holdings Berhad (TCMH) has recently launched its first ever TC COVID-19 Vaccination Programme for its employees nationwide, enjoining the national efforts in ...
READ MORE +
Honda Malaysia has collaborated with Honda Malaysia Suppliers Club (HMSC) to extend support to Malaysians in need during this challenging time by helping the local communities in ...
READ MORE +
Volvo is currently testing its electric buses in warm climates as part of challenging test programmes in countries like Spain and Mexico, among other places. For example, ...
READ MORE +
Honda today released initial information on the new limited production NSX Type S, which is scheduled to be officially introduced before the end of the month.  According ...
READ MORE +
Up until yesterday, nobody in Malaysia (OK, maybe a few) knew about this event in the UK called the Hagerty Festival of the Unexceptional a.k.a the Concours de l'Ordinaire. ...
READ MORE +