In an effort to make servicing cheaper and more convenient for customers, UMW Toyota Motor (UMWT) has introduced the Toyota Service Savers (TSS), a maintenance package which can ...
READ MORE +
Hap Seng Trucks Distribution yesterday took the wraps off the all-new 2020 Mercedes-Benz Actros Prime Mover. Priced between RM360,000 and RM480,000 for the truck alone, ...
READ MORE +
Isuzu Malaysia has just launched a special limited edition variant of the pickup truck called the D-Max Stealth Edition in conjunction with the model's 15h anniversary in ...
READ MORE +
Malaysian car sales continued to rebound in July as a combination of tax free incentives and consumer demand pushed Total Industry Volume (TIV) to a 13 month high. As ...
READ MORE +
Truck Venture Sdn Bhd, a new Isuzu Malaysia authorised dealer, has successfully made its first handover recently. An official handover ceremony was held at their showroom in ...
READ MORE +
UMW Toyota Motor Sdn Bhd announces order taking open for the new improvement to the 2020 Toyota Hilux, enhancing the value of Malaysia's best-selling pick-up truck. Estimated ...
READ MORE +
Volvo Car Malaysia recently launched a new 3S (Sales, Service & Spare Parts) centre in Kota Kinabalu, Sabah. Sebangga Mitsinbo Sdn. Bhd. joins Volvo Car Malaysia's network ...
READ MORE +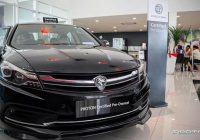 Yes they do, and it is called the Proton Used Car Management Network (UCM). For those who are not aware of it, the initiative was introduced last year with a pilot project ...
READ MORE +
Just a couple of weeks after images of the 2020 Mitsubishi Expander which was spotted in Malaysia broke the internet, Mitsubishi Motors Malaysia announced that the seven-seater ...
READ MORE +
The battle of the B-segment is about to get heated once again with the arrival of the 2020 Honda City. While the Toyota Vios is having a good time raking in sales with the ...
READ MORE +