Category:
Commercial Vehicles
Mitsubishi Fuso Truck and Bus Corporation (MFTBC), has unveiled a new model of the light-duty Rosa bus. The new Rosa comes with the BusConnect telematics function, which ...
READ MORE +
Volvo Trucks recently made an announcement that it has agreed to acquire JMC Heavy Duty Vehicle Company in China. JMC Heavy Duty Vehicle, which is a subsidiary of Jiangling ...
READ MORE +
Mercedes-Benz has unveiled the new 2021 Citan van, which is available as both Panel van and window van. Design wise, the Citan features muscular shoulders and striking wheel ...
READ MORE +
After the Corolla GR Sport, GR Supra, and the GR Yaris, Toyota has launched its fourth Gazoo Racing (GR) model in Thailand – the Toyota Hilux Revo GR Sport. The Hilux Revo-GR ...
READ MORE +
Mitsubishi Fuso Truck and Bus Corporation announced that Truong Hai Auto Corporation (THACO), the general distributor of FUSO products in Vietnam, has donated 126 Canter trucks ...
READ MORE +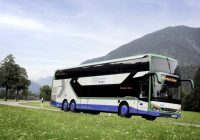 Munich-based Geldhauser Linien- und Reiseverkehr is currently supporting a pilot project initiated by the German Alpine Club (DAV), with eight Setra double-decker coaches. The ...
READ MORE +
Volta Trucks has confirmed the start of engineering evaluation and development testing of the first Volta Zero prototype in Nuneaton, UK. The start of testing follows soon ...
READ MORE +
Hyundai-Sime Darby Motors (HSDM) has launched its Hyundai Grand Starex Smart Lease Programme in partnership with Sime Darby Rent A Car (SDRAC), offering corporations, businesses ...
READ MORE +
On 18 August 1896 Gottlieb Daimler presented the very first motorised truck in the world, which was sold by Daimler to British Motor Syndicate, an automobile company in London. ...
READ MORE +
Sweden's first hydrogen-powered Scania refuse truck has recently started work on the streets of the country's second largest city, Gothenburg. The business of garbage collection ...
READ MORE +