Nittsu Transport Service is First Malaysian Fleet to Sign Up for Scania Ecolution
Nittsu Transport Service (Nittsu), a wholly-owned subsidiary of Nippon Express (Malaysia) Sdn Bhd became the first international truck fleet in Malaysia to sign up for Scania Ecolution as part of the company's commitment towards reducing its carbon footprint.
In an official signing ceremony held at Nittsu's office in Balakong, Director of Nittsu, Billy Tee also received the delivery of five Scania New Truck Generation G360A4X2NA. The keys to the Scania trucks were handed over by Managing Director of Scania Southeast Asia, Marie Sjödin Enström.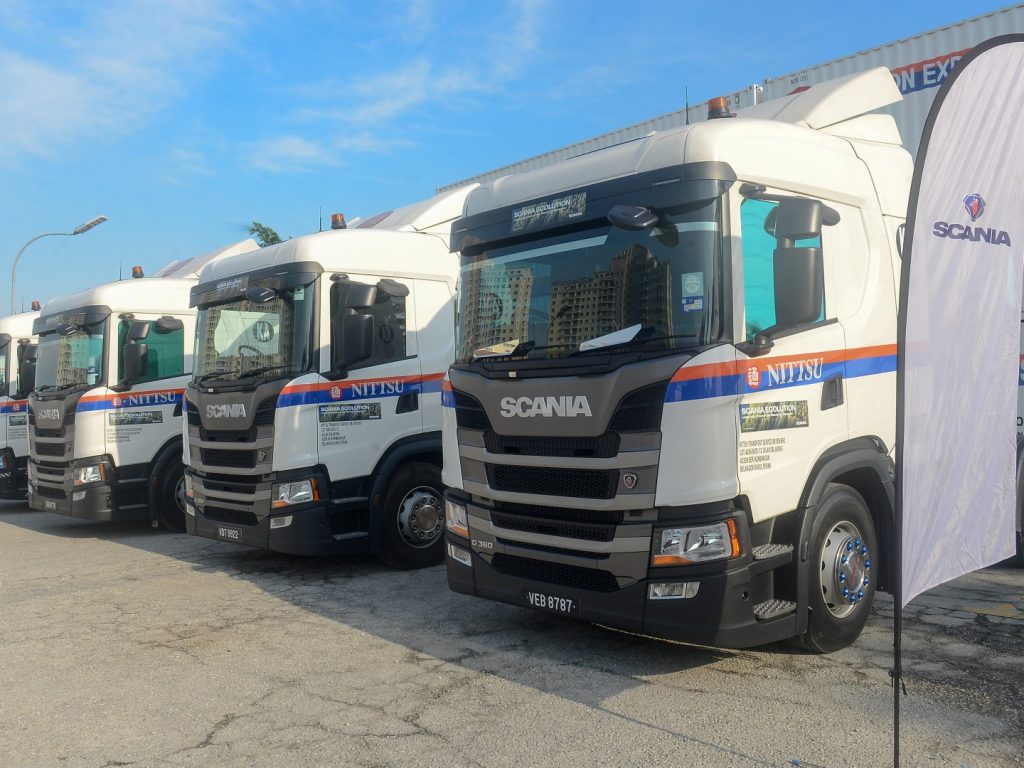 Scania Ecolution is a tailor-made partnership between Scania and customers that focuses on reducing fuel consumption resulting in reduced CO2 emissions. The partnership also focuses on reducing operating cost, translating to improved profitability while fulfilling the growing demand for environmentally-friendly initiatives.
Apart from the powerful Scania New Truck Generation enhanced engine, these trucks provide safety features such as the improved response from the Electronic Braking System (EBS).
The comfortable fully adjustable seat placed close to the door and ergonomic dashboard with touchscreen works very well for the drivers. A large windscreen with extended view, gives clear visibility from all angles for the drivers making the Scania New Truck Generation as one of the safest trucks in the world, for all road-users.
Nittsu also signed the inclusive Repair and Maintenance contract where the costs of the spare-parts are already included in the contract and keeps the Scania trucks uptime to the maximum consistently.
Nittsu is the trucking division of Nippon Express with its headquarters based in Kuala Lumpur. Its main core businesses include heavy haulage, reefer fleet, railway, domestic, milk run, and cross-border business; all of which amounts to transporting an average of 1000 containers monthly across Peninsular Malaysia, 700-800 containers monthly crossing the Thailand border and 400 containers in and out of Singapore.