With the all-new 11th generation Honda Civic all set to arrive soon, many potential buyers would be wondering if they should wait for it, or to just go for the current one here. Here's what we think.
So, let us have a quick look at the current range-topping Honda Civic 1.5 TC-P and see what it has to offer, and whether it is still worth going for.
The 10th generation Honda Civic 1.5 TC-P that we're looking at here was updated in September 2019, and as much as it looks like it hasn't changed since the pre-facelift version was launched back in 2016, the car is actually a much more complete product.
Design
The reason why the 10th gen Honda Civic looks like it has not changed much since 2016 is simply because the updates to the car's exterior were kept minimal.
The only new features are the new black front grille, a chrome rear bumper garnish, a new spoiler, LED headlights and foglamps, and the addition of a new 18-inch wheel design for the high-spec variant we're looking at here.
At a glance, the car looks almost identical to the pre-facelift model but if you really put both models side-by-side, the facelifted version actually looks sportier thanks to the black grille and the larger rims.
However, we can't deny the fact that the 10th gen Civic's design is ahead of its time. Unlike the Corolla Altis which looks slightly less exciting, the Civic's design is much more radical, and it is still quite a looker till now. Plus, it was already a bit over the top. So, it is no surprise that nothing much has changed.
The only car that looks better than the Civic is actually the Mazda 3 hatchback, but it is priced like RM30,000 more than the Civic.
Powertrain
Mechanically, the 10th gen Honda Civic has remained unchanged since 2016. Powering the 1.5 TC-P here is still the same turbocharged 1.5-litre engine that produces 173 PS and 220 Nm of torque, paired with a CVT transmission.
Besides those who sent their cars to tuners to squeeze more power from the engine and regretted, it is safe to say that no owner has faced any catastrophic issues with the engine or the gearbox over the past four years. So, the folks at Honda decided to not fix something that is not broken.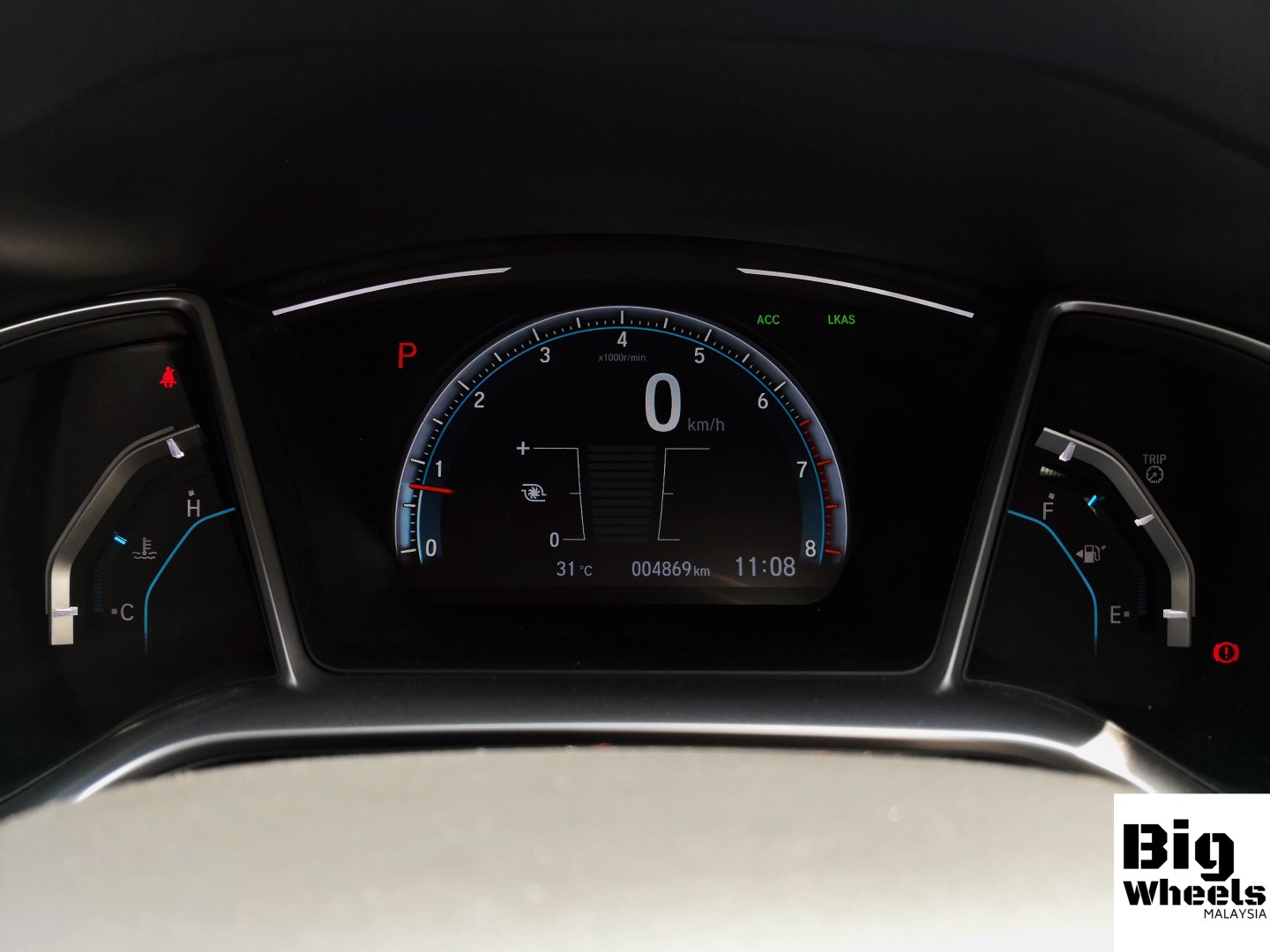 Plus, you're getting the same level of performance as a naturally aspirated 2.4 litre D-segment sedan, which means that the Civic is actually a quick car. Can't you see how the owners are driving them on the out there?
Honda Sensing
This is actually the main highlight of the Honda Civic facelift. The Honda Sensing suite of safety features comprises of eight features – Adaptive Cruise Control (ACC) with Low Speed Follow (LSF), Forward Collision Warning (FCW), Collision Mitigation Braking System (CMBS), Lane Keep Assist System (LKAS), Road Departure Mitigation (RDM), Lane Departure Warning (LDW) and Auto High-Beam (AHB) – all of which will provide Driver's Cruising Aid, Frontal Collision Deterrence and Side Collision Deterrence.
The New Civic also offers an innovative safety feature – Honda LaneWatch camera. This is a camera-based technology in favour of blind-spot monitoring that enhances the driver's view of left side traffic and provides a better view compared to using only the side view mirror.
Thanks to these features, the Civic is not only much safer than it was, but is also capable of driving itself, thanks to the ACC, LSF, and LKAS. All you have to do is just keep your eyes on the road and hands on the steering wheel.
What we like most about these features is that they are quite easy to use and to get used to. Just by a few touches of a button, the systems will be up and running and the car is basically driving itself, making traffic jams and long distance trips much more relaxing.
Driving the Honda Civic
As mentioned earlier, the Civic 1.5 TC-P is an enjoyable car to drive. First and foremost, there is more than enough power for our roads in Malaysia as the 220 Nm of torque is available quite early in the rev range thanks to the turbocharger.
Complemented by the low centre of gravity and the 18-inch tyres, the Civic 1.5 TC-P here handles pretty well too. So, regardless of whether you're on the highway, city roads, or twisty bits, the Civic is a very fun car to drive and also to be in.
Adding to the whole experience is a well-built, quiet and spacious cabin, leather seats that provide adequate support to occupants of all shapes and sizes, a well weighted steering wheel, an impressive sound system, ample storage compartments, charging ports, as well as Apple CarPlay and Android Auto connectivity. Plus, with all the Honda Sensing features working together, it feels safe too.
The Problem with the Honda Civic
While the low height of the car contributes to good handling and an enjoyable driving experience, it has resulted in seats that are positioned quite low. So, if you're very tall, old, or have back-related issues, getting in and out of the Civic is going to be a challenge.
On top of that, the fastback-ish silhouette of the car has resulted in a low roofline, which means you have to watch your head every time you get into the rear of the Civic, unless you belong in the average Asian height category. Other than that, things are fine and dandy with the 10th generation Honda Civic 1.5 TC-P.
Conclusion
Besides the low roofline and the low seats, there is nothing wrong with the Honda Civic 1.5 TC-P here. Overall, it is actually a very capable car that doesn't only look youthful and bold, but drives well too.
Further complementing the whole package is the spacious and refined cabin, a huge boot, low road tax rate thanks to the 1.5-litre displacement, ample storage space, and the impressive Honda Sensing suite of safety and driver assistance features.
Therefore, if you're one of those who can't decide if you should just get your hands on this Civic or to wait for the new one, we would say just go for it as we don't know when the 11th gen model will be arriving here, how much it is going to be sold for, if it is going to have any issues, or what specification and variant it is going to come.
So, since SST exemption will be around for one more month, and the car we're looking at here has already proven itself to be a hit, just go for it.