In early 2018, Mpire Group signed an agreement to distribute Beiqi Foton Motor (herein referred to as, 'Foton') vehicles. These vehicles include the 'View C2 Panel Van (4.8 meters)', 'View CS2L 18 seater Window Van (6 meters)' and 'Foton-Daimler EST-A Super Heavy Truck' and 'EST Super Heavy Truck'.
About Foton's Vehicles 
View C2 Panel Van & View CS2L 18-Seater Window Van
The C2 is powered by a proven Isuzu 2.5-litre turbo diesel engine while the CS2L has the mighty Cummins ISF 2.8-litre diesel engine.
The View CS2L is fitted with a modern Electronic Control Unit ("ECU") and Exhaust Gas Recirculation ("EGR") system, allowing the window van to operate with a lower carbon footprint and higher efficiency. It also has Bosch's four-channel ABS + EBD, a "3H high-strength" body, strong anti-collision bars, front and rear bumpers, dual airbags, a collapsible steering column and three-point seat belts. This makes it one of the safest vans in the domestic market.
Foton Daimler EST-A
The Foton Daimler EST-A is also known as the "Energy Super Truck". It comes equipped with the latest generation Foton-Cummins ISG diesel engine. The truck is built around three core technologies: new energy, internet of vehicles and the automatic transmission.
This "Energy Super Truck" has been engineered for maximum fuel efficiency through its High Torque and Low RPM technology. The aim is to realize a 30% decrease of fuel consumption, a 30% decrease of carbon emission, and a 70% increase in overall freight transport efficiency.
About Beiqi Foton Motor
Headquartered in Beijing, Foton has been a major manufacturer of trucks, buses, tractors, heavy duty as well as passenger vehicles and machinery since 1996. They are a part of two important 50:50 joint ventures. The first with Daimler AG (Beijing Foton Daimler Automobile Co., Ltd) which resulted in the development of the 'Foton-Daimler Super Truck'. The second is with Cummins Inc. (Foton Cummins Engine Company) which produces the diesel engines found in many Foton vehicles.
Foton has recognised the marketing strength of the Mpire Group and has selected them to distribute Foton vehicles in Malaysia.
About MPire Group
Mpire Group aspires to change the way Malaysians perceive Chinese trucks. Chinese-made trucks, Fotons in particular, have improved by leaps and bounds over the last few years. Not only are they more durable and better built, but they're also safer, more comfortable, more efficient and high tech.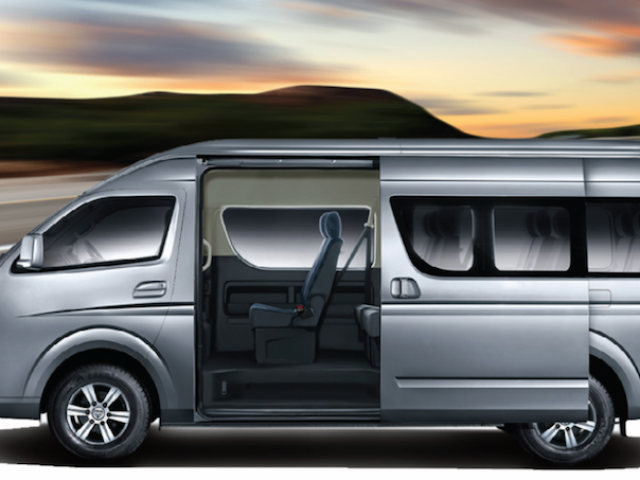 There are currently 2 showrooms in Selangor for Foton customers. The first is dedicated to van operations and is located at 2, Jalan Pemberita U1/49, Temasya Industrial Park, 40150 Shah Alam. For super-truck operations, another exclusive showroom can be found at 2, Jalan Gitar 33/3, Elite Industrial Park, Section 33, 40460 Shah Alam. These showrooms offer one-stop service and are decked out with sophisticated equipment and facilities.
An additional 2 showrooms, located at Butterworth and Johor Bahru, will be ready by Q1 2019.
Committed to Customer Satisfaction
Prior to this, customers of Chinese trucks have had problems acquiring spare parts. This has made many reluctant to purchase new trucks. In order to boost customer confidence, Mpire has purchased more than RM1,000,000 worth of spare parts from Foton even before any trucks get on the road. This will maximise truck usage and ensure no "Vehicle Off Road" or "VOR" situations.
To further enhance customer satisfaction, Mpire Group has prepared a 24 hour off-road rescue team which can be reached via the toll-free number 1300-22-3399 beginning on the 1st of January 2019. A strategic alliance with a reputable company has been formed to ensure customer needs can be taken care of any time of the day, any day of the week.
Mpire Group will also launch an app for customers to more conveniently book service appointments. The app will also feature a GPS-enabled panic button to help pinpoint drivers who are in need of assistance.
Additionally, Mpire Group has appointed PKT Logistics Group to handle and manage spare-parts distribution. Being one of Malaysia's largest and most competent logistics companies, PKT Logistics Group will be able to deliver spare parts within 48 hours to any local location.
By being customer-oriented, offering sustainable products with affordable prices, and by excelling in after sales service, Mpire Group is confident it can make Foton vehicles a success in Malaysia.
It is an exciting year for both Mpire Group and the Foton brand. Mpire is proud  to represent Foton in this niche segment and will strive to achieve excellence in term of customer satisfaction.
For more information, please head to the 'Foton-Malaysia' Facebook page (facebook.com/mpirefotonmalaysia).