Category:
Commercial Vehicles
As part of its 2014 global promotion, Shell Rimula has kicked off its Technology Lab roadshow in Sarawak and Sabah, which will be making stops at eight different locations ...
READ MORE +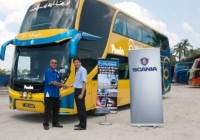 Scania Credit (Malaysia) Sdn Bhd (SCMY) has signed on Konsortium E-Mutiara Bhd as the first customer for its new insurance service that is part of its proposition to offer ...
READ MORE +
Volvo Trucks, one of the world's leading producers of heavy trucks, partners the National Geographic Channel to roll out their Asia 360° campaign today. In the lead up to the ...
READ MORE +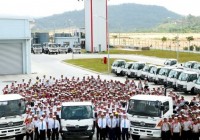 Just nine months after the official ground-breaking ceremony, Hino Motors Manufacturing (Malaysia) Sdn Bhd (HMMMY) has rolled out the first HINO vehicle manufactured at its ...
READ MORE +
Daimler Truck's most popular truck 'Canter' is opening up a new dimension. Mitsubishi Fuso Truck and Bus Corporation (MFTBC), one of Asia's leading commercial vehicle ...
READ MORE +
On April 30 this year, a memorandum of understanding was signed between the Petaling Jaya City Council (MBPJ) and RapidBus after months of negotiations to provide a free city ...
READ MORE +
Volvo Malaysia has awarded this year's Volvo Trucks Fuelwatch Challenge winner Ahmad Othman, who achieved 2.52km using only a litre of fuel while driving a Volvo truck with a ...
READ MORE +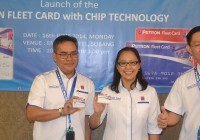 Aiming to offer flexibility through a real-time online tracking system, Petron Malaysia has launched the new Petron Fleet Card which is equipped with the latest microchip ...
READ MORE +
The trucking industry, regarded as the lifeblood of the economy, is a vital sector that intertwines with almost all other business sectors. Without the trucking industry, ...
READ MORE +
In a statement released by PLUS Malaysia Berhad last week, all toll transactions at both toll plazas will be conducted electronically via PLUSMiles card, Touch 'n Go card or ...
READ MORE +