After all these years, Ducati and Lamborghini have finally decided to join forces, and the result is nothing short of mindblowing. Yes, say hello to the Ducati Diavel 1260 Lamborghini, inspired by the Lamborghini Sian FKP 37.
Limited to just 630 units, the Ducati Diavel 1260 Lamborghini was conceived by transferring the basic components of the Sian's design to the motorcycle world and redesigning the parts that most characterize the Diavel.
These parts include the lightweight forged wheels, air intakes and radiator covers made of carbon fibre, and superimposed floating elements on the main structure.
The livery of the Diavel 1260 Lamborghini on the other hand, rocks the same paint as the Siàn FKP 37, with the bodywork characterized by the "Gea Green" colour, while the frame, the seat tail and the forged rims are embellished with the use of "Electrum Gold" colour.
There is also a touch of "Ducati Red" colouring on the Brembo M50 radial mount brake calipers.
Other important identifying elements of Lamborghini design are the hexagon and the "Y" motif. This special version of the Diavel pays homage to the former in the shape of the exhaust and the latter thanks to the aesthetic details created on the seat.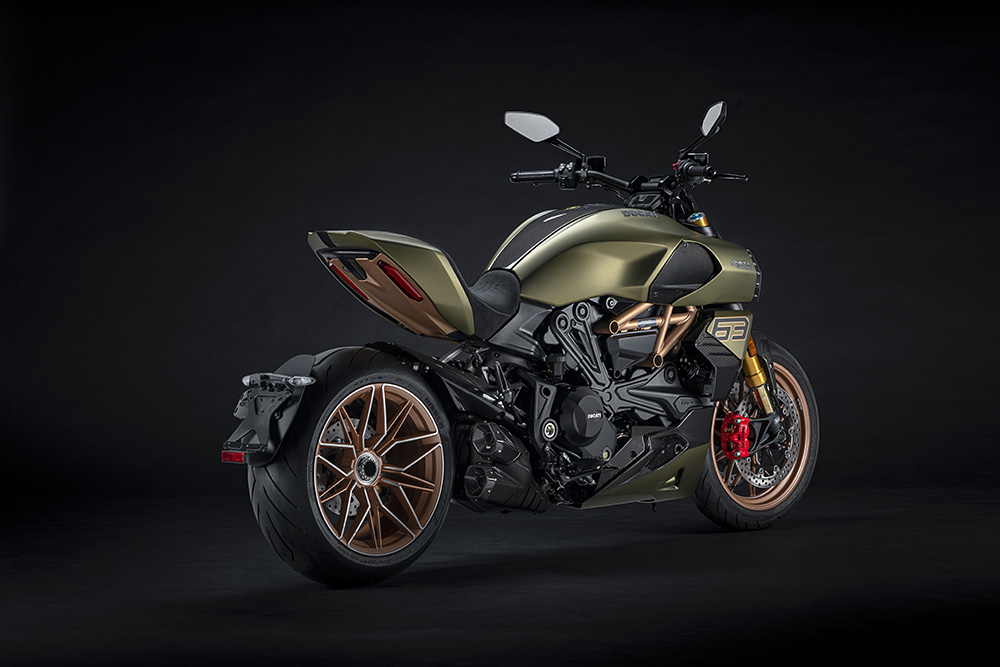 In addition to the aforementioned radiator covers and air intakes, the silencer cover, spoiler, central tank cover, seat cover, front and rear mudguards, dashboard cover and headlight frame are also made of carbon.
In case you're wondering, the "63" on the tank represents the year 1963 when Lamborghini was founded. The "63" also represents the 630 units of the Diavel Lamborghini that will be produced. Every bike will also come with a serial number each.
Owners of the Diavel 1260 Lamborghini can also purchase an exclusive helmet with special graphics coordinated with the bike, designed by the Centro Stile Ducati.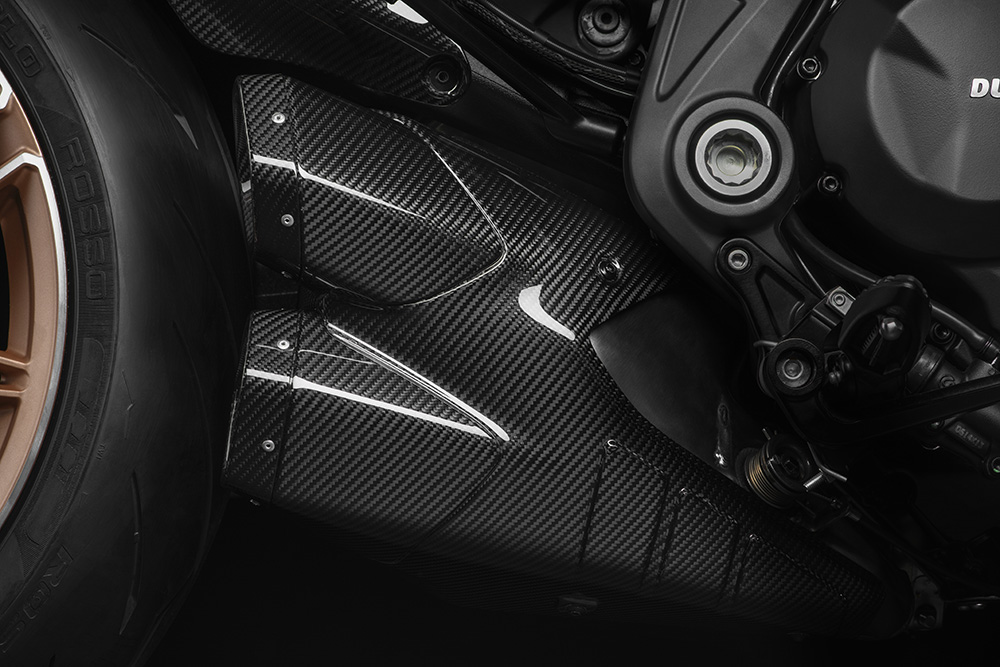 Last but not least, we have the special TFT display in which both brands' logos and the silhouette of the Diavel Lamborghini will appear upon startup.
Powering the Diavel Lamborghini is the 1262 cc Ducati Testastretta DVT engine with variable timing. This Euro 5 homologated engine is capable of delivering 162 hp and 129 Nm of torque.