Category:
Commercial Vehicles
Syarikat Prasarana Negara Bhd has received the delivery of 60 new Scania buses today, which provide a comfortable ride for passengers, accessibility features for ...
READ MORE +
India's largest motor vehicle manufacturer, Tata Motors Ltd, is set to export its commercial vehicles to Malaysia, according to its executive director, commercial vehicle (CV) ...
READ MORE +
Lafarge Malaysia Berhad launched its first enclosed ready-mixed concrete batching plant at Jalan Chan Sow Lin, Kuala Lumpur last week. The plant, which is the first in ...
READ MORE +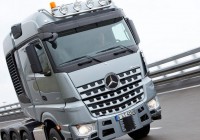 Designed for a gross truck and trailer weight of 250 t, the Mercedes-Benz SLT heavy-haulage vehicle is available now in numerous configurations with three and four axles based ...
READ MORE +
Volvo Trucks is now expanding its model range with a low-entry version of the new Volvo FE for Euro 6. The Volvo FE LEC (Low Entry Cab) has been specially designed for refuse ...
READ MORE +
Chinese truck manufacturer, Foton has introduced the new Silverback light duty truck range. According to Foton, the Silverback is an ideal solution for tradesmen looking to ...
READ MORE +
The first Chinese truck manufacturer to operate in Malaysia, Sinotruk Malaysia Sdn Bhd has entered its seventh year in Malaysia since its establishment in 2007, and it ...
READ MORE +
Nissan is adding another electric vehicle (EV) to its line-up with the introduction of the Nissan e-NV200. It is the first automaker to have two all-electric vehicles in ...
READ MORE +
Rapid Bus  Sdn Bhd, which is the bus operating arm of Syarikat Prasarana Negara Berhad (Prasarana), has added three recovery truck amongst its fleet of vehicles for operations ...
READ MORE +
Many trucks have some form of auxiliary brakes. For almost two decades Scania's customers have been able to appreciate just how powerful, yet smooth, effect a hydraulic ...
READ MORE +