Daimler is accelerating development of semi-autonomous trucks linked through the internet to other vehicles and transport infrastructure by investing around €500 million (£395 million) over the next four years.
A new Daimler commercial vehicles business unit, Digital Solutions & Services, has been set up to integrate all the group's worldwide activities related to "connected" trucks. The new unit, based in Stuttgart, goes into operation on 1 April.
The news was announced this week by Wolfgang Bernhard, Daimler Head of Trucks & Buses, in Düsseldorf at a demonstration of the capabilities of the latest version of the Mercedes self-driving truck system, called Highway Pilot Connect.
Three wi-fi connected, Mercedes Actros articulated truck combinations were authorised to drive in "autonomous" mode in a platoon on the A52 autobahn near Düsseldorf. A platoon like this could improve overall fuel economy of the three trucks in aggregate by up to 7% while cutting occupied road space by half and improving road safety, it is claimed. But Daimler claims this represents only a small fraction of the potential benefits of connected commercial vehicles.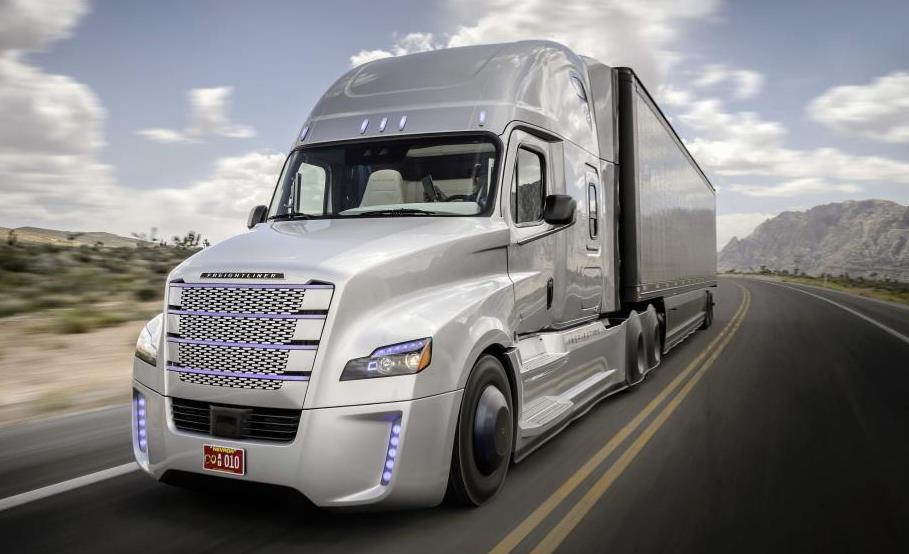 Bernhard said, "We are connecting the truck with the internet, making the truck the mobile data centre of the logistics network.
"The connected truck can provide the real-time information that is now lacking. It connects all those involved: drivers, schedulers, fleet operators, workshops, manufacturers and insurance companies or authorities. They receive information in real time which was previously unavailable: about the condition of the tractor unit and semi-trailer, traffic and weather conditions, parking availability at motorway service stations, rest areas and much more."
On average in Europe, trucks spend only about one third of the time being driven, according to Daimler research. The rest is unproductive waiting time, with the driver asleep, or waiting to load or unload, or stationary in traffic. Bernhard is convinced that exploiting truck connectivity can have a dramatic effect on this inefficiency.
"If you ask me to blueprint the ultimate connected truck, I'd say the truck will always be driving, always fully loaded, never stuck in a traffic jam, never failing, and has a happy driver," he said.
"There will be no paperwork, no accidents, no breakdowns. I am well aware that we might never completely get there, but it's the direction we're taking. At full speed."
With around 365,000 trucks, buses and vans worldwide already employing its in-house telematics systems – FleetBoard in Europe and Detroit Connect in North America – Daimler claims to have more connected commercial vehicles at present than any rival.