The local edition of the Volvo Fuelwatch Challenge is back, marking the sixth time this signature annual event is organised. Volvo Trucks Malaysia said that a nationwide roadshow will go on from 9 April to 7 June 2015 to scout for the most fuel efficient and skilled truck driver in Malaysia.
A global initiative held annually, the Volvo Fuelwatch Challenge is missioned to educate drivers, fleet managers, customers and other stakeholders about the importance of good driving practices to improve fuel efficiency, reduce cost and increase profitability, as well as increasing awareness on safety.
Mats Nilsson, Managing Director, Volvo Malaysia said, "the Fuelwatch Challenge has become increasingly popular with more than 800 truck drivers taking part in last year's competition. Held in a fun competition format, it supports and complements our ongoing Driver Development Programme which is designed to train and develop fully competent drivers on aspects of technical skills and safe driving behaviour."
Comprising exercises on concepts such as truck optimization and maintenance, fuel efficient driving and safe driving behaviour, the Fuelwatch Challenge consists of a paper-based test at the preliminary rounds to be held at Volvo Trucks' eight dealership locations across Malaysia. The winners will then convene for a real driving challenge at the semi-final and final rounds in Shah Alam to compete for the national championship title.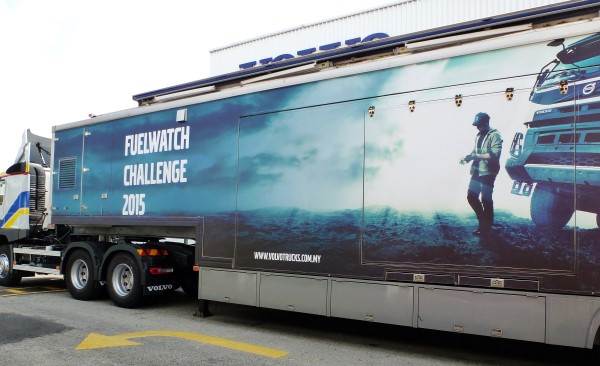 Nilsson also said that both the Fuelwatch Challenge and the Driver Development Programme reflect on the company's efforts and commitment in going beyond truck sales and services to shape a more robust trucking industry in Malaysia. Through these platforms that coach drivers on fuel economy and good driving behavior, Volvo aims to help companies reduce truck operating costs, accidents and environmental impact.
The preliminary rounds of the Fuelwatch Challenge in previous years were held at six of its 11 dealership locations nationwide and drivers were encouraged to pre-register to participate. This year, Volvo Trucks expect a higher number of driver participation as a result of increased interest over the years. With this in mind, two additional dealership locations – Ipoh and Kota Kinabalu – have been added to the preliminary round and which will make participating in the competition even easier for drivers in the Northern Region as well as in East Malaysia.
There will also be a Fuelwatch Challenge exhibition trailer making a stop at each of the eight dealership locations when the preliminary rounds take place to enable drivers to register and participate on the spot. There will be 12 sessions between 9.00 am to 5.00 pm where drivers can register and take the paper-based test to qualify for the semi-finals. The multiple sessions in a day aim to give the truck drivers flexibility and the chance to participate as they are often tied to a fixed road trip schedule.
Rosdi Muhd Ishak, Volvo Trucks' driver development trainer said, "With many familiar faces returning each year, we strive to raise the bar with each competition too. This year, the test questions are more thought provoking and will rely on the skills and experience of each driver to answer. This ensures that our Fuelwatch Challenge gets better each year as we upped the skills of the drivers and find the best among the best."
He also added that the 20 shortlisted drivers who qualify for the semi-final rounds will need to undergo a more intensive Driver Development Program before that to sharpen their skills and knowledge on proper driving methods, ways to save fuel and safety skills.
On this, he further said, "Our programmes have helped encourage more truck drivers adopt a deeper sense of pride in their job. In addition to technical skills, we also address aspects on how to adopt and practice the right mindset and behavior while on the road. The right attitude can make a world of difference for the driver, the employer and to other road users around, and it complements the driver's defensive driving techniques acquired from our technical skills training."
The Fuelwatch Challenge offers winning prizes of up to RM70,000 to be won by both the driver and the company the driver represents. The ultimate prize is where the national champion gets the chance to fly abroad and participate in the Asia Pacific and World championships. So far, Volvo Trucks has sponsored four Malaysian truck drivers who competed in the global level of the competition held overseas.
Dealership locations and schedule of the preliminary rounds of Fuelwatch Challenge 2015:
Shah Alam – 9 April 2015
Ipoh – 14 April 2015
Prai – 15 April 2015
Kuching – 21st April 2015
Bintulu – 23rd April 2015
Kuantan – 27th May 2015
Johor Bahru – 30th May 2015
Kota Kinabalu – 7th June 2015