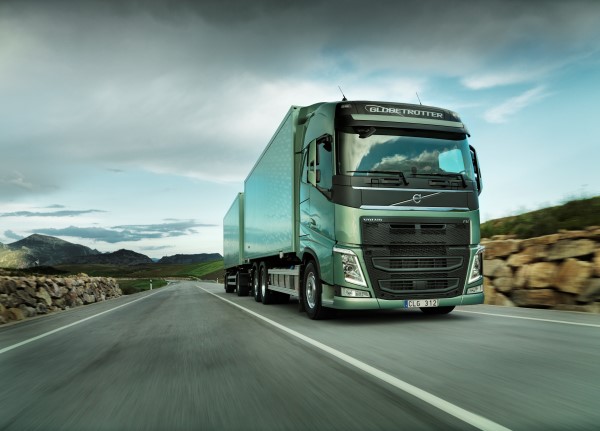 Today, Volvo Trucks celebrates the 25th anniversary of the industry changing Volvo FH. The truck was designed with a revolutionary cab and a unique driver focus. In 1993, it was the most technically advanced truck of its time and a quarter of a century later, it remains an innovative leader, not the least within areas that directly benefits drivers, such as safety and driver care. With added groundbreaking solutions within environmental care and productivity, it's clear that the Volvo FH has changed the world of trucking – and there is more to come.
Since its introduction in Malaysia in April 2017, the Volvo FH has set the new standard for premium heavy haulage. Customers such as Chip Jun Sdn Bhd, Central Kargo Sdn Bhd and Haiweima Sdn Bhd. were quick to purchase the trucks as soon as they hit the market.
Mats Nilsson, Managing Director, Volvo Malaysia, said, "25 years down the road, it is easy to see how close to our hearts the Volvo FH is to us. It has become the industry standard for long-haul trucks, a prime representation of the innovation and passion that we put into our work here at Volvo Trucks."
Claes Nilsson, President Volvo Trucks, sees the Volvo FH as the backbone of Volvo Trucks when it comes to image as well as creating profitability for the customers and offer a state of the art workplace for the drivers. He recalls how the bold introduction in 1993 marked the start of a very successful time for Volvo Trucks.
The first version was based on a new chassis whose dynamic design facilitated flexible solutions for different transport applications. Everything had a clear business focus, including the fuel-saving aerodynamics, groundbreaking driveline and the Volvo Engine Brake.
It was however the new cab that really signaled how the Volvo FH was something special. Volvo Trucks early on decided to put the driver at center stage and over 1,500 drivers took part in extensive clinics. The end-result—a safer and comfortable cab that created a whole new driving, resting and sleeping experience.
For drivers this dedication meant no less than three cab facelifts between 1993 and 2008. In 2012 the all-new Volvo FH was launched, where a completely new cab and an integrated climate system I-park Cool created premium comfort. And features like Volvo Dynamic Steering (2013) has led to easier, safer, more stable and precise driving while reducing strain injuries.
From day one, the Volvo FH has been a forerunner in safety. Not the least within passive safety, where Volvo Trucks was the first truck brand to offer airbag (1995) and also introduced Front Underrun Protection System (FUPS) in 1996, ten years before it became a legal requirement. This progress continues to this day and the truck is also equipped with the latest active safety systems.
Alongside driver comfort, safety has been the guiding star when designing the cab. During the development, the truck was subjected to thousands of simulated collision tests and around a hundred real crash tests. Collision-absorbing beams and doors are made of dual-phase steel and the body paneling is made from the strongest available steel. In short, every detail of the exterior and interior design work together to make the Volvo FH the safest truck to date from Volvo Trucks.
The Volvo FH has taken performance and productivity of heavy-duty trucks to a new level. Among the many innovations, the revolutionary gearbox I-Shift (2001) deserves a special mention. It's today a benchmark in the industry and has evolved to meet different demands and needs. The I-Shift Dual Clutch is especially beneficial for regional and long-haul transports on hilly and curvy routes. All gear-changes are precisely timed without loss of power or torque, which improves driver comfort and allows higher average speed. For construction and heavy transports, I-Shift with crawler gears is ideal. It permits the truck to start from a standstill with loads of up to 325 tons and drive as slow as 0.5 km per hours, which make precision maneuvers in tough terrain easier to perform.
The I-Shift is a perfect example of how an innovation that benefits drivers and operators, also reduces the truck's footprint. Environmental care is one of Volvo Trucks' core values, and year by year the Volvo FH has reduced its emissions and fuel consumption. A major leap came in 2017 with the launch of Volvo FH LNG. This gas-powered truck delivers the same performance as other Volvo FH trucks, it can be run on either biogas, which cuts CO2 by up to 100 per cent, or natural gas which reduces CO2 emissions by 20 per cent compared with diesel. This relates to emissions from the vehicle during usage, known as tank-to-wheel.
"We have had a really impressive journey with the FH, and there are many thrilling news coming up. Given the new technologies, we are really excited to continue on our successful journey together with our customers and their drivers," says Claes Nilsson.
The Volvo FH is the only model to be named truck of the year three times—1994, 2000 and 2014—and almost one million units of the model has been sold. When launched in 1993, Volvo Trucks announced that the future is here. A quarter of a century later the company is adamant that the Volvo FH is still the truck of the future.
"There are so many possibilities to create fantastic improvements. We will explore all of them to make sure that the Volvo FH remains the drivers' first choice and keeps delivering profits for our customers. Without revealing too much, it's safe to say that the coming years will be even more exciting than the first twenty-five," Claes Nilsson finishes.