Didi Resources Sdn Bhd, the official distributor of the Vespa brand in Malaysia today introduced the new Vespa 75th Anniversary Series.
Both the Vespa Primavera 150 cc model and the Vespa GTS 300 cc will be available in the 75th Anniversary Series trim, but the special models will not be sold beyond 2021.
Giallo 75th Metallic Yellow
Presented in "Giallo 75th", an original metallic yellow, the 75th Anniversary models come with the number "75" on the side panels and front mudguard.
The two-wheeler also features a special Smoke Grey Nubuck leather saddle, grey wheels with a machine finish, and a host of chrome-plated details, including the "tie" ornaments, the stickers on the front mudguard, the instrument cluster surround, the muffler cover, the rear-view mirrors and, on the GTS only, the foldaway passenger foot pegs.
The rear luggage rack, another distinctive feature of the Vespa 75th, is also chrome-plated. It houses a round bag whose shape replicates the typical spare wheel holder.
Nubuck leather saddle bag
Made from the same velvety-soft nubuck leather as the saddle, the bag has a shoulder strap for easy carrying, and clips on the luggage rack with a quick-release mechanism.
It comes with a waterproof cover. Like all Vespa special editions, the series is identified with a plate behind the leg shield.
4.3-inch TFT display
All the models of this anniversary version are equipped with a 4.3" TFT colour display, while the fully digital instrument cluster makes the best possible use of the capabilities of the Vespa MIA smartphone connectivity system.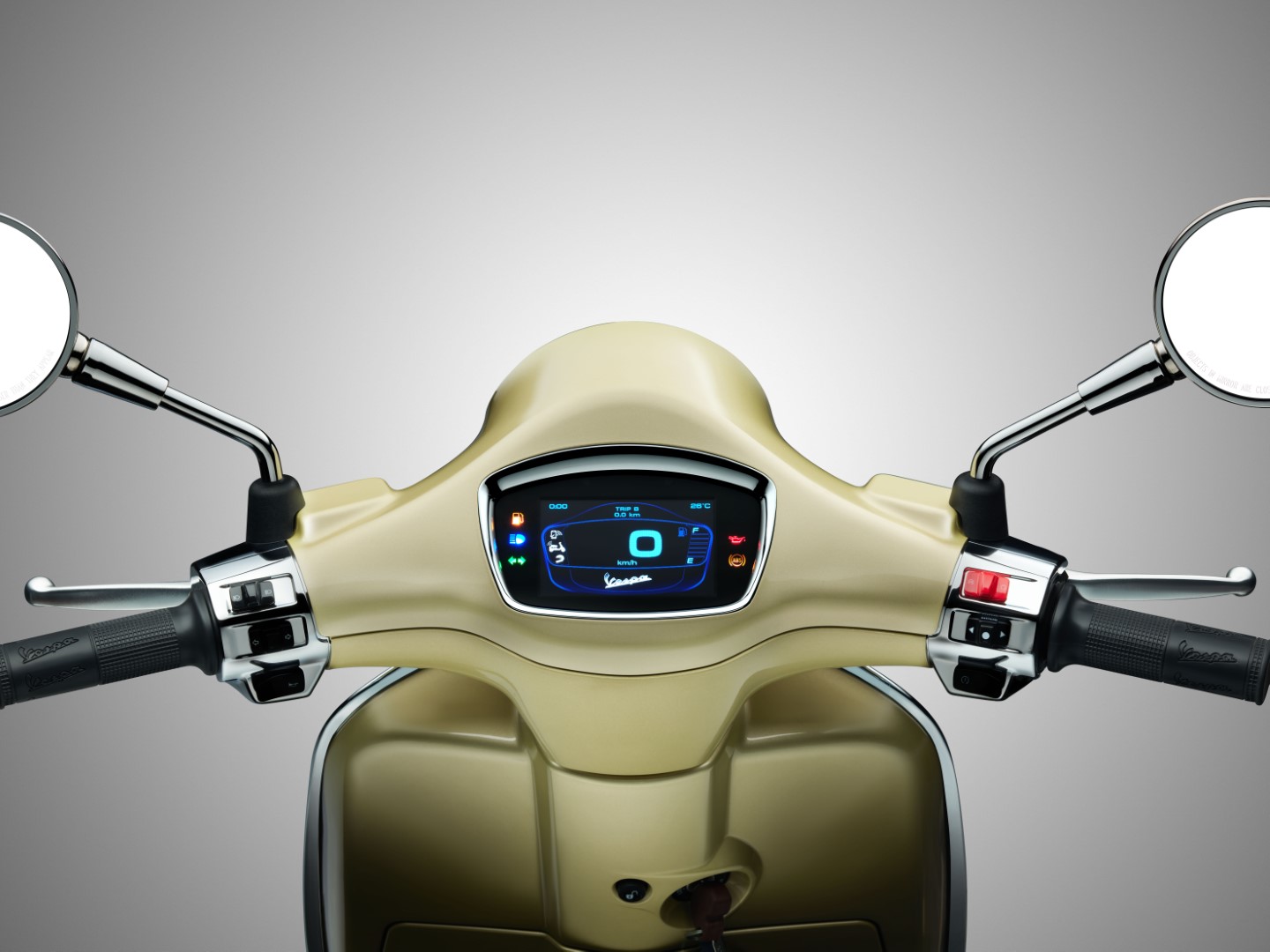 In addition to all this, to mark the exclusivity of this special celebratory series, each Vespa 75th comes with a Welcome Kit including a vintage steel Vespa plate, a personal Owner's Book and eight collector postcards with images from the eight decades of the Vespa story.
How much?
The official selling price for Vespa Primavera 75th Anniversary is RM23,500, while the Vespa GTS 300 75th Anniversary can be yours for RM38,900.
Sold in 83 countries on every continent, it is now the most famous and most loved two-wheeled vehicle in the world. For some time now, Vespa has far surpassed its function as an easy and elegant means of commuting to become a global brand, a symbol of Italian technology and style, capable of bringing millions of enthusiasts together in its name.