Following the all-new Multistrada V2, Ducati has taken the wraps off two new models – the the Ducati Scrambler 1100 Tribute Pro and the Ducati Scrambler Urban Motard.
Firstly, we have the Ducati Scrambler 1100 Tribute PRO which was created to pay homage to the history of the air-cooled twin-cylinder engine, fifty years after it was first introduced on a Ducati, which was in 1971.
For this bike, the design was inspired by iconic Ducati elements of the 1970s, such as the special "Giallo Ocra" livery, the Ducati logo of the time designed by Giugiaro and the spoked wheels, which are black and integrate perfectly with the tones of the celebratory livery.
Further distinctive stylistic details are represented by the circular rear-view mirrors and the brown seat with dedicated stitching.
From a technical point of view, the Ducati Scrambler 1100 Pro is powered by a 1,079 cc engine that delivers 86 hp of power at 7,500 rpm and a torque value of 90 Nm at 4,750 rpm.
The Ducati Scrambler 1100 Tribute Pro also comes standard with three Riding Modes, each associated with different Power Modes and various levels of Ducati Traction Control (DTC).
Another new model for 2022 is the Ducati Scrambler Urban Motard which features a new livery that combines the Star White Silk colour and Ducati GP '19 Red in energetic graphics, inspired by the world of street art and metropolitan graffiti.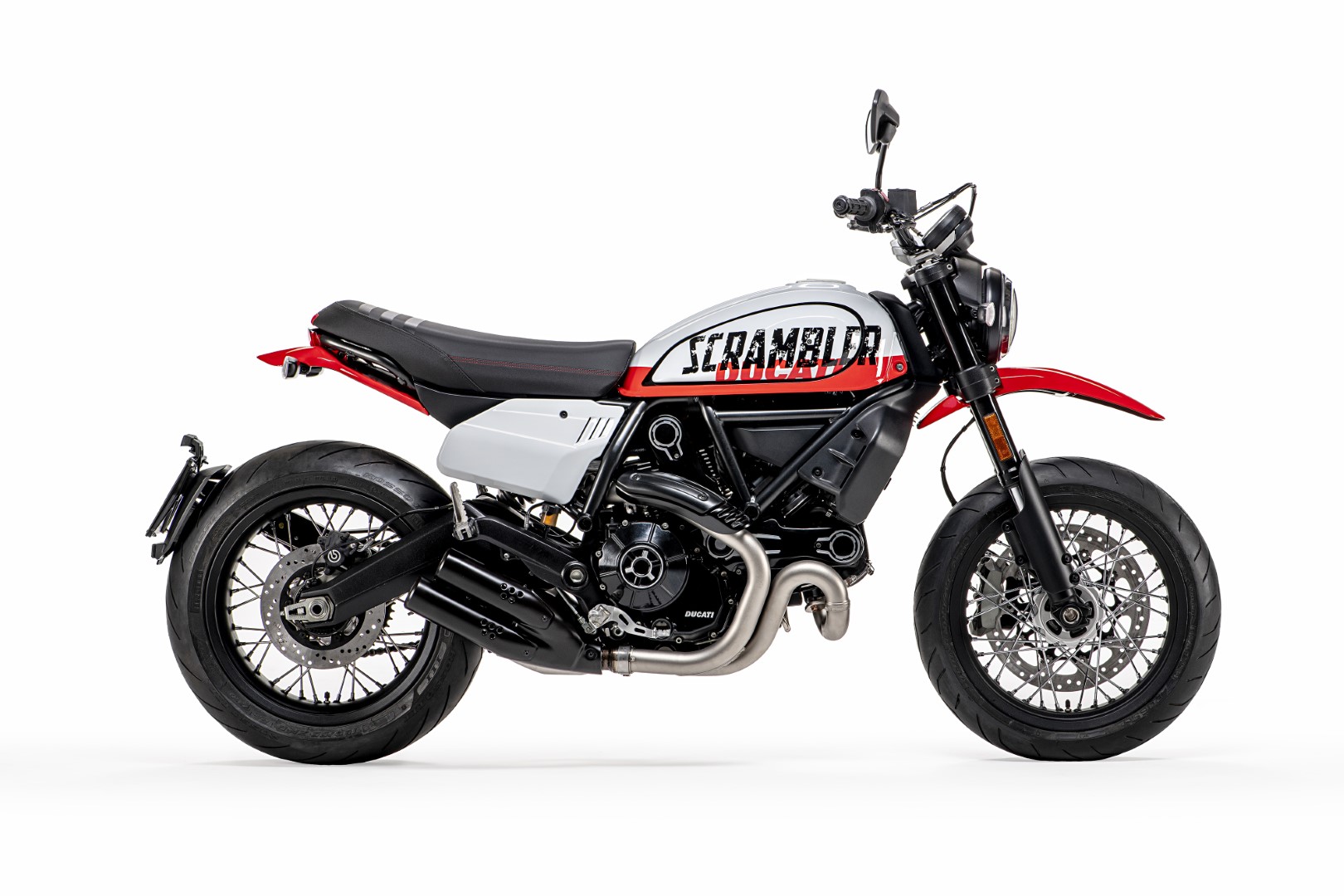 The Ducati Scrambler Urban Motard is powered by the 803 cc L-twin engine with desmodromic distribution, which delivers 73 hp of power at 8,250 rpm and 66 Nm of torque at 5,750 rpm.
The reference to the Motard world of this version is clear in the choice of elements such as the 17" spoked wheels, the high front mudguard, the flat seat and the side number plates, which are perfectly integrated into the Ducati Scrambler design.
The Scrambler Urban Motard is also equipped as standard with a headlight with LED DRL, a hallmark of all Ducati Scrambler models, which is combined with the rear light with full LED diffusion technology.
Both the Scrambler Ducati models come fitted with Cornering ABS and the Ducati Multimedia System (DMS) which enables a smartphone to be connected to the bike via Bluetooth, while the USB socket positioned under the seat is standard.
The new Ducati Scrambler Urban Motard joins the "Land of Joy" 800 range, alongside the Ducati Scrambler Icon, Ducati Scrambler Icon Dark, Ducati Scrambler Nightshift and Ducati Scrambler Desert Sled models.
The Ducati Scrambler 1100 Tribute Pro is part of the range of best performing bikes in the Ducati Scrambler family, together with the Ducati Scrambler 1100 Dark Pro and Ducati Scrambler 1100 Sport Pro models.