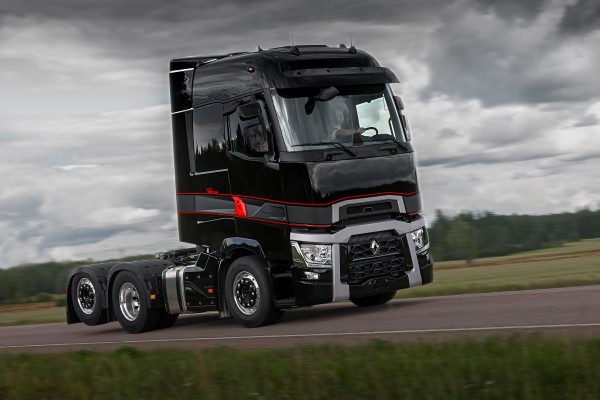 Renault Trucks is offering a special High Edition series in its T High range. The High Edition version of the T High, the flagship of the Renault Trucks Long Haul range, comes with a number of features that highlight its design and enhance driving and travelling comfort.
A worthy successor to the Renault Magnum, the perfectly flat floor of the Renault Trucks T High makes it extremely spacious and is particularly valued by long haul drivers. To provide maximum driver comfort, Renault Trucks is launching a special series today: the High Edition.
With its elegant black paintwork, aluminium wheels and carbon-look trim, the T High Edition stands out on the road.
Its interior design is underscored by fine red lines matching the red door handles.The driver's cab includes the same plush styling with "High Edition"-embossed leather upholstery and carbon-look elements. For additional comfort, the steering wheel and two driver armrests of the T High Edition are available in leather. Other features complementing the interior atmosphere of the T range include soft lighting from spotlights along the passageways when the driver is resting, and red lights for maximum comfort when driving at night.
The T High Edition boasts a 13-litre 520 HP engine with common rail injection system, and for optimal fuel consumption, the Fuel Eco+ pack with Optivision, the Renault Trucks predictive cruise control system with GPS. The model also comes with aerodynamic fixtures such as fixed roof-mounted deflectors and opening side deflectors.
To maximise the safety of the driver and road users alike, this special series is equipped with the Protect pack, which includes adaptive cruise control, additional indicator lights and Xenon headlights.