Two of Scania Malaysia's key Pahang customers – Hin Tatt Recycling Sdn Bhd and PIBG Sekolah Sains Sultan Haji Ahmad Shah (SHAH Pekan) – recently received keys to the vehicles they recently acquired for their business and transport requirements.
Held at the Scania Kuantan service facility, the official handover was done by Scania Southeast Asia Sales Director, Daniel Tan.
Hin Tatt Recycling's Logistics Manager Encik Rahmat bin Kassim and SHAH Pekan's Yang Dipertua Persatuan Ibu Bapa & Guru Tuan Haji Mohamad Alias bin Chik both cited performance, reliability, fuel economy and safety as some of the reasons as to why Scania was the ideal choice for their operations and total operating economy.
Complementing those reasons, they added, was the excellent Scania after sales service and maintenance that also contributes to their uptime.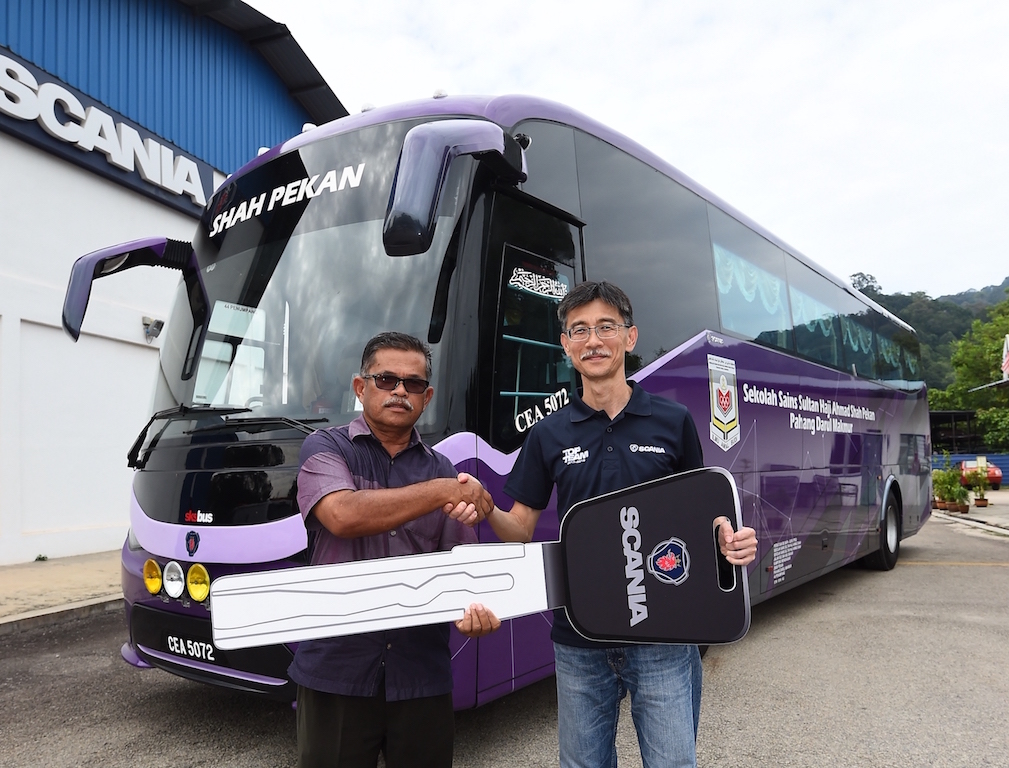 The five units of the G410LA6x2MSZ trucks purchased by Hin Tatt Recycling offer powerful performance and increased fuel savings that can help attain the best profitability during long-haul operations, making them suitable for transportation of the company's wide inventory of steel products.
Meanwhile, SHAH Pekan chose to acquire a Scania K310IB4x2 bus because safety and comfort is a priority for its students.
The bus features a powerful engine with higher torque at lower revs and is equipped with the Scania Opticruise gear-change that promises better comfort and fuel economy while reducing clutch and synchromesh wear.
The vehicles that were handed over also come with the standard package of the two-year free Scania Maintenance; two-year free 24/7 Scania Assistance and a ten-year free Fleet Management System (FMS) package that will help both customers monitor vehicle and driver performance, particularly fuel consumption that will assist them in making informed decisions.
"We are proud to be a partner for both Hin Tatt Recycling and SHAH Pekan for its long-haul operations and for the long haul, and are indeed very happy that they have placed their trust in Scania to take their businesses toward the best profitability," said Daniel.
The event also saw the presentation of the Scania FMS Competition Awards to Tasik Bintang Transport & Trading Sdn Bhd, which was represented by its director Mr. Tan Say Lim, for achieving best fuel savings in the bus and truck categories respectively.
The Scania FMS is a total solutions approach created for its customers to achieve the best profitability and efficiency in their businesses. It gathers data from the driver's performance and vehicle, which is then used together with methods such as driver training and coaching to increase the productivity of the fleet, achieve fuel economy and eventually reduce the cost of operations.
The handover of vehicles was held in conjunction with the Scania Open Day, which served as an opportunity for staff and their immediate family members to mingle around and see what goes on to keep the trucks and buses profitable for their owners, all to give them an idea about what it's like to work at Scania and the full picture of what Scania can offer as an employer.