The latest Hino facility is operated by Auto Skyline Sdn Bhd
Hino Motors Sales (Malaysia) Sdn Bhd (HMSM) has taken another step towards spreading its footprint across the country with its new 3S (Sales, Service, and Spare Parts) centre operated by Auto Skyline Sdn Bhd. Through a strong partnership with Auto Skyline Sdn Bhd (Auto Skyline), an established HINO Authorised Dealer, the 3S operation is a one-stop solution centre for meeting its customers' emerging needs. 
Auto Skyline was appointed as Hino 1S (Sales) centre in April 2002 and has been endeavouring in selling Hino products ever since. In 2021, Auto Skyline officially upgraded to a 3S centre which is located in the industrial hub in Johor Bahru, known as Kawasan Perindustrian Tebrau. This 3S centre is expected to build on Hino's efforts to deliver the brand's vision to the market and bolster customer confidence.
Drawing inspiration from the brand's Japanese-inspired ideals and corporate identity guidelines, the state-of-the-art centre is equipped with four service bays at the rear side which can service up to 8 lorries a day, and there will be an indoor sales lounge, a service centre with the latest diagnostics tools, and a comfortable driver waiting area.
Putting Customer-Centric value as a top priority in the business direction, HMSM Managing Director, Atsushi Uchiyama said, "We appointed another Auto Skyline branch outlet as Hino Authorized 3S centre to offer a one-stop solution under one roof to our customers. One-stop solution centre is known as a Customer-Centric main angle in our industry and will enhance our customers' confidence from the point of deciding to purchase a Hino. With the full range of services under one roof, we aim to enhance customer service and the excellent experience of owning a Hino vehicle."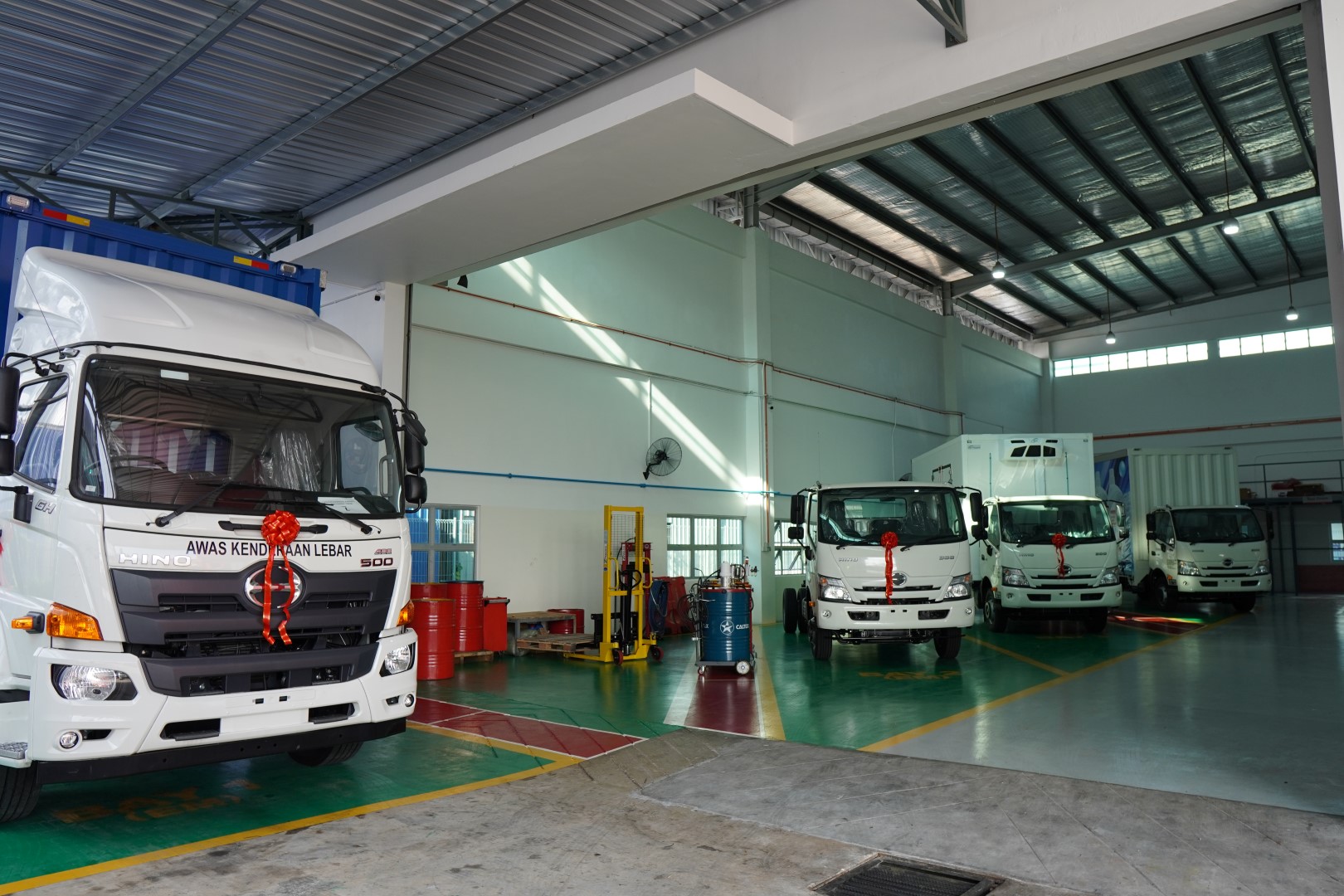 "As a reliable business partner, customers remain at the heart of everything we do, and this 3S centre is convenient for the customer from making inquiries about the latest Hino models to purchasing one and getting all the required after-sales services," he added.
Leveraging its empire for more than 40 years in the country, Hino Malaysia continues to master its performance in Sales and After-Sales Services through various customer engagement programs to give the absolute experience of Sales, Service, and Spare Parts.
Confident with HINO brand as it has been in Malaysia for more than four decades, Auto Skyline Sales and Marketing Director, Beck Da Wei shared his mission on the new 3S centre,
"With the growth of our business, we find that it is imperative to offer a one-stop solution under one roof to our customers. We decided to open a new branch in Kulai in response to the needs and preferences of our existing customers. By expanding our footprint to Kulai, customers no longer need to travel long distances to our main dealership or other locations for after-sales services."
"This convenience can be a significant factor in attracting more customers and building long-term relationships with them. This could save customers time and effort by eliminating the need to visit multiple locations for different requirements. With the new 3S centre and the strategic location in Kulai, Hino has strengthened their Total Support, providing the best solutions that optimally suit their needs. Hino will help valued customers make the most of their HINO trucks and buses by providing comprehensive follow-up service in the spirit of Total Support," He added.
In arranging and managing 2 branches, he stated, "In order to effectively manage the manpower across the two branches, we have transferred one of our experienced sales managers to the new branch in Kulai. This sales manager brings a wealth of knowledge and expertise in the truck dealership industry, having been with our company for several years. Their experience allows them to provide leadership and guidance to the sales team at the new branch.
"Besides, our technicians and service advisors have undergone comprehensive training at our headquarters before they start working in the Kulai branch. This training equips them with the necessary skills and knowledge to handle various service and maintenance tasks effectively," he added.
Auto Skyline Sdn Bhd's new HINO Authorized 3S centre branch in Kulai is located at 2, Jalan SME 1, Kawasan Perindustrian SME, Bandar Indahpura, 81000 Kulai, Johor and opens on Mondays to Saturdays from 9:00 a.m. to 6:00 p.m. Customers may contact the direct telephone number 07-663 3532 or 018-786 2333 for any inquiries.