The Borneo Safari, held annually in Sabah over the past 26 years, is widely acknowledged as one of the toughest off-road vehicle event in Malaysia. 
Mitsubishi Motors Malaysia (MMM) was no stranger to the Borneo Safari, having entered a fifth-generation Triton in last year's event, which was also the 25th Anniversary edition of the Borneo Safari. That first mission was simple – to prove to sceptics that the Triton, as near stock condition as allowed by the event organisers, would be able to hold its own against the hordes of heavily modified monsters that dominate the starting line-up. The three mandated must-haves comprise a winch, a snorkel, and a set of Extreme Terrain (XT) tyres.
Buoyed by the successful outing, MMM returned in a big way for the 2016 edition, fielding four new Tritons as corporate vehicles, including two units of the recently launched New Triton 2.4 with MIVEC Turbo Diesel Engine.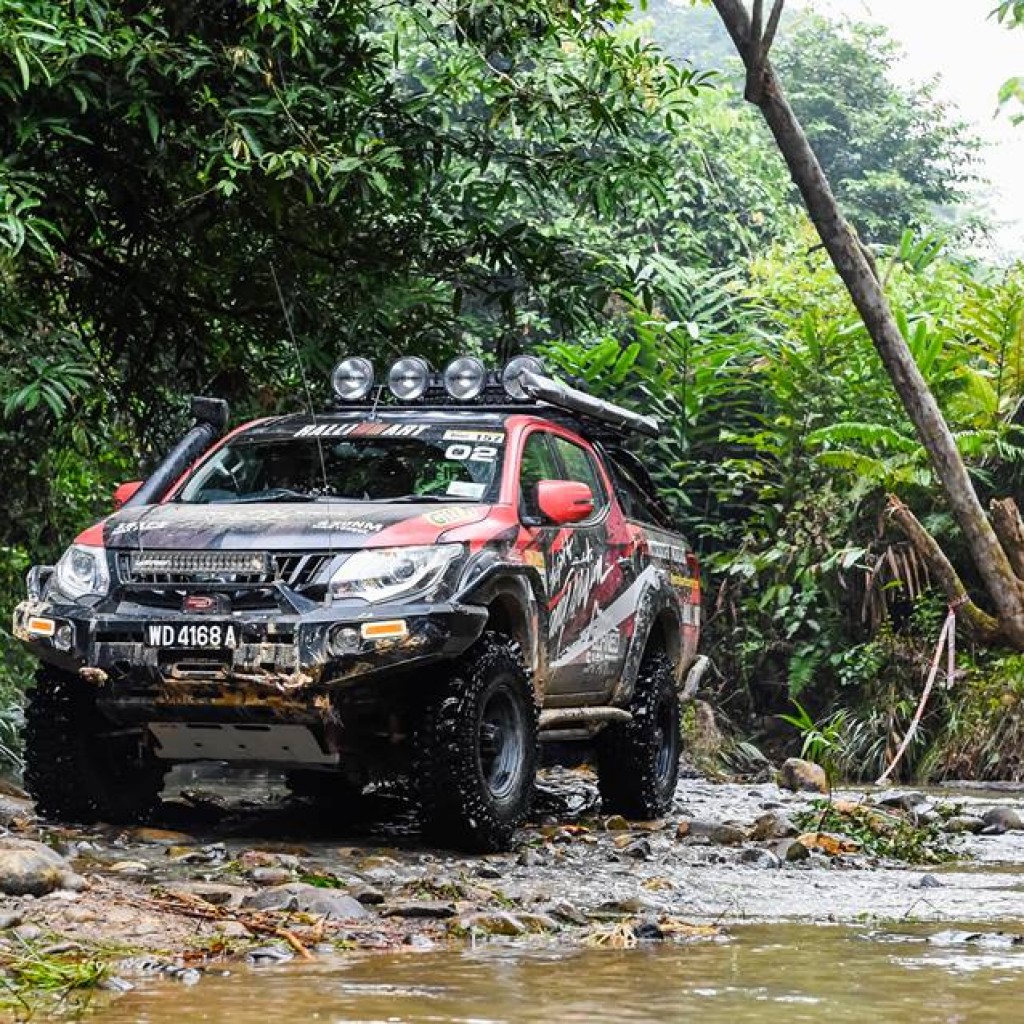 The terrain and weather conspired to serve up a "perfect storm" of challenges that had everyone raving about 2016 being the toughest, and hence, the best Borneo Safari yet.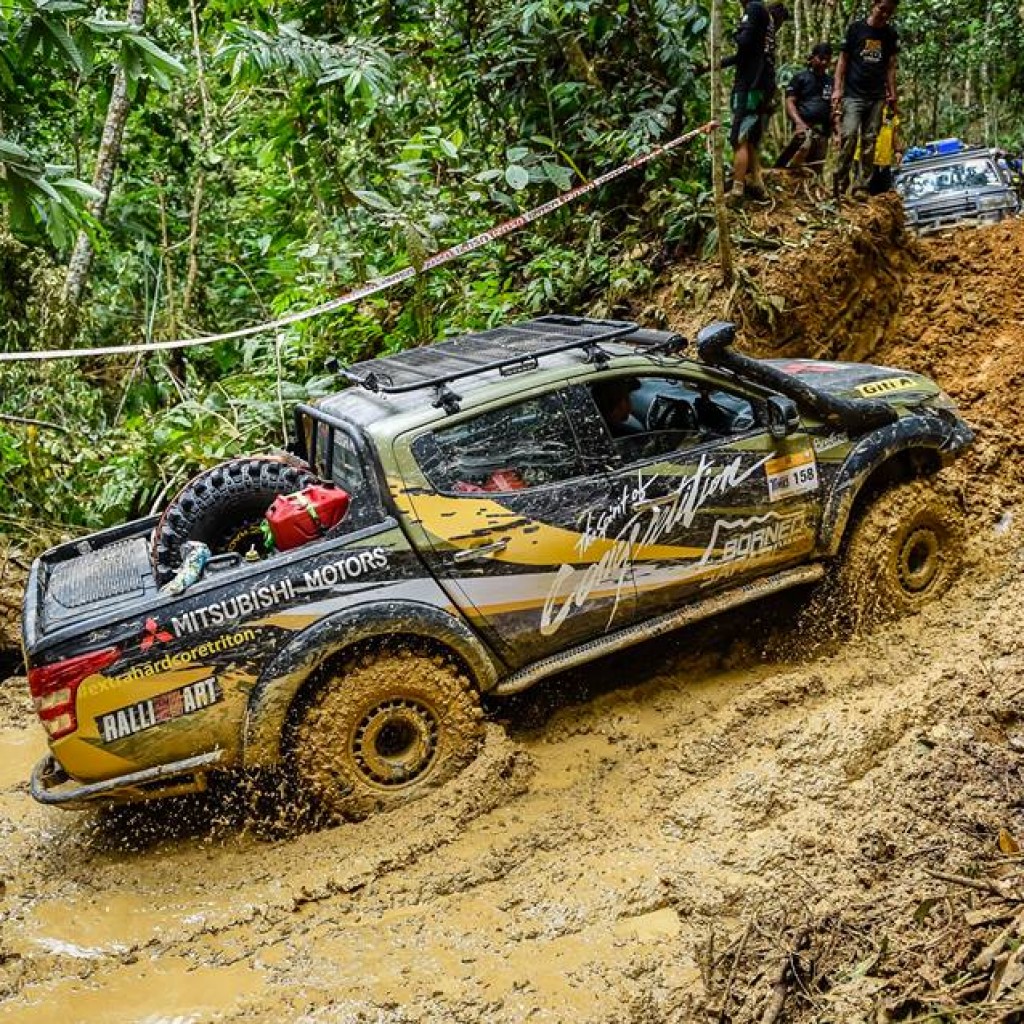 Conditions were so arduous that the scout team charged with blazing the trail reported making only 1.7km of progress from the start line in half a day.
After several gruelling 4×4 adventure days, all nine Tritons came out of the jungle in time for the Borneo Safari closing ceremony. Though the Triton managed through with some scratches and battle scars to show, there were no mechanical issues. 
Through it all, the Tritons and its drivers, prevailed in good spirits and the Mitsubishi Triton has once again proven itself to pass through the durability and endurance test.
More about Borneo Safari 2016
The Borneo Safari International off-road challenge is an exclusive and upbeat eight-day 4WD expedition through Northern Borneo, covering 1000 km of some of the most challenging and varied off-road terrains in the world. 
The concept of the Borneo Safari Expedition, unique in motor sport, is that of an adventure track with 4WDs through some of the world's most incredibly beautiful yet most agonizingly difficult jungle terrains.
The Borneo Safari is designed as a competitive expedition to bring out the spirit of adventure, teamwork, skilful and safe driving and to bring out the very best in man and machine. It is neither a motor rally nor a race! The participants will travel through the mountains and valleys and cross the streams and rivers; they will have their endurance, stamina and skill tested to the limit. 
More about the New Triton with MIVEC Turbo Diesel Engine
Powered by a new aluminum alloy block 2.4-litre MIVEC Turbo Diesel Engine with VGT Intercooler, the new Triton is now more powerful and more fuel efficient. The new Triton is also the first with diesel engine in the segment to use MIVEC (Mitsubishi Innovative Valve timing Electronic control system) variable valve timing technology.
Previously only available on Mitsubishi's petrol engines, MIVEC allows for finer control of the valves.
Thanks to improvements in common rail diesel technology, diesel fuels can now combust at much lower pressure, leading to reduced noise and emissions. However precise control of the valves is necessary to maintain cold-start performance.
 With MIVEC finely controlling the valves, improvements in all areas of performance can now be realised. The lower pressure in the combustion chamber also means that it is possible to use lightweight aluminum alloy material for the engine block.
Noise, Vibration and Harshness (NVH) has also been improved making the new Triton a quieter and comfortable drive.
The use of timing chain also means reduced maintenance cost, and longer service lifespan
The new Triton now comes in six variants, allowing it to meet the needs of a wide range of customers.
The new Triton VGT Adventure X variant is now flagship of the Triton range. It comes standard with rugged looking accessories like a Shield Extender for the front bumper, new Sports Bar with Fullbox, and Dual-tone 17-inch alloy wheels.
The existing Triton VGT AT & VGT MT has also been upgraded. On top of the new engine, Automatic Bi-Xenon HID Headlamps with integrated LED Daytime Running Lights and rear fog lamps are now available as standard. The VGT MT model has also been upgraded with a new 6-speed manual transmission. 
All 4×4 models  are equipped with Mitsubishi's signature Easy Select 4WD system that optimizes torque distribution between the front and rear axles. By simply turning the 4WD Selector, drivers can select between 2WD-Hi and 4WD-Hi while driving at speeds of up to 100km/h, or to 4WD-Lo for the most challenging off-road conditions. The Easy Select 4WD system has been continuously improved for over two decades. It is a robust drivetrain that is able to handle high torque levels.
The new Triton retains its predecessors of best-in-class feature of 5.9 meters turning radius.
As before, all new Triton models are imported as a Completely Built-Up (CBU) vehicle from Mitsubishi Motors' global production hub in Thailand
Prices and colour options for all six variants are as listed in the table below:
No
Variant
OTR Price without insurance GST inclusive (RM) in Sabah
Available Colours
1
Triton VGT Adventure X 4×4 AT
126,437.86
Impulse Blue, Titanium Grey
2
Triton VGT Adventure 4×4 AT
119,630.78
Earth Green, Red Solid, Pearl White, Shadow Black
3
Triton VGT 4×4 AT
110,878.82
Sterling Silver, Pearl White, Shadow Black
4
Triton VGT 4×4 MT
104,051.75
5
Triton 4×4 MT
90,406.62

Sterling Silver, White Solid

6
Triton Quest 4×2 MT
75,164.58
The new Triton comes with 2 Years of Free Maintenance and a 3 years/ 100,000 km factory warranty, whichever comes first.