In an effort to raise awareness of the importance of its latest road safety assistance technology, MAN Truck & Bus is currently organising the MAN TruckLife tour which will be taking place in six countries in Europe until end of the month.
The main attraction of the TruckLife tour is a driver challenge involving the new MAN TGX, which is kitted out with the latest assistance systems.
Latest MAN safety features
These include MAN OptiView, MAN CruiseAssist (long-haul assistant) and LCCPA (lane change collision prevention assistant). With the aid of the OptiView system, the aim of the challenge is to slalom and manoeuvre backwards safely through an obstacle course without making any mistakes.
The assistance system makes blind spots visible on both the driver's and co-driver's side and provides greater visibility in challenging driving situations.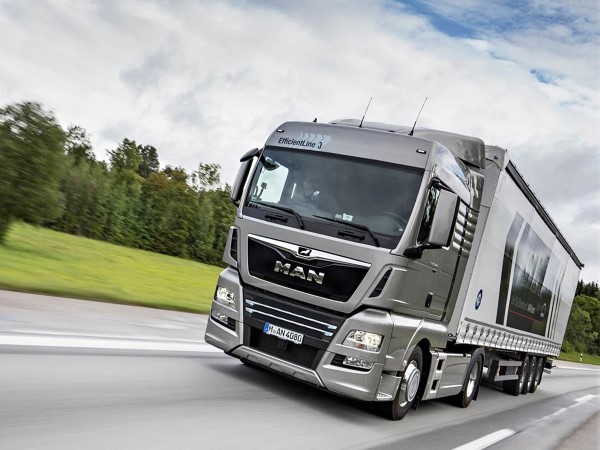 The combination with the radar-based MAN turning aid further increases safety during turning manoeuvres. The informative and at the same time entertaining TruckLife Tour events take place at motorway service stations along European transport routes.
Preventing accidents
According to MAN, the OptiView feature plays a major role in preventing accidents. The digital mirror cam system dramatically reduces the risk of truck drivers failing to spot other road users.
The system's field of view makes blind spots visible on both the driver's and co-driver's side, helping to protect cyclists riding through cities and pedestrians at service stations, for example.
MAN OptiView will be available to order as an optional extra on the new MAN Truck Generation from October 2021. The system replaces conventional exterior mirrors and instead works with cameras on the sides and front of the truck, as well as a rear-view camera, which can be added as an option.
No more blind spots
They show what is happening around the truck on two large high-resolution displays on the A-pillars and also on the screen of the media system. Drivers can choose from a range of view options and the MAN turn assist function is also integrated into the display concept.
In turning situations, the systems offer the ideal combination of radar-based hazard detection and warning as well as visual representation of the areas to the right, left and in front of the vehicle without blind spots.
MAN OptiView thus makes a significant contribution to increasing road safety, especially in conjunction with other driver assistance systems.
In addition, the system enhances the personal safety of truck drivers during breaks and overnight stays at rest stops.
Thanks to the all-round visibility provided by the camera system, drivers do not need to leave the vehicle or open the cab's curtain to check what's going on outside if they hear a suspicious noise, for example. As a result, they are better protected and can notify the police of the incident if need be.