Malaysian trucker, Zulkifli makes history with Asia Pacific Fuelwatch Challenge 2016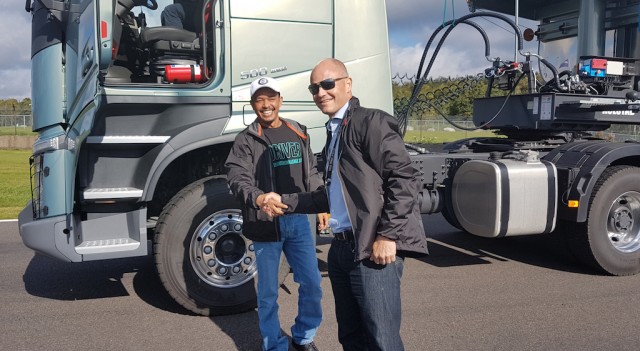 Zulkifli bin Saad, age 38 from Penang made history for being the first Malaysian to qualify for the Fuelwatch Challenge 2016 World Finals after he was announced as one of the top finalists in the Asia Pacific (APAC) round which was held in Varberg, Sweden. Introduced in Malaysia in 2009, the annual prestigious competition attracted an increasing number of participants from all over the country, with the recent seventh edition pulling in over 1,400 participants.
Initiated by Volvo Trucks, global leader in sustainable transport solutions, the Fuelwatch Challenge is a competition in fuel efficiency and driver productivity that has become a mainstay event of the industry. It brings together technology and care, with the best trucks and the best drivers, to highlight the massive impact of fuel economy on operating costs and sustainability for the transport industry.
"I could not believe it when my name was announced as one of the top 5 qualifiers for the APAC Fuelwatch Challenge final round. I was so happy to have made history as the first Malaysian to have reached this far in the APAC leg. Furthermore, this meant I automatically qualified to compete in the World Finals with countries like United Kingdom, Italy and many more. I am thankful for all the support given by my friends and family, and I am very grateful for the advice given by my mentor as well as for this incredible opportunity by Volvo Trucks Malaysia," said Zulkifli.
"Although I did not win in the World Finals, I have learnt a lot from my experience here as well as from the other participants. Last but not least, I could not have done this without the strong support from Prifaria Sdn Bhd, whom I work for," he added.
The winner of the APAC Final went to Mr Hsu Chin-Lung from Taiwan who clocked 32% less fuel compared to the highest amount of fuel burnt at the event.
Congratulating the APAC winners on their achievements, Heléne Mellquist, President of Volvo Trucks International, added: "The great performances offered by our contestants underline the importance of the driver when it comes to achieving optimal fuel efficiency. This competition is all about sharing insights to improve drivers' performance and benefit businesses in the long run."
For the World Finals in Gothenburg, Sweden, 28 truck drivers from 42 participating countries all over the world gathered at Volvo Trucks' test track for the long awaited competition which is held every 2 years. Both the APAC and World Final competitions consisted of a one-day training session alongside driving a Volvo FH around the designated tracks while using as little fuel as possible. This year's set up for the World Final also included a twist: participants that managed to complete the course with time to spare were awarded extra points.
During the Fuelwatch Challenge 2016, drivers demonstrated their competency in vehicle handling at optimal fuel efficiency. Using Dynafleet, the company's proprietary fleet management system, fuel efficiency scores are accurately measured based on four key aspects – braking, speed adaptation, engine and gear utilisation and standstill. Data on fuel efficiency, driver's uptime and overall productivity are collected to gauge contestants' performances and identify specific areas for improvement.
More than a competition, the Fuelwatch Challenge showcases real-world cost benefits for companies and industries, whilst positively impacting the environment and society-at-large. A fuel-efficient driver can make a substantial difference and save as much as ten per cent in fuel costs. The role that drivers play is integral to achieving optimal fuel efficiency. Each edition of the competition continues to reinforce that training, and coupled with insights from Dynafleet telematics, it can significantly improve drivers' performance and benefit businesses in the long run.
Fuel accounts for around a third of a transport company's costs. That is why Volvo Trucks works continuously to meet the customer's growing needs for fuel-efficient transport. However, in order to be a truly fuel-efficient transport company, a modern truck is not enough; a good driver is also a necessity, which is why Volvo Trucks puts strong emphasis on vehicle handovers and professional driver training.
"One of the most important criteria for any business is meeting deadlines especially for companies in the transport industry. By including time constraints, the skills to prove in the World Finals are even more practical and relevant to the driver's day-to-day work. To win, the driver needs to drive in an exceptionally well-planned, forward-looking and fuel-efficient way," says Mats Nilsson, President of Volvo Group, Region Malaysia.
"I am also very proud that Malaysia has made it all the way here for the first time in 7 years since the competition was introduced in the country, and I hope that with the experience and knowledge gained here, we can do better in the next Fuelwatch Challenge," added Nilsson.
Clinching a spot at the World Final was no small feat. The 28 competing drivers qualified through national and regional competitions held across the world, which involved over 12,000 drivers.
Along with the title, the APAC Final winner received a VIP-trip to the Ice Hotel in Jukkasjärvi, Sweden whereas the winner of the World Final received a VIP-trip for two to a Formula 1 race of their choice, where they will gain unique insights into the world of F1 racing.