DRB-HICOM Commercial Vehicles ("DHCV") the exclusive distributor of Tata Motors commercial vehicles in Malaysia, held a ceremony to hand over the first two units of Tata Super Ace to two driver contractors of LEL Express, Reza Sadon Enterprise and CFD 74 Enterprise.
LEL Express is the logistic arm of Lazada Malaysia ("Lazada") – the leading e-commerce platform in South-east Asia. The introduction of Tata Super Ace is vital to support LEL Express' driver contractors in expanding its last mile delivery capabilities.
The ceremony was witnessed by Rohime Shafie, Head of Automotive Distribution, Manufacturing & Engineering, DRB-HICOM Berhad, Rudrarup Maitra, Head – International Business, Commercial Vehicles, Tata Motors Limited and  Arpit Srivastava, Vice-President, Head of Strategic Partnership, LEL Express. Mohd Syahrul Yusuf, Chief Operating Officer of DHCV did the honour of presenting the mock keys to the new owners.
Tata Super Ace to hype deliveries of Lazada 11.11 Sale
Tata Super Ace is a one ton mini truck built with cutting edge technology for intra and inter-city transportation solutions. Both trucks handed over to Reza Sadon Enterprise and CFD 74 Enterprise were fabricated with customised box body, to cater for the needs of e-commerce delivery services.
Antoine Comar, Country Manager of LEL Express, Lazada Malaysia believes the acquisition of the Tata Super Ace will bode well for their contractors.
"We are delighted by the introduction of Tata Super Ace to support our driver contractors in Malaysia.  This addition contributes to our promise of the best end-to-end experience for our customers. We are confident that with the continuous support of DHCV, we will be able to further optimise our delivery operations", he explained.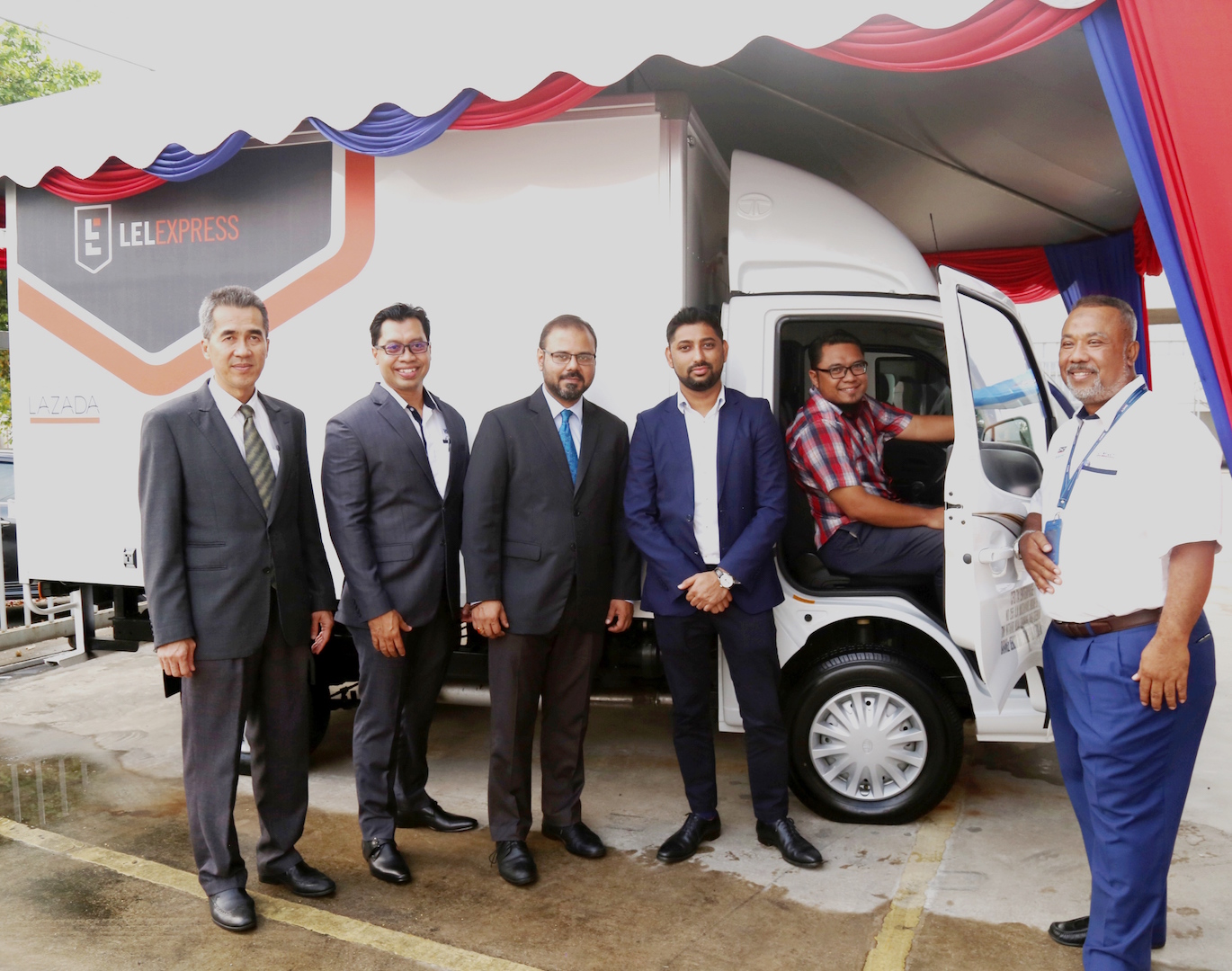 LEL Express is currently gearing up towards Lazada's biggest online event of the year – the 11.11 sale on 11 November 2018. The 2017 edition of the 11.11 shopping extravaganza saw more than 10 million visits on Lazada Malaysia's mobile application and website within 24 hours, with a whopping 1,400 transactions per minute and merchants selling over 50 times their daily volume. The numbers are expected to grow even further this year.
Rudrarup Maitra said that the delivery of Tata Super Ace to Independent Contractors of LEL Express is an important milestone for Tata Motors growth in Malaysia and ASEAN region.
Tata Super Ace the preferred choice in 28 countries and now served by 24 outlets nationwide
 "Malaysia is one of our key markets in South-east Asia and we are delighted with the overwhelming response to our recently launched Tata Super Ace and the Ultra range of light trucks by DHCV. The Tata Super Ace is a proven performer that can be customised for various applications delivering sustained value to customers", he added
Meanwhile, Rohime says the Super Ace will benefit the companies.  "Tata Super Ace is fitted with a 1405 cc diesel turbo charged engine that gives more power with better fuel efficiency as well as tough and durable build, engineered to support heavier loads and ensures long-term saving, making it a perfect  last mile transport solution", he said.
The Tata Super Ace has been a preferred choice for last-mile transportation with a footprint spanning 28 countries across South Asia, Africa and the ASEAN.
Tata Motors have sold over a million units since it was first launched in 2005.  The mini-truck has been a revolutionary product and is a result of Tata Motors' deep understanding of the market and consumer.
Tata Motors customers in Malaysia are currently being served by a network of 24 outlets located at strategic locations and in major townships, nationwide. DHCV aims to expand this reach in tandem with sales and market growth.