We are often told to "go all the way or to go home" in life; when it comes to studies, doing our job, following our passion, and so forth. Even when you tell your friends that you are thinking of buying a new car, most of them will tell you to go for the high-spec variant or not to buy that particular model at all because "might as well…"
However, that does not seem to be the case with the new Kia Sorento as the 2.5G 2WD 7-Seater base variant here still has so much to offer.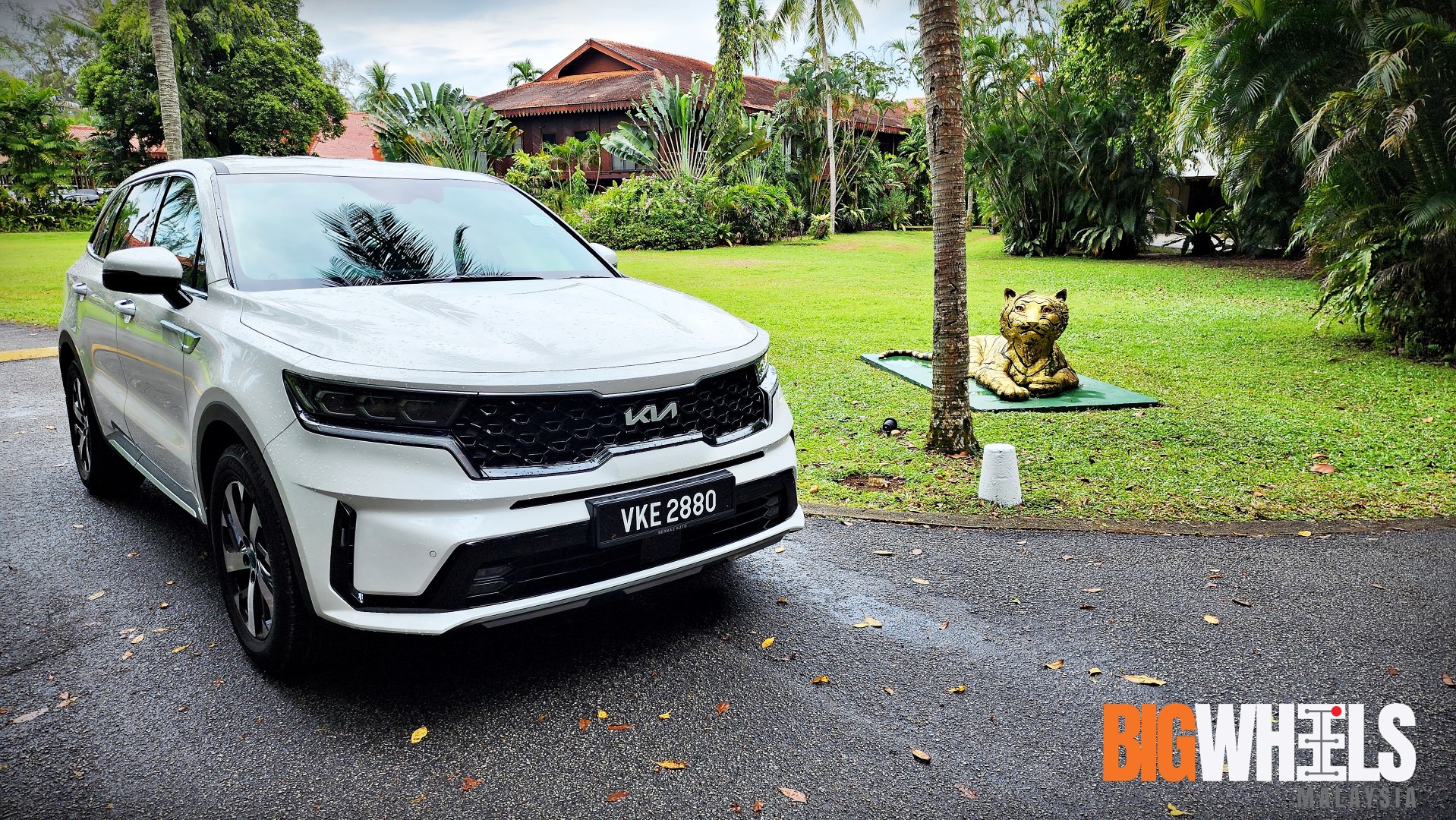 Overview of the Kia Sorento 2.5G 2WD
Redesigned from the ground-up, the front of the Sorento features a new interpretation of Kia's hallmark 'tiger nose' grille, displaying a wider shape which wraps around the integrated headlamps on each side. 
The headlamps feature a new 'tiger eyeline' LED daytime running light, adding an extra focus to the design by depicting the intense impression of the lines around the tiger's eyes.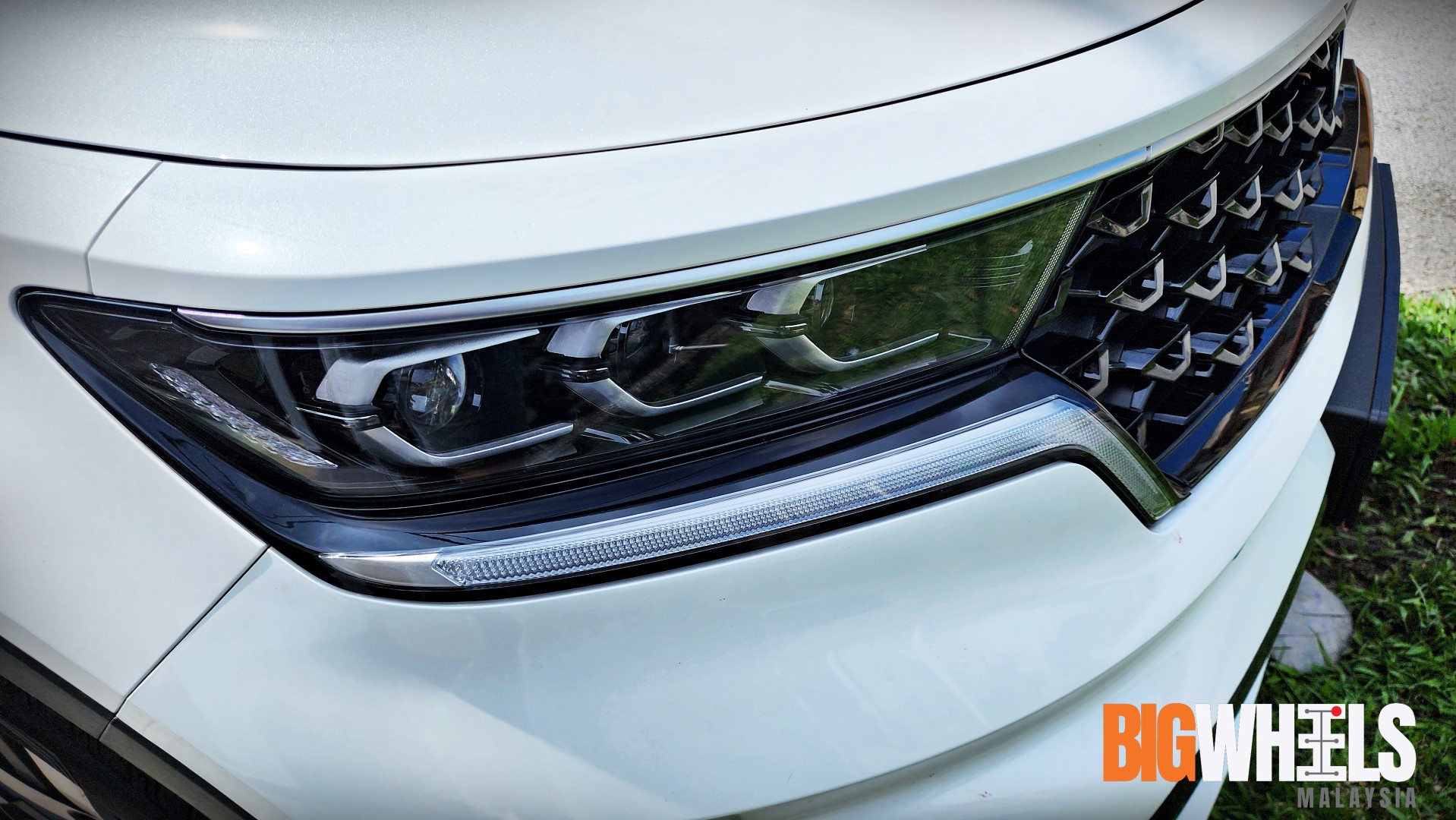 Inside, the material quality of the fourth generation Sorento is enhanced with a new design with blending metallic trims, new upholstery and embossed wood-effect surfaces. 
While the high-spec variants get a 12.3-inch digital driver instrument cluster that is paired with a 10.25-inch infotainment system at the centre of the dashboard, the entry-level variant here comes with an analogue instrument panel with a 4.2-inch TFT display in the middle.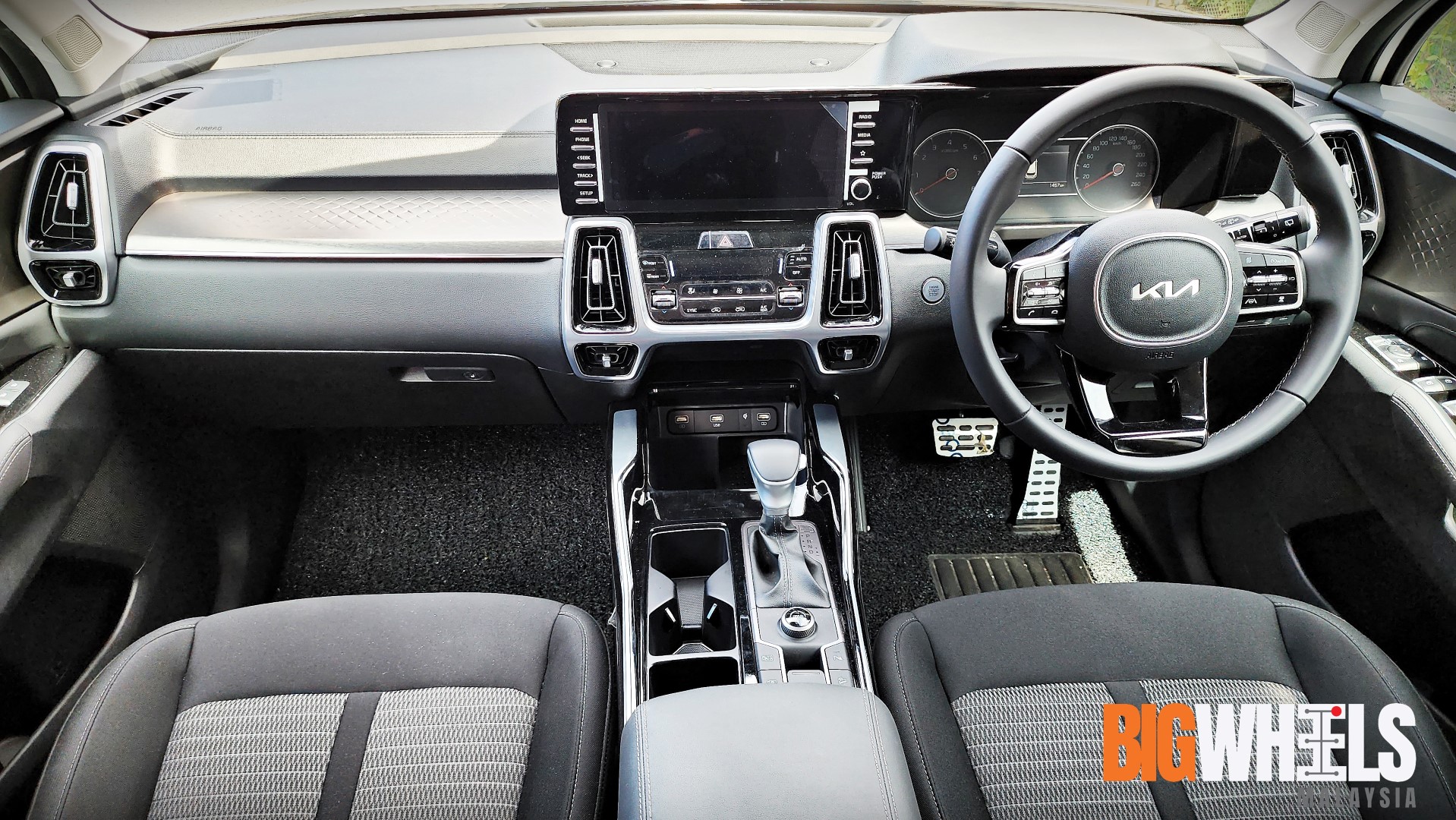 A wireless smartphone charger sits at the base of the centre console while the infotainment system is compatible with Apple Carplay and Android Auto to provide seamless smartphone integration.
Regarding powertrain and seat configuration, the base Kia Sorento 2.5G 7-seater variant here comes with a 2-3-2 seat layout,equipped with the 2.5L 'Smartstream' petrol engine producing 177 hp and 232 Nm of torque, and a 2WD setup. Paired with the engine is a 6-Speed Automatic transmission.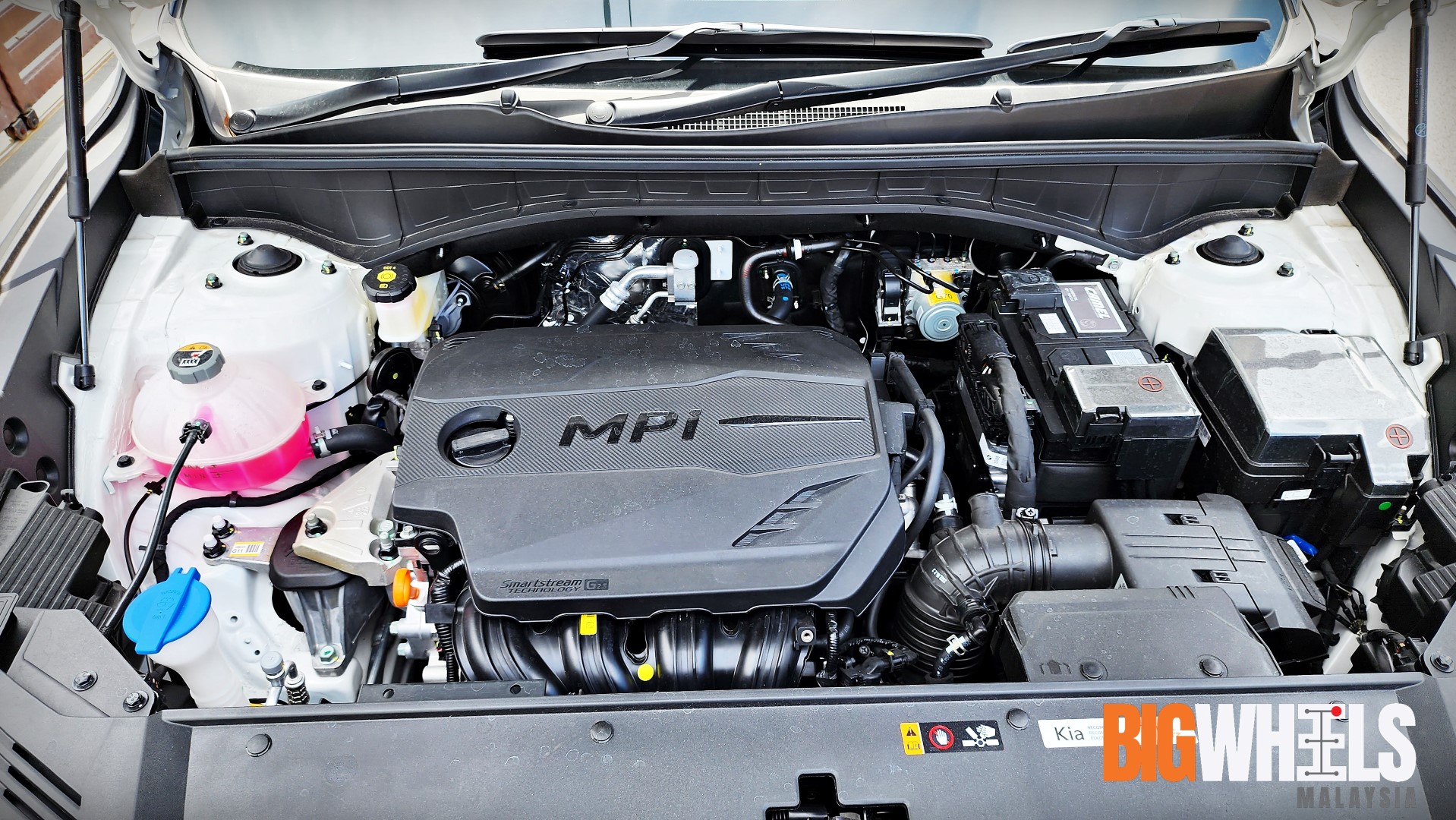 The standard safety features of the Sorento includes 6 SRS airbags (Front Driver & Passenger, Side and Curtain), Anti-Lock Braking System (ABS), Electronic Brake-Force Distribution (EBD), Brake Assist (BA), Electronic Stability Control (ESC), Traction Control System (TCS), Multi-Collision Brake Control (MCB), Hill-start Assist Control (HAC), ISOFIX Child Restraint Anchor Points and Top Tethers comes as standard for all three variants.
That being said, the all-New Kia Sorento is locally assembled at the Inokom Assembly plant located in Kulim, Kedah, and comes with a comes with a 5-Years Manufacturer Warranty with a coverage period of up to five years and a mileage limit of 100,000km, whichever comes first. It also comes with 5-Years Free Scheduled Maintenance, with a coverage period of up to five years and a mileage limit of 100,000km, whichever comes first.
Pros and cons of the Kia Sorento 2.5G 2WD 7-seater
On the upside, the Kia Sorento is a very handsome SUV. In fact, it wouldn't be an exaggeration to say that it is among the best-looking SUVs in the market at the moment, thanks to the Cadillac-ish silhouette and the intimidating face.
The good looks of the exterior is in sync with the well-built and spacious interior as well. You can call it a "low-spec" Sorento, but never a "kosong-spec" as the Sorento 2.5G 2WD 7-seater is anything but "kosong".
While many 7-seater SUVs are merely a 5+2 which means that the third row is there only for children and luggage, the Sorento here is a proper seven-seater that can fit seven adults comfortably in all three rows.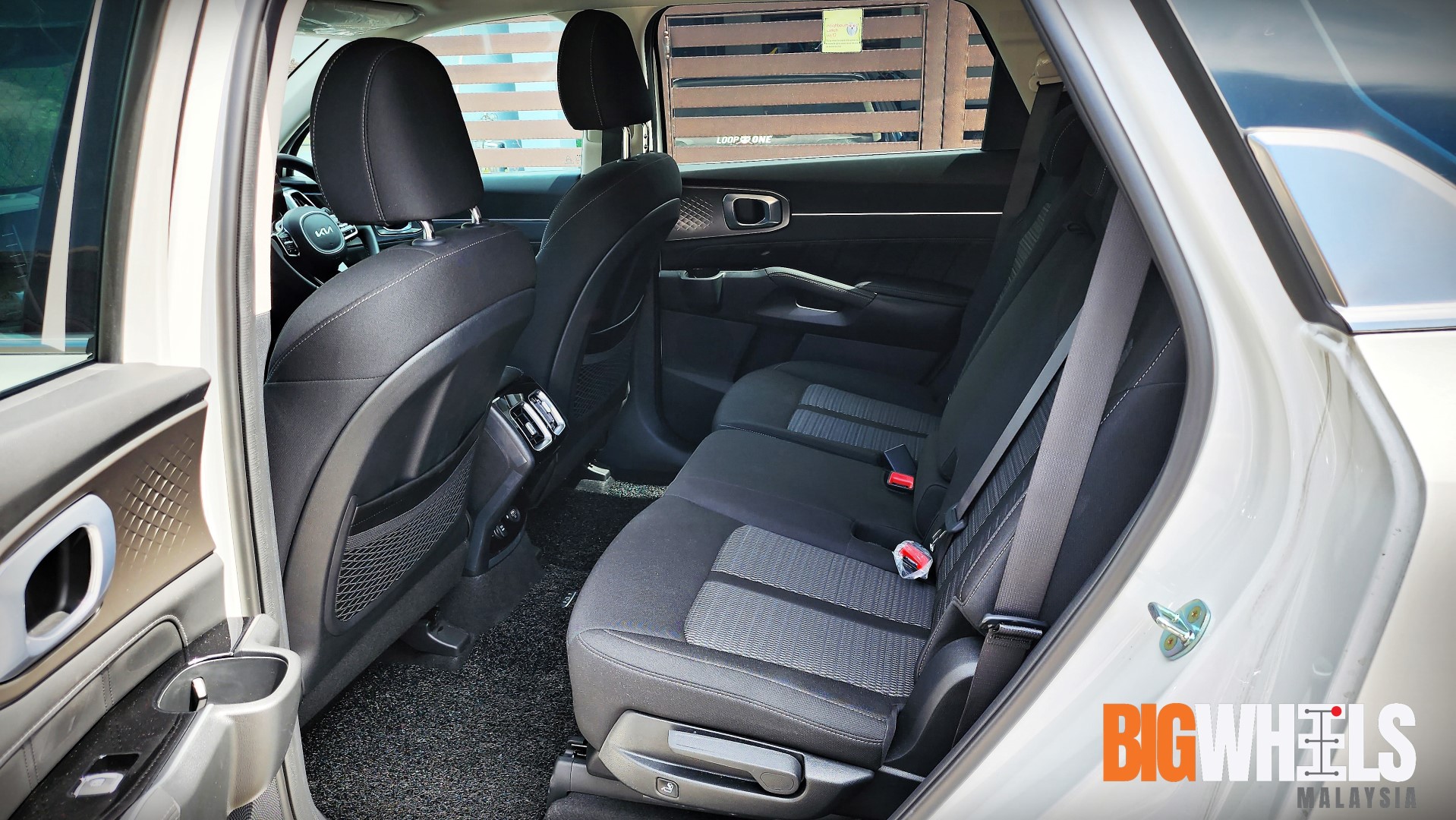 Almost identical to the dashboard of the Kia Carnival, the infotainment system that supports Apple CarPlay and Android Auto is very user-friendly, and comes with a solid audio system as well. There is also a wireless charger for mobile devices which is a big plus point.
Although there are no paddle-shifters and the speedometer is analogue, it didn't really bother us we rarely use paddle shifters, and the instrument panel still looked good and offered all the necessary information.
Plus, the availability of features like LED headlights and LED DRLs, keyless entry, a leather steering wheel, the Smart Power Tailgate, Dual-zone air conditioning, six speakers, two 12V power outlets and six USB ports outweigh the list of what's not there.
The only downside is that the seats are clad in fabric, which can be difficult to clean compared to leather upholstery. Other than that, there is actually nothing much to complain about.
Space is not an issue at all as seven adults can sit comfortably for hours in the Sorento 2.5G 2WD. Occupants aside, there is also ample space for everyone to store their belongings.
While some may look at the lack of AWD as a disadvantage, it is actually a plus point if you are not going to be taking the Sorento off-road as it makes the SUV lighter and more responsive.
Another difference between this variant and the six-seater variants is the tyre size. While the higher-spec six-seater versions come with 19-inch (235/55/19) tyres, the seven-seater variant here comes with 18-inch (235/60/18) wheels which is also an advantage if you ask us. Not only will you be spending lesser on tyres, but the fact that they're thicker also means more comfort!
Driving experience
177 hp and 232 Nm of torque may not look like impressive on paper in this day and age but believe us when we say that the Sorento 2.5G is anything but slow. Despite its size, power delivery is adequate and smooth, sending it speeds above the speed limit effortlessly.
In order to put it to the test, we drove it to Cherating, Pahang where the journey comprised a good combination of twists and straights. Since it is a tall SUV, there is still noticeable body roll when you approach a corner fast, but when you drive it in a more chilled manner how a family vehicle should be driven, the Sorento passes with flying colours.
Where the Kia Sorento 2.5G really shined was on long straights of the East Coast Expressway where it was able to cruise sturdily at speeds that shall not be mentioned here, without breaking a sweat or scaring anyone. Regardless of where we were, the level of comfort inside the cabin was not compromised one bit.
Due to its size, manoeuvring the Sorento in shopping mall car parks and tight lorongs can be challenging, but the level of visibility and assistance provided by all the cameras and sensors were more than enough to help us navigate ourselves through these spots.
Last but not least, the huge 67-litre fuel tank makes the Sorento ideal for long distance journeys as it took us close to 600km before the fuel warning light popped up.
In all, the Sorento 2.5G may not be as powerful as its diesel-powered sibling, but it still packs a punch both in town and on highways. The level of noise insulation, refinement, and comfort were also top-notch.
If we are to compare it with rivals like the Mazda CX-8, the Kia Sorento 2.5G is not as sharp or as engaging to drive as the Mazda CX-8, but it is not too far behind to tell the truth, which also puts it ahead of the Proton X90 in the driving department.
Conclusion
In all, despite being an entry-level variant, the Kia Sorento 2.5G 2WD 7-seater still has a lot to offer. While the sharp exterior design turns heads towards it, the interior is also very well-built, spacious, and packed with features. Though it doesn't come with leather seats, there is a long list of convenience features that make it perfect for a family of seven.
Yes, the price tag of RM211,498 is expensive indeed, but the prices of vehicles have gone up across the board. Even the next-gen Honda CR-V is rumoured to be priced between RM180,000 and RM200,000.
That being said, if you are looking for a good seven-seater SUV for your family that is handsome, safe, powerful, practical, spacious, and generous with features for under RM220,000, you should definitely consider the Kia Sorento 2.5G 2WD 7-seater here.
Specifications
Engine: 2.5-litre, naturally-aspirated, 4-cylinder petrol, DOHC
Drivetrain: 2WD
Max power: 177 PS at 6,000 rpm
Max torque: 232 Nm at 4,000 rpm
Transmission: 6-speed automatic
Fuel tank capacity: 67-litres
Fuel consumption (tested): 10.8 litres/100 km
Price: RM211,498