If you're thinking of starting up your own little business, this van is perfect. It's not too big and it's not too small. I remember the days of the Hijet which was way too small and excuse the pun, doesn't look the business, to do the business.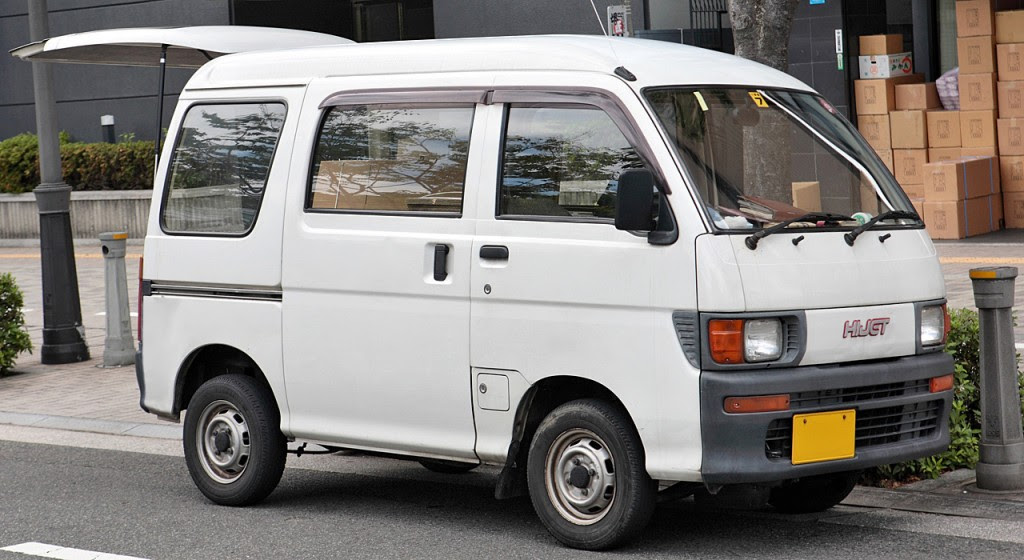 But with this Gran Max, it's perfect. I have always been a fan of the Ford Transit but that's too big and too costly.
The next van that came to mind would be the Nissan NV200.
That's perfect too but, after checking out the Gran Max, I was sold.
One of the main reason was … the Gran Max is rear wheel drive.
There may be pros and cons when it comes to cars yes but to me, when it comes to your work horse, it's best that it's all wheel drive or at least, rear wheel drive.
Yes, I did ask the Daihatsu peeps if I can drift with the Gran Max and they looked at me as if I was mad.
The Gran Max Panel Van Automatic Transmission (AT) was previewed to a bunch us media and dealers during the ADM Plant Visit in Jakarta, Indonesia at the beginning of the month.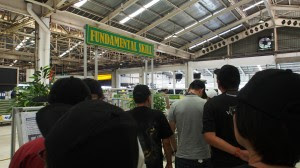 Daihatsu says the Gran Max is known to be compact yet reliable and durable, pursued by the fundamental performances for carrying large loads with ease, delivering the functionality of a workhorse at its best.
The newly upgraded Gran Max will be the 1st Auto Transmission Panel Van to enter the light commercial vehicle segment in Malaysia.
Since its establishing years of Daihatsu in Malaysia, starting from year 1980, Daihatsu (Malaysia) Sdn. Bhd. has sold more than 67,254 units of commercial vehicles.
They have specially designed this new panel van (AT) to accommodate the requirements of mobile SME businesses (business 'on-wheel') that is blooming in the country as well as other corporations and government agencies.
It is compact and lightweight – perfect for many delivery-based businesses such as retail, trading, catering, utility, security and many more.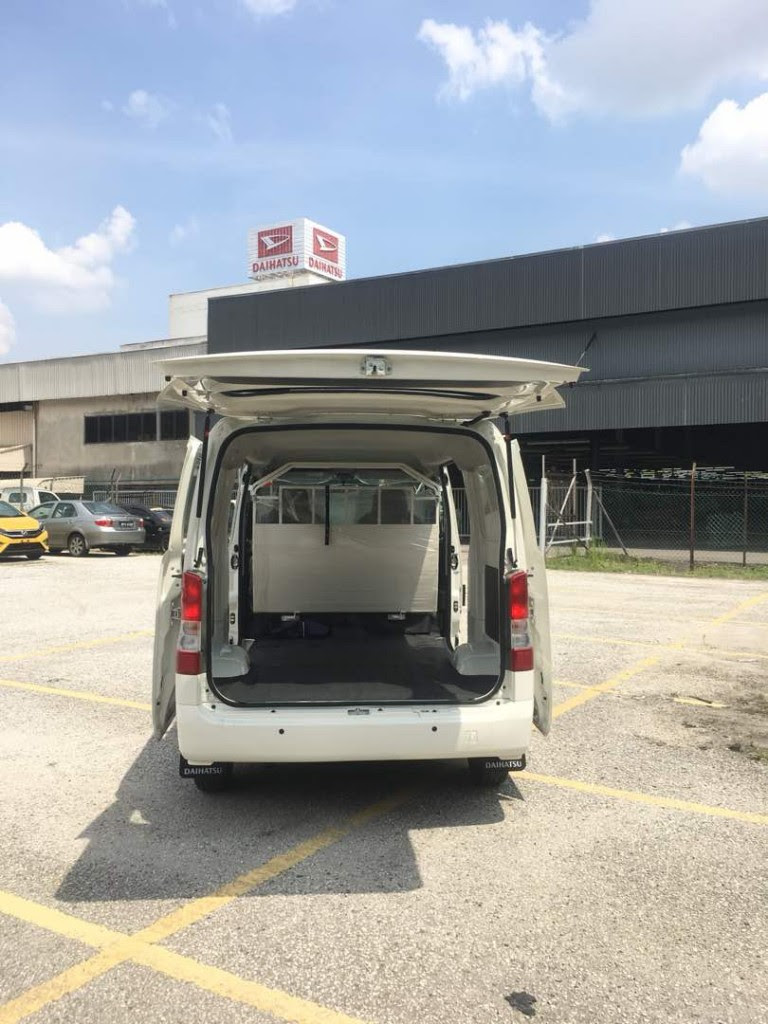 It is able to accommodate up to 2,000 kg of gross weight (with load) and runs on Electric Fuel Injection (EFI) powered by DOHC DVVT 1.5 litre engine, that produces maximum power of 71kW/6000rpm and maximum torque of 134Nm/4400rpm.
This will benefit owners with economical petrol cost without compromising the power to accelerate. The engine is compatible with RON 95 petrol which is easily accessed around the country.
It's, like I said earlier rear-wheel drive (RWD) improving driving grip while transporting loads, especially on uneven road conditions.
The 4-speed automatic gear, with light powered steering and 4.7m small turning radius is a power-combo to boost easy vehicle handling.
The automatic transmission also takes advantage of torque converters and wider spread gear ratios allowing better manoeuvrability through busy city roads, tight corners as well as driving up the hills.
For extra safety and comfort, it has anti-lock braking system (ABS) and dual front SRS airbags along with its high rigidity monocoque body structure.
Dr. Iqbal Shaharom, Managing Director of Daihatsu (Malaysia) Sdn. Bhd. and Acting President & Chief Executive Officer of MBM Resources Bhd said "Although the new product is manufactured in Jakarta ADM Plant, all three arms of Daihatsu Japan, Indonesia and Malaysia took pride of working hand-in-hand, conducting in-depth research of our very own local environment and habits. The dynamics of driving a commercial vehicle is different from driving a common passenger car. And we know, many of our customers will be first timers of owning and driving a commercial vehicle. In order to help them maneuver well – we have equipped the panel van with automatic gear transmission and other enhanced features for easy driving experience, while keeping the carriage safe. We believe there is a large potential in the country, as based on reported Malaysia statistics*, there are more than 900,000 SME establishments (not including – the bigger corporations and government agencies). As such, we want to tap into this segment and are happy to develop a vehicle that will help Malaysian businesses reach out to their customers and support the idea of 'go-to-the-market'." 
The New Gran Max Panel Van (AT) model is priced from RM69,888.00**, excluding insurance and comes with a 3 year warranty/100,000 km. First 100 customers who made bookings before the 30th September 2018 will enjoy special early-bird promotion – Free 1 Year Service Maintenance Package.
Hassle-free after sales care is included where service maintenance can be scheduled right at customer's doorstep – through their "Daihatsu Mobile Service" team. The service provided inlcudes replacing of timing belt, brake pad, battery, absorber, wiper and brake fluid at customer's convenience while being charged at their standard service centre rate. Daihatsu Mobile Service is currently available within Klang Valley, Johor and soon will expand to other regions.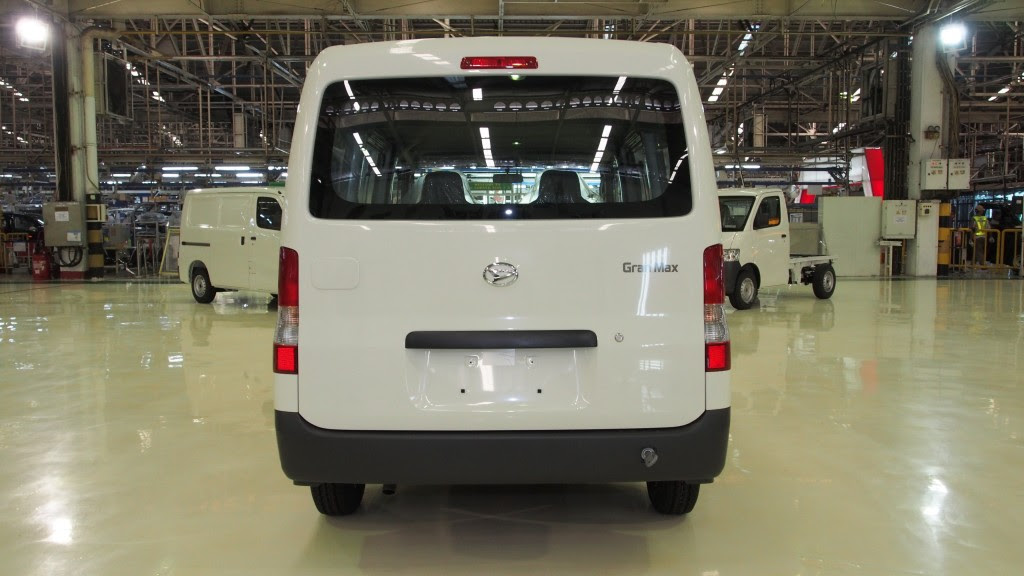 Alternatively, customers may also visit a total of 50 Daihatsu trust-worthy service centres and authorized service dealers throughout Peninsular Malaysia, Sabah and Sarawak, which guarantee service of original parts and fluids.
You can check out the Daihatsu Gran Max product presentation at its 26 showrooms around the country, or book your appointment today at tel: +603 – 5510 9988. Otherwise, find out more info via the official website at www.daihatsu.com.my or drop a note to email add: hotline@daihatsu.com.my.