In conjunction with the launch of UD Active Steering in Japan, UD Trucks demonstrated the steering precision of this technology through the medium of calligraphy.
What UD Trucks did is that they created the world's largest Kanji (Japanese character) ever drawn by a truck, using a heavy-duty Quon prime mover equipped with UD Active Steering to the character for "technique", or Waza in Japanese.
The giant masterpiece
The giant Masterpiece was created in collaboration with renowned calligrapher, Gyousyou Suzuki.
A giant brush was mounted to the rear of the UD Active Steering-equipped Quon.

On Suzuki's direction, the truck drew the character, stroke by stroke, with mastery akin to the delicate and deliberate hand and brush movements of the calligrapher himself.
The ability to steer the truck with such a light touch, even by a single finger, made this feat possible.
Gyousyou Suzuki
Gyousyou Suzuki studied under master calligrapher Gyoun Mochizuki and is a member of the All-Japan Calligraphy Federation. He has received numerous awards and accolades for his craft.
His work has been featured on television programs and in commercials. He has also written several books on calligraphy.
UD Active Steering
Coming back to UD Active Steering, the technology features an electric motor mounted above the hydraulic steering gear to provide additional torque when necessary.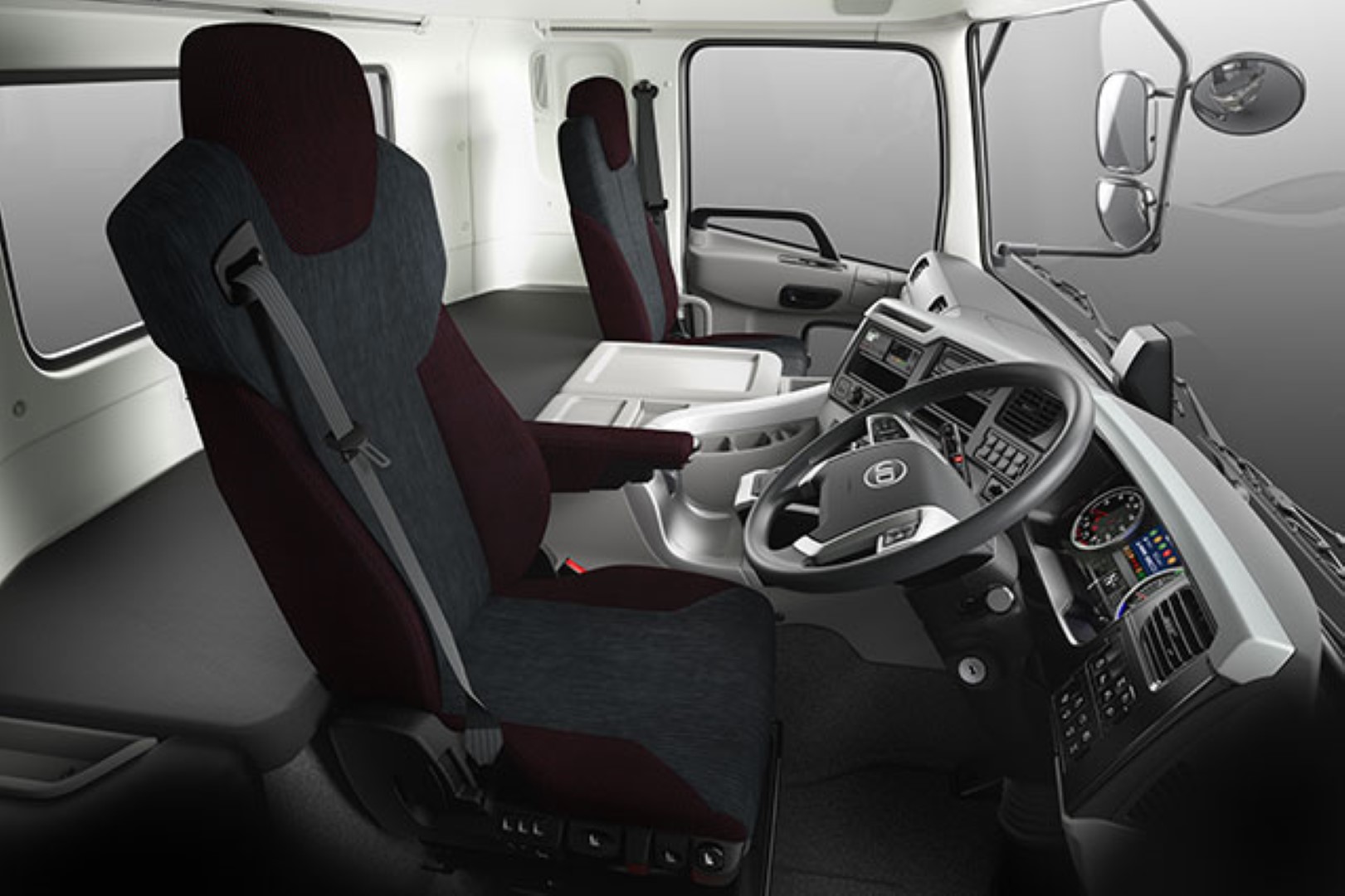 The electronic control unit (ECU) mounted on the electric motor receives input 2,000 times per second from sensors throughout the truck, monitoring the driving environment and the driver's own actions.
This system control adds appropriate torque to the weight of the steering wheel, providing precise and stable steering irrespective of speed, cargo, and road conditions. The ease and precision of steering helps reduce driver fatigue and make roads safer.
Five benefits brought by UD Active Steering
1. Low Speed Agility – When turning at low speeds and reversing in tight spaces, additional steering torque automatically feeds into the system to allow the driver to maneuver with a light touch.

2. High Speed Stability – When driving at higher speeds, the weight of the steering wheel adjusts to provide superior stability.

3. Rough Road Dampening – Dampens vibrations from rough roads. Minute directional adjustments keeps the driver on a course. 
 
4. Cross Wind Correction – Virtually eliminates steering corrections needed in crosswinds, keeping the driver on a straight course.

5. Return to Center
Whether turning or reversing, the steering wheel will return to center when released, saving driving effort and bringing the vehicle into a straight line quickly and easily.