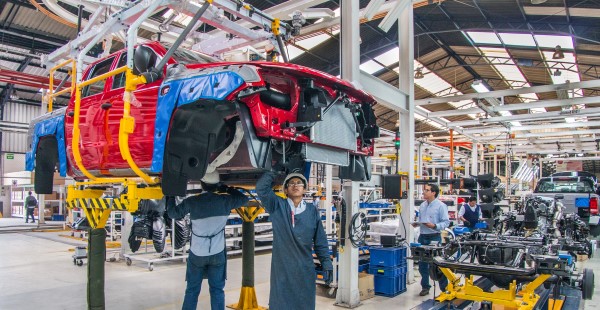 Volkswagen Commercial Vehicles (Hannover) and contract partner FISUM in Quito (Ecuador) have begun operation of the production facilities for the new Amarok model. Around 2,000 pick-ups a year are initially to be made in Quito. To cater for growing demand, production can be increased to around 10,000 vehicles a year.
Volkswagen Commercial Vehicles is supplying FISUM with CKD* parts from various sites for the production operation at local contract manufacturer AYMESA, an affiliate of FISUM. The vehicles being made are Amarok Trendline models with two-wheel-drive or 4MOTION.
At the opening in Quito attended by around 300 guests, Dr Josef Baumert, Member of the Board of Management responsible for Production and Logistics, explained: "For the first time in the history of Volkswagen, vehicles will now be produced in Ecuador. We are delighted to be starting this production operation with our partner FISUM, as we believe that local series production creates excellent opportunities for our pick-up in this growing market. We are thus reinforcing our regional presence by production in Quito." The production operation in Ecuador was a further, important building block in the internationalisation strategy of the Volkswagen Commercial Vehicles brand, Baumert added. He also stressed: "The manufacturing operation will observe the same high Volkswagen standards as in all our factories around the globe."
Dr Marcos Malo, President of Volkswagen's Ecuadorian partner FISUM, explained: "It is an honour to be able to serve as a contract partner of Volkswagen Commercial Vehicles on such a challenging project. The faith placed in us is a clear sign of our quality. It is, however, also an indication of our country's potential for realising important forward-looking projects." The project would also create the basis for further jobs, Malo added.
Maximiliano Mayer, Volkswagen Commercial Vehicles Project Manager, said at the opening: "Manufacturing the Amarok here is the right decision: as an all-rounder, it offers flexible solutions for the challenges of everyday life."
"The reliable delivery of parts to Ecuador is carried out via sites in Germany and Argentina. It is an example of our very good international integration," says Andreas Spindler, Head of International Logistics at Volkswagen Commercial Vehicles.