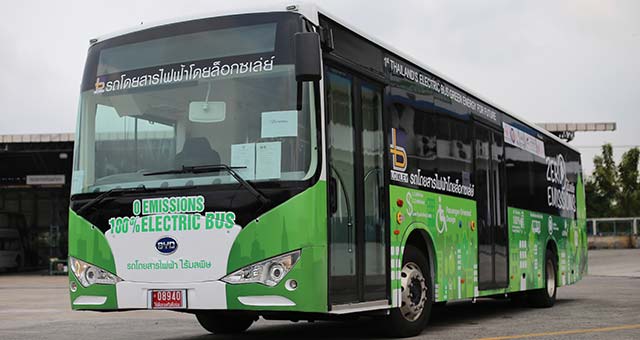 The year started with a rosy outlook for BYD Company Ltd. and Thailand's public transportation system. On January 8, Thai Prime Minister Prayut Chan-o-cha boarded the first BYD K9 pure-electric bus assembled in Thailand, and paid effusive compliments on the vehicle's technology, design and comfort. Several other distinguished Thai government officials in attendance were equally impressed.
After thoroughly inspecting the bus, Mr. Prayut Chan-o-cha stated that the BYD K9 fully embodies the performance and excellence required for quality public transportation and extolled the fact that the vehicle was assembled in Thailand. He added that electrified transportation is an inescapable global trend and that Thailand won't miss out on it, thus announcing a first batch of 200 electric buses tender within three months.
Just the day before, BYD representatives and the company's local partners in Thailand gathered in front of the Ministry of Transport to showcase the K9 to the Ministry's senior leaders and professionals in the transport sector and drive them on a test ride. The bus's power, comfort and silence deeply impressed all riders, and after the test ride, the Deputy Minister of Transport Ormsin Chivapruck and the president of the Bangkok Mass Transit Authority (BMTA) expressed their wish that Thai commuters can start enjoying such comfort and cutting-edge technology as soon as possible.
Faced with the serious problem of an aging bus fleet, BMTA – Bangkok's public transportation authority – plans to gradually replace the city's more than three thousand internal combustion bus fleet for new energy buses. In March 2015, BYD partnered with Thailand's Loxley Group to launch the first Electrified Transportation scheme in the country with the introduction of the K9 pure electric bus. The BYD K9 has garnered high praise from all sectors not only for its technology, quality and comfort, but also for its contribution to sustainability and the serious threat of climate change. BYD's contribution to global sustainable development grows significantly year on year – currently, the company's electrified public transportation solutions can be seen running in over 167 cities in 40 countries, making BYD a key player and unmatched leader in the EV revolution.