Mercedes-Benz Malaysia continues its successful run, recording sales of 2,623 commercial vehicles in 2015, a 5.5 per cent increase from the 2014.
In 2015, as the producer of Mercedes-Benz Commercial Vehicles and FUSO trucks, Mercedes-Benz Malaysia delivered to customers a respective total of 193 units and 2,430 units. In doing so, Mercedes-Benz Malaysia has effectively increased its market share in Malaysia for both European and Asian truck segments.
Reviewing its 2015 performance, Mercedes-Benz Malaysia Commercial Vehicles, Vice President, Albert Yee said, "Amidst challenging market conditions, Mercedes-Benz Malaysia Commercial Vehicles has increased sales, market share, launched a new truck series, and simultaneously achieved significant milestones at our Pekan production plant. We concluded 2015 on a high note, securing several fleet deals with long-standing customers. Their belief in Mercedes-Benz Commercial Vehicles and FUSO Trucks are a testament to the hallmark quality and service that we deliver. Customers are at the heart of our business and as a producer of leading commercial vehicle brands, we aim to meet their need for quality vehicles."
Mercedes-Benz Malaysia Commercial Vehicles celebrated several highlights in 2015 which included the production of its 25,000th unit in Malaysia. The celebration took place in October 2015 at the Mercedes-Benz Malaysia Pekan production plant in Pahang. Subsequently, Mercedes-Benz Malaysia Commercial Vehicles marked the delivery of the 25,000th unit in November 2015 to Landbridge Haulage Sdn Bhd.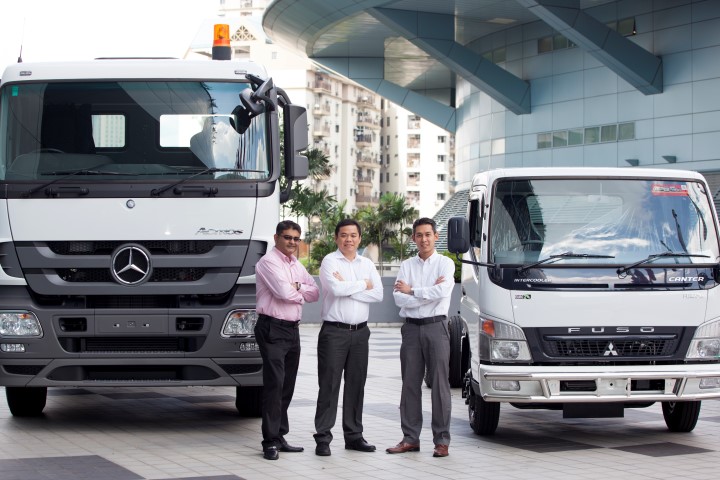 In 2015, Mercedes-Benz Malaysia extended its FUSO product portfolio with the launch of new variants, the FM and FN series, in October. The FM and FN series is a succession to its predecessors which was launched in 2009. The new variants feature a complete new cabin design and new engine with more safety features such as ABS.
Mercedes-Benz Malaysia's commercial vehicle portfolio is designed for a wide range of applications. From long-distance to short-radius distribution transport, work on construction sites and rescue operations, Mercedes-Benz Malaysia has supplied commercial vehicles to multinational corporations and a variety of organisations, including fire stations, waste management, hospitals and various other services.
On the after-sales front, Mercedes-Benz Malaysia has continued to be steadfast in delivering absolute customer service and focused on providing the Best Customer Experience. As part of the promise to deliver Trucks you can trust, Mercedes-Benz Malaysia presents to Commercial Vehicle customers comprehensive after-sales support which includes various service packages.
Mercedes-Benz Malaysia has also worked towards updating its 24-hour breakdown system that is supported by its service centres. The Mercedes-Benz Malaysia nationwide network is strategically located, with 15 Mercedes-Benz Commercial Vehicle and 57 FUSO authorized outlets around Malaysia.
In conclusion, Yee said, "As a first-class product, Mercedes-Benz trucks represent reliability and cost-efficiency that comes with a service quality of comprehensive expertise. As we progress in 2016 and into the future, we look forward to maintaining our momentum and to continue growing our business in Malaysia to deliver to customers, Trucks you can trust."