Scania Malaysia rolled out the first New Bus Generation (NBG) chassis from Scania's Regional Product Centre (RPC) at Port Klang today. The new and improved chassis offers the best in sustainable mobility, profitability, and driver & passenger environment to fleet operators.
The momentous occasion was celebrated by Scania employees and the roll-out was officiated by Heba Eltarifi, Managing Director of Scania Southeast Asia and Anand Kalaskar, Director of Regional Product Centre Malaysia & India. Compared to previous generation, the NBG can save up to 9% on fuel and emissions – without compromising on performance, to provide fleet operators with the best profitability and sustainability.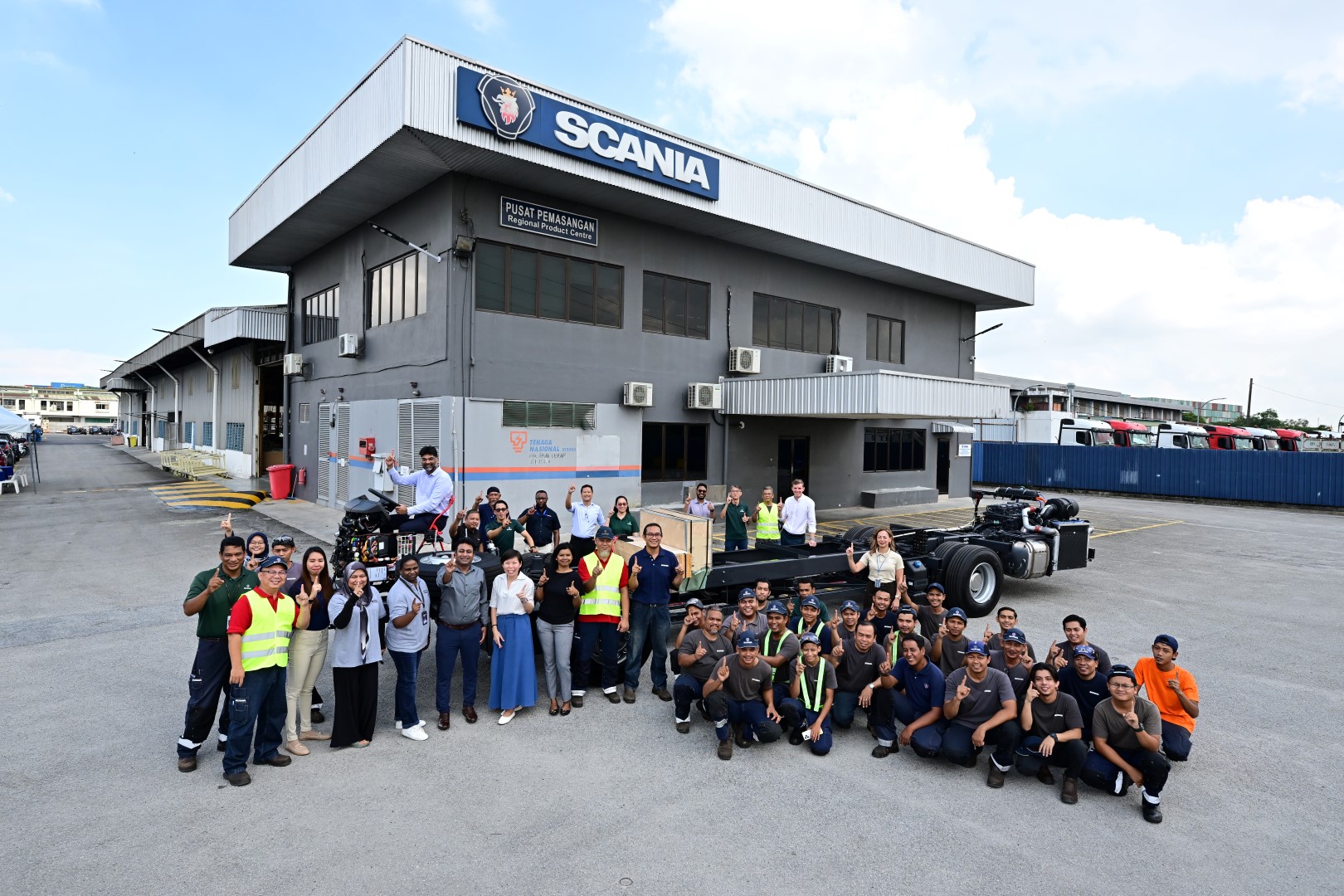 The NBG range of chassis, for urban transport and regional coach, also comes FAME-prepared up to Biodiesel 100 as standard. The NBG is built to offer enhanced safety for both drivers and passengers through reinforced chassis construction at the front and rear. The chassis also comes with standard safety systems such as Electronic Braking System (EBS) with Anti-Lock Braking System (ABS) and Traction Control.
Lane Departure Warning (LDW) is now included as a standard safety for all NBG chassis. Advanced Driver Assistance Systems (ADAS) features such as Blind-spot Warning, Adaptive Cruise Control (ACC), Vulnerable Road User Collision Warning and Advanced Emergency Braking (AEB) can be added to provide unparalleled safety for both drivers and passengers.
The NBG is developed with driver and passenger environment in mind. The first-class driver area offers the best possible work environment in terms of ergonomics, reachability, climate control, and comfort. In addition to that, excellent visibility for the driver, an overall well-balanced vehicle, a powerful and reliable powertrain, and great turning radius, makes for outstanding drivability.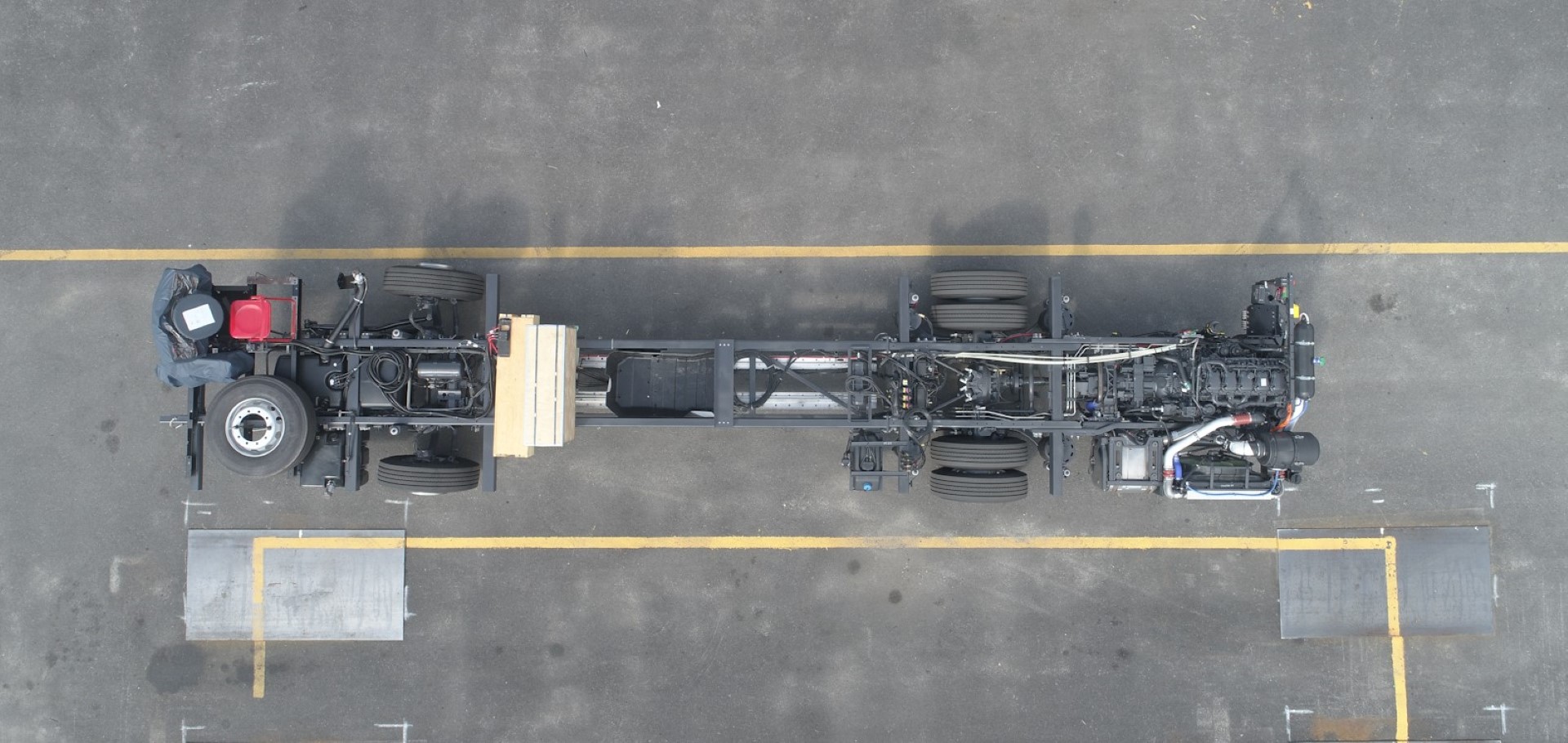 A comfortable passenger experience is achieved through a forgiving suspension, an efficient gearbox with smooth transmission, powerful engines, and a well-balanced weight distribution. Additionally, the efficient climate system, low noise and high-quality environment, excellent drivability, and our driver services contribute further to improved passenger comfort.
Scania's range of Total Solutions offerings continues to help fleet operators maximise their profitability and sustainability. Every purchase of a Scania NBG chassis comes with 2-year Maintenance. Fleet operators who sign up for a Repair and Maintenance Contract will get Scania's comprehensive maintenance and repair solutions, with a
transparent contract and service at their convenience.
Scania's Repair and Maintenance Contract is designed to cover more parts of their buses or coaches compared to anyone else, and we replace more than just the specific part to ensure completeness. As part of Scania's preventive efforts, we proactively recommend the replacement of certain components before they reach their end-of-life so fleet operators can have planned downtime for maximum uptime.
Scania Financial Services can assist fleet operators by providing flexible financing and insurance solutions tailored to give operators predictable costs and manageable risks over the entire lifecycle of their vehicle.
With Scania's wide range of service network, fleet operators are assured they are supported, wherever they are. All NBG comes with 10-years of Scania Fleet Management Monitoring Package for operators to monitor the operational efficiency of their fleet. When operators include Driver Training & Coaching for their drivers, it can provide a significant impact on the reduction of fuel consumption and CO2 emissions by up to 10%.
Fleet operators who purchase a bus or coach with a Scania NBG chassis will automatically be inducted into Scania For Good Loyalty Programme and earn 5,000 Loyalty Points. Signing up for a Repair and Maintenance contract will further earn them 10,000 Loyalty Points. Fleet operators can utilise their Loyalty Points to redeem for more Scania products and services, giving them increased profitability and sustainability for their business.
"The New Bus Generation roll-out not only signifies a new level of sustainable mobility, it also signifies the continuous drive by the Scania team to support our customers in their shift towards a sustainable transport system," said Heba.