Syarikat Prasarana Negara Bhd has received the delivery of 60 new Scania buses today, which provide a comfortable ride for passengers, accessibility features for wheelchair-bound commuters as well as safety systems for security.
"With Kuantan as one of the gateways to the East Coast, it is also important that the people of Kuantan, investors and tourists have access to a reliable public transport system, more so during Visit Malaysia Year 2014," said managing director of Scania Southeast Asia and Scania (Malaysia) Sdn Bhd James Armstrong.
The air suspension system makes the ride more comfortable and safe for all passengers, and its kneeling function and ramp allows for easy wheelchair access, while a dedicated area in the bus has a backrest and safety belt to secure the wheelchair-bound passenger.
Essential information and features are displayed for passengers, and multiple handgrips, emergency escape hammers, announcement systems and five-angle CCTV all add up to provide peace of mind to the passengers.
The bus not only takes care of the commuters, but it also takes care of the driver, with fully adjustable steering and an ergonomically designed compartment in the driver seating area to ensure comfort.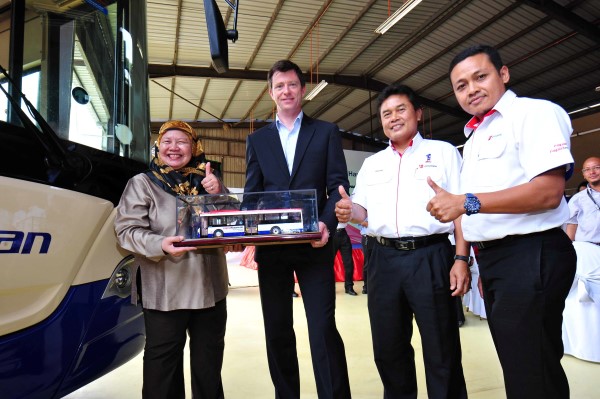 "With a total capacity of 65 passengers – 25 sitting comfortably and 40 standing passengers, RapidKuantan's buses are complete with 3 Priority seats, one wheel chair sit belt, a wheelchair ramp coming with an automatic OKU button for wheelchair user and with adjustable bus height, RapidKuantan had elevate the benchmark of public bus services in the state," said chairman of Rapid Bus Sdn Bhd Datuk Ruhaizah Mohamed Rashid.
"The transformation, however, will not just be confined on the quality of the bus services; but an overall makeover including in creating a new perception in the public image."
The Scania K250UB4X2 model is powered by a nine-litre EURO 3 turbo-charged engine designed for better fuel economy.
The buses are also equipped with electronic braking system (EBS), traction control and hill hold assist features.