Scania signed the Ecolution Agreement for three Scania G360 A4x2NA with 7 years of Repair & Maintenance and Hire Purchase that was delivered to Mun Loon Paper Converting Sdn. Bhd (Mun Loon).
The signing was held at Mun Loon's printing facility between Thor Brenden, Solution Services Director, Scania Southeast Asia and Loh Ka Hoong, Executive Director of Mun Loon. With this signing Mun Loon joined the ranks of sustainable partners who are taking a step further into reducing their carbon footprint towards a greener future for the environment.
The Fleet Management System Control 10 with the Scania Ecolution partnership gives Mun Loon a lot more of both information and insights.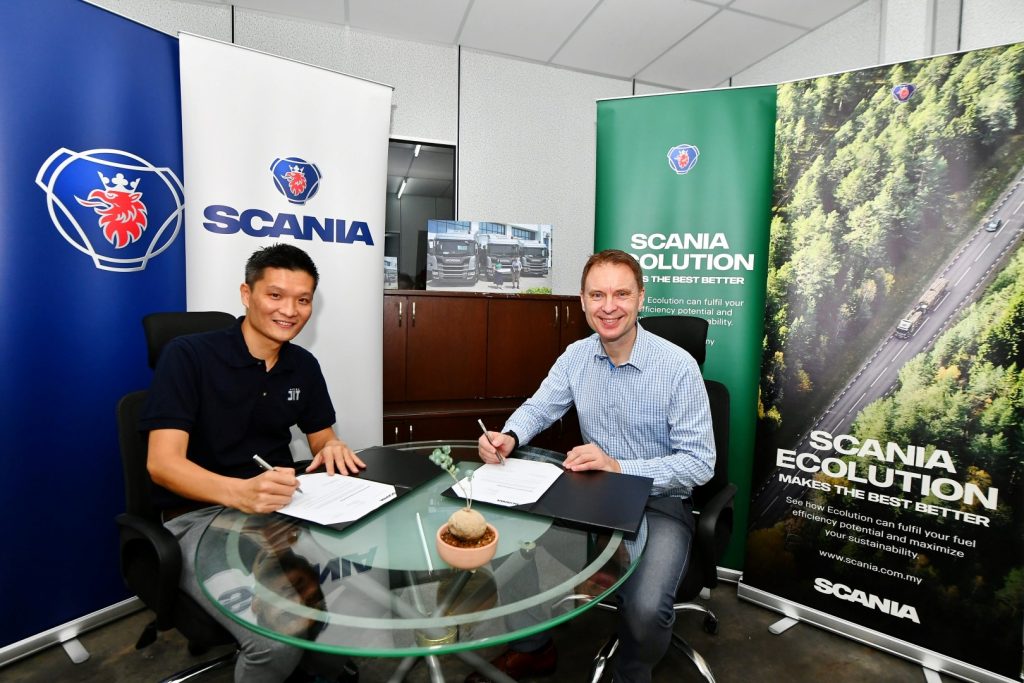 From core necessities like real time positioning of the Scania G360 via vehicle performance, environmental reports, service planning and defect reporting all the way to driver evaluation which will help Mun Loon to quickly identify potential vehicle usage improvements such as reduced wear and tear caused by harsh braking, idling time, speeding, while increasing coasting resulting in the ultimate reduction of fuel consumption and reduction of CO2.
The R&M contract that was signed will give Mun Loon worry-free operation due to predictable costs for seven years. Mun Loon will be able to focus on its business by fully utilising the Scania G360 with planned downtime giving maximum uptime due to precise scheduling for repairs and maintenance with readily available parts, eliminating disruptions in its daily operations.
Safety comes standard with the Scania G360 that are fitted with technologically advanced Electronic Braking System (EBS) and Anti-Lock Braking System (ABS) and are also complemented with the Daytime Running Light (DRL) for better visibility for surrounding vehicles when on the road.
The adjustable seat that is close to the door, ergonomic dashboard, and large windscreen with extended view make it easier for the driver to operate in a safe and comfortable environment.
The Scania G360s are backed by Scania Credit's Hire Purchase that give Mun Loon a comprehensive logistical solution for a total peace-of-mind. Mun Loon will also realise profitability immediately with fixed and predictable monthly cost from the Scania Instalment Plan.
Established in 2000, Mun Loon started with the printing of paper cups, plates,prayer materials and developed into printing of a whole range of exercise books for the educational fraternity. Started JIT Express in 2020, subsidiary company for the transportation of various type of cargo covering destinations along the Bukit Kayu Hitam to Johor Bahru route.
Plans are underway for the opening of a Port Klang branch to expand transportation operation – to extend the deliveries to destinations all along the west coast of peninsular Malaysia. An order of two more Scania G360 has been made and will be delivered in the fourth quarter to cater for the expansion.