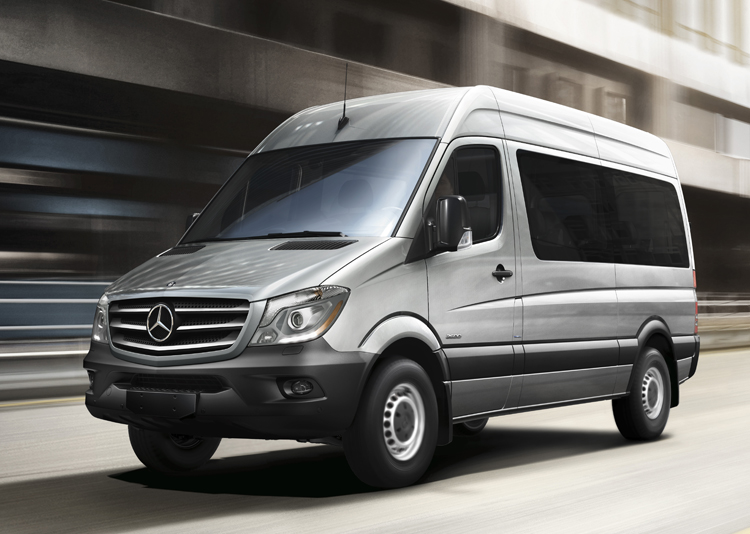 The superb Sprinter has scooped the highly-prized 'Fleet Van of the Year' accolade at the Motor Transport Awards for the ninth year – smashing its own record in the number of times this honour has been claimed by Mercedes-Benz Vans.
The Sprinter emerged victorious with its latest makeover giving the van a fresh new look, improved driving capability and a host of new safety features. The Motor Transport jury of fleet van operators felt the all-round package from Mercedes-Benz – reliability, performance and operational efficiency – gave it the edge over its rivals. "We have a very demanding operation, which puts the focus on reliability and durability," one judge commented. "The Sprinters we run make a significant contribution to our operation. When something does go wrong, which isn't very often, the Mercedes network is quick to react and get us back on the road."
"That three-pointed star on the grille counts for a lot," another judge commented. "We know what we're going to get, a reliable, consistent performer."
Motor Trader Editor Steve Hobson added: "The Sprinter is a worthy winner of the title Fleet Van of the Year. It continues to set new standards for driver safety and comfort as well as being a reliable, economical and hard-working vehicle."
The prestigious Motor Transport Awards took place last night at the Grosvenor House Hotel, Park Lane in London, with Kevin Ferris, Head of Strategic Planning at Mercedes-Benz Vans collecting the accolade.
Steve Bridge, Managing Director, Mercedes-Benz Vans, said of the win: "We set the record in the 2013 Motor Transport Awards by winning the title for an eight time, so to win again this year, is an astonishing feat. To say we are honoured to receive the Fleet Van of the Year title for an unprecedented ninth time is therefore a huge understatement!
"We knew that the Sprinter was an unbeatable van, so to have the industry recognise it as one is a true testament to its deserved appeal."
Since the 'Fleet Van of the Year' category was introduced at the Motor Transport Awards 14 years ago, the Mercedes-Benz Sprinter has lifted the trophy in 2013, 2012, 2010, 2009, 2008, 2007, 2004 and 2003.
The new Sprinter was the world's first van to meet the future Euro VI emissions standard, and also introduced standard-fit Crosswind Assist to the industry. The large van is available in a choice of three wheelbases, four lengths, and three loading space heights, as well as a 4×4 variant, offering a payload to 2,532 kg and volume to 17 m3.The first version of Sprinter was presented almost 21 years ago and since 2000, a driver airbag has been standard, with Adaptive ESP® new in 2006.