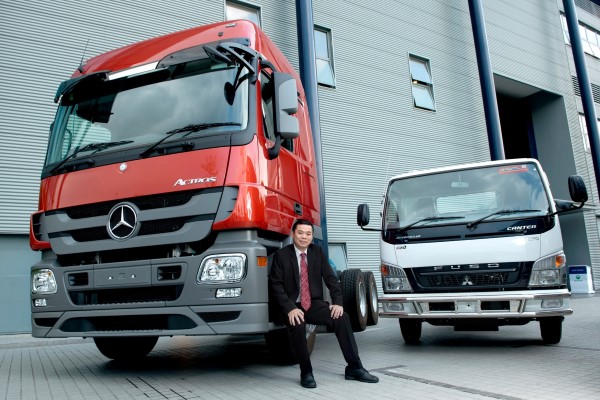 Mercedes-Benz Malaysia Commercial Vehicles (MBM CV) delivered a strong performance, recording a total of 2,469 vehicles sold in 2017, comprising FUSO light-duty and heavy-duty trucks as well as Mercedes-Benz trucks and vans. Despite the dip of 7.9% in Total Industry Volume (TIV) for 2017, MBM CV continues to be a strong supporter of the transport and haulage industry, attributing its robust performance in 2017 to its strategy of placing customers at the centre of its initiatives.
"Part of Daimler Trucks, MBM CV represents first-class product quality and service excellence in the Malaysian market. In everything that we do, our focus is on our customers. Safety, reliability and economic efficiency are our topmost priority. With the commitment of our dealer partners and the trust of the market, 2017 proved to be a positive year in many aspects. As a new year begins, we remain as committed as ever to deliver vehicles and solutions of the highest quality – Trucks you can trust," said Mercedes-Benz Malaysia Commercial Vehicles, Vice President, Mr Albert Yee.
In 2017, the Mercedes-Benz Actros proved to be a top choice among hauliers recording an impressive total of 268 units sold, maintaining a double digit growth of 24.1%. Contributing 32.1% sales, the Mercedes-Benz Actros 2644LS 6×2 (L-cab) remains the most popular model. Meanwhile, FUSO trucks recorded 2,170 units sold.  As a result of securing fleet contracts from new small and medium operators during the year, MBM CV was able to achieve a market penetration 13.06% for Mercedes-Benz commercial vehicles in 2017, a new record for the company.
Notable fleet deals included successful delivery of 74 FUSO vehicles to KDEB Waste Management Sdn Bhd and 133 units of Mercedes-Benz Actros to Swift Haulage Sdn Bhd – setting the highest number of deliveries in 2017.
MBM CV also delivered its 300th FUSO vehicle to Biforst Logistics Sdn Bhd and signed a MoU to formalize Biforst Logistics' intent to become one of the first customers to receive the fully electric-powered light-duty truck, the FUSO eCanter, upon its availability in the Malaysian market in the near future.
Throughout 2017, MBM CV and its network dealers continued to raise the bar with best-in-class commercial vehicles and service quality for the haulage industry.  Product enhancements included the new TD Canter facelift and ensuring that MBM CV's entire product portfolio complies with the United Nations Economic Commission for Europe (UNECE) safety regulations set by Jabatan Pengangkutan Jalan (JPJ). These measures improve vehicle safety and ensure customers' peace-of-mind.
In addition to its sales success, MBM CV implemented several after-sales solutions in 2017 to provide Mercedes-Benz commercial vehicles and FUSO customers greater flexibility. This included a wide range of service and repair packages, mileage and overhaul campaigns (engine and transmission), Mercedes-Benz Trucks Maintenance Contract and Full Scope Service Contract. MBM CV also conducted an exclusive service clinic for FUSO vehicles with a team of experts from Japan providing personalised FUSO after-sales care.
For the full year of 2017, MBM CV recorded a 7.47% increase in throughput compared to 2016, with an impressive total of 26,820 vehicles serviced, comprising 4,820 Mercedes-Benz commercial vehicles and 22,000 FUSO trucks.
In line with its customer-centric strategy, during 2017 MBM CV enhanced three service centres, namely, Hap Seng Commercial Vehicle Kuching, Hap Seng Commercial Vehicle Klang, and stamped its mark in the northern region with Hap Seng Commercial Vehicle Ipoh. Catering to both Mercedes-Benz and FUSO Commercial Vehicles, MBM CV and its dealer partners will continue upgrading service centres in 2018 to enable greater sales and service, maintenance and repairs for both brands.
MBM CV's move to enhance and expand its presence in Malaysia is in line with the needs of the transport and haulage segment for reliable vehicles with minimal down-time. Todate, MBM CV's nationwide dealer network comprises 62 service centres catering to both Mercedes-Benz and FUSO commercial vehicles, ideally positioning it for the upturn of customer demand expected due to growth in demand for haulage services.
Reviewing the year's performance, Yee said, "We enjoyed a productive year in 2017, securing and setting a record of fleet deals for both our FUSO trucks and Mercedes-Benz prime movers. Our steadfast focus on flexible after-sales packages and solutions, continuous improvement of our technicians' skills and knowledge, and service outlet enhancements has proven successful."
As a responsible corporate citizen, MBM CV continues to be a firm believer in championing the role of developing skilled talent. Following a successful pilot programme, MBM CV renewed its commitment with the National Youth Skills Training Institute (IKBN) in 2017 providing an intensive three-month stint for selected IKBN students. Upon completion of the course, graduates are guaranteed job placement at FUSO dealerships nationwide.
To raise the level of skills training for youths in the automotive workforce and provide a pool of technical specialists for its service network, MBMCV signed a MoU with Tekat Automotive College. Following the MoU, selected Tekat Automotive College students will undergo an eight-month training programme known as Mercedes-Benz Commercial Vehicle Apprenticeship Programme, consisting of theory and practical aspects in line with Daimler AG standards. Students who graduate are guaranteed a job placement for two years within the Mercedes-Benz or FUSO dealer network nationwide.
To promote safe and responsible driving, MBM CV conducted the Train the Trainer Driving Training and ECO Driving Training sessions. A total of 13 sessions were organised throughout 2017, covering 32 fleet customers, and 106 drivers were involved in the driving enhancement sessions.
"Customers are the centre of our business. In order to offer them the best products and solutions, we work continuously on improving customer satisfaction in all aspects. This includes implementing the FUSO Service Contract after-sales package for our FUSO customers, and our ongoing enhancement to deliver a one stop centre for accident repair solution at our authorised nationwide network. We look forward to continue setting the benchmark for reliable trucks and service quality while meeting the needs of our customers nationwide," Yee explained.
In December 2017, Daimler Trucks announced that it had increased worldwide deliveries in the first eleven months of 2017 by 12 percent year-on-year to 422,500 units.  For full-year 2017, Daimler Trucks anticipated unit sales in the magnitude of 465,000 trucks – significantly more than in 2016.