Mercedes-Benz keeps it fresh with off-road milk tanker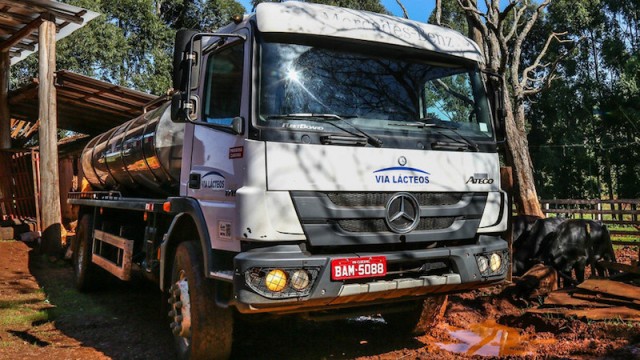 With over 38 million tons, Brazil was the third biggest producer of cow's milk in 2015 and its growth continues. To get the milk onto the breakfast tables or to processing facilities while it is still fresh, about 500 trucks of the milk transporter "Vía Lácteos" make daily tours to remote farms not just on tarred roads but also on rough and narrow slopes. The trucks used for this purpose have to be comfortable in on-road and robust in off-road terrain.
Such a truck was developed in close collaboration with the "Custom Tailored Trucks" department of Mercedes-Benz do Brasil and Vía Lácteos. The comfortable on-road Atego was enhanced with a "Robustness Package" to enable easy navigation of all challenges of the prairie. The Robustness Package includes a three part front bumper, which significantly increases the ground clearance, a protective metallic grill for the headlights, newly positioned direction lights for narrow turning maneuvers and a metal entrance step. Vía Lácteos has already ordered the first units, customers in the mining and waste industry show great interest as well.