The Hyundai IONIQ 5 N is capable of drifting, racing, rallying, and also being an everyday family car.
Hyundai Motor Company's IONIQ 5 N — N brand's first high-performance, all-electric model — made its world premiere today at the Goodwood Festival of Speed in West Sussex, England.
Since it is a performance-oriented model, the IONIQ 5 N comes with numerous enhancements such as 42 additional welding points to the chassis and 2.1 meters of additional adhesives. Meanwhile, the motor and battery mounting are reinforced while front and rear subframes are enhanced for lateral rigidity.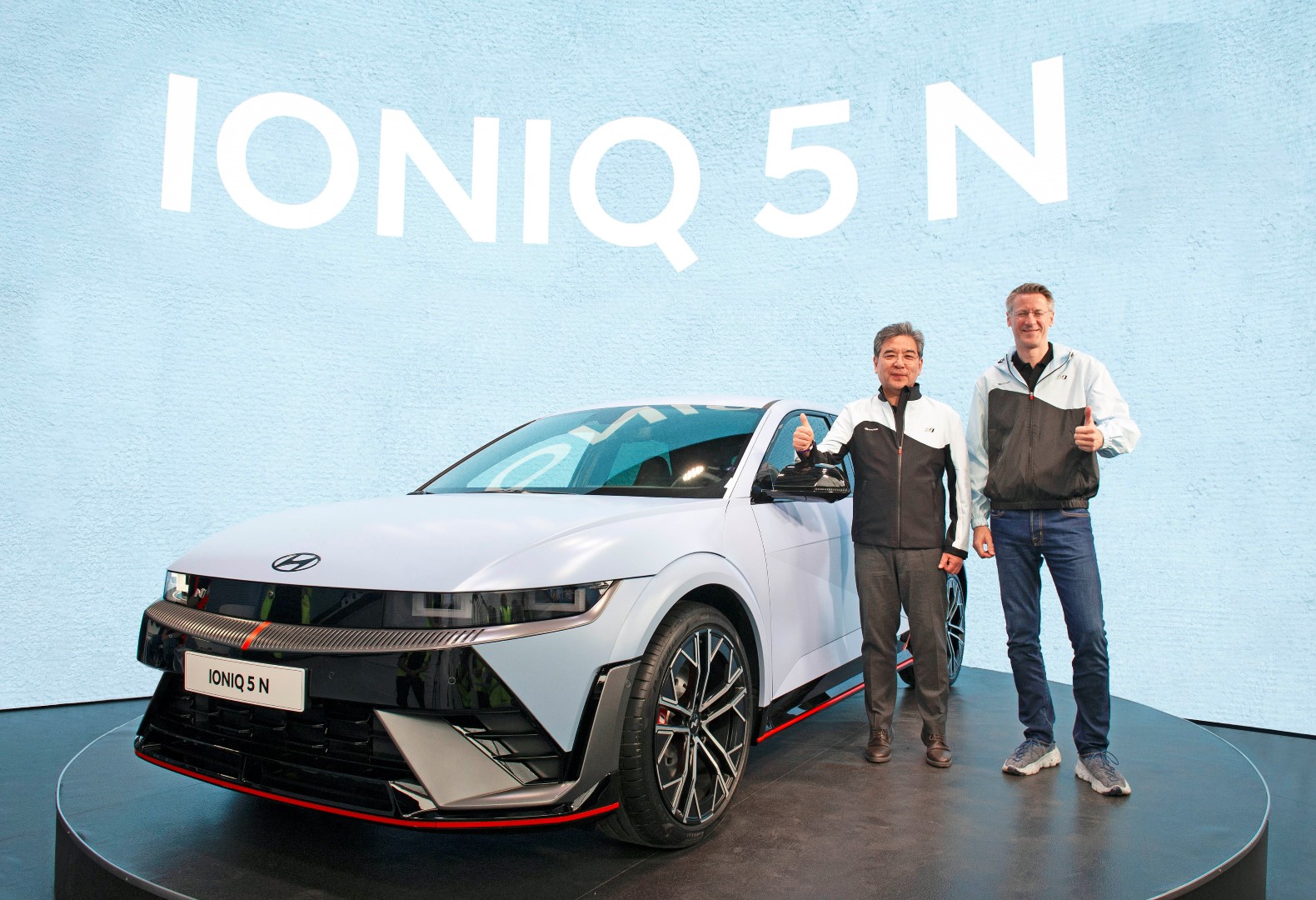 World Rally Championship-inspired integrated drive axles (IDA) are also applied both front and rear and reinforced to endure stronger electric motor torque while reducing unsprung mass together with the 21-inch forged aluminum wheels.
To enhance steering response and feedback, the IONIQ 5 N's steering column has been strengthened for improved rigidity. Additionally, the vehicle features a specially tuned N R-MDPS (Rack-Mounted Motor-Driven Power Steering) system with a higher steering ratio and enhanced torque feedback.
These enhancements result in a more direct and communicative steering experience that will instill greater confidence in drivers.
There's also an N Pedal which was developed as a solution to address the inherent weight and size of EVs while aiming to achieve the responsive handling characteristics seen in Hyundai's championship-winning i20 N WRCs. This intelligent software function, found in IONIQ 5 N, is designed to provide instant turn-in behavior and enhanced throttle sensitivity.
Drawing on similar technology used in i-Pedal's regenerative braking system, N Pedal prioritizes fast and exhilarating cornering over energy efficiency. By utilizing decelerative force, an aggressive weight transfer is created, resulting in sharper corner entry.
Performance wise, the IONIQ 5 N's electric motors spin up to 21,000 RPM providing 650 PS with N Grin Boost engaged. This is a result of the two-stage inverter with increased energy efficiency for stronger power output from the new 84 kWh battery.
Among the IONIQ 5 N's many exclusive performance features are N Battery Preconditioning, N Race, N Pedal, N Brake Regen, N Drift Optimizer, N Torque Distribution, N Launch Control, N Grin Boost, N Active Sound +, N e-shift, N Road Sense and Track SOC.
Packing a combined maximum output of 650 PS, the IONIQ 5 N is capable of accelerating from 0 to 100 km/h in an impressive 3.4 seconds with a top speed of 260 km/h. The range however, will be announced at a later date as it may vary from one market to another.
That being said, the IONIQ 5 N combines the standard model's Electrified-Global Modular Platform (E-GMP) with N's motorsport-bred technologies and leverages N's expertise from electrified 'Rolling Labs' (e.g., RM20e, RN22e and N Vision 74) to maximize the EV's high-performance capabilities and ensure it meets N's three performance pillars: 'Corner Rascal,' 'Racetrack Capability' and 'Everyday Sportscar'.
As an everyday sportscar, IONIQ 5 N delivers an engaging shift feeling and emotional driving through the integrated N e-shift and N Active Sound +. N e-shift provides a sense of control over power delivery and shift feeling while N Active Sound + works collectively to deliver not only a futuristic EV sound but also ICE-like engine and exhaust sounds that provide a more engaging experience behind the wheel.