Ford and its local distributor Sime Darby Auto Connexion (SDAC) today officially launched the all-new Ford Everest, which sets a new benchmark in the SUV segment with stunning off-road and on-road capability, advanced technology, and refined interior comfort for up to seven people.
Available in both two-wheel drive and four-wheel drive variants, the all-new Everest is also the most powerful SUV in its class and comes with segment-leading safety features, including seven airbags, and was recently awardeda maximum 5-star safety rating by the ASEAN New Car Assessment Program (NCAP).
Priced from RM198,888 on the road without insurancein Peninsular Malaysia and RM201,888 in East Malaysia, the all-new Everest is available in four elegant colours: Sunset Metallic, Cool White, Black Mica Metallic and Aluminum Metallic.
"The all-new Everest offers a brilliant blend of power, safety features and smart technology, wrapped in a bold new design that is sure to appeal to Malaysians," said David Westerman, managing director, Malaysia and Asia Pacific Emerging Markets, Ford Motor Company.
"The Everest is perfectly suited to the way Malaysians use SUVs – for weekday driving it's packed with exclusive conveniences like Ford's SYNC 2 connectivity system and an 8-inch touchscreen, while weekend off-road adventures are made possible by Ford's intuitive Terrain Management System, backed up by more power and torque than any other SUV in its class."
A host of convenient features have been designed with the driver in mind, and for families on the move. As well as handy rain sensing wipers, the all-new Everest also features an eight-way power driver seat and is the only SUV in its class to offer a 230-volt power socket that can be used to power a laptop computer or any other device during a family road trip. Further back, power-fold third-row seating creates extra space at the touch of a button.
"The all-new Everest is equally at home in busy Kuala Lumpur city traffic as it is in the most extreme terrains of Mulu National Park in Sarawak," said Syed Ahmad Muzri Syed Faiz, managing director, Sime Darby Auto Connexion. "I'm confident the uncompromising character, exceptional capability and versatility of this rugged yet premium SUV is exactly what Ford fans in Malaysia are looking for."
Built for adventure
The all-new Ford Everest was designed from the ground up with the durability to take on the most inhospitable environments. One of the toughest SUVs in its segment, the Everest has a true body-on-frame design, assuring the torsional strength required for challenging terrains.
The Everest provides 225mm of ground clearance between the driver and the road so it rides high, no matter what's in the way. Coupled with a class-leading 800mm water wading capability, an active transfer case with Torque on Demand, and aggressive approach and departure angles, Everest is ready to take on any inhospitable environment or rough terrain.
For ultimate capability, Everest features Ford's Terrain Management System, which gives drivers four pre-set modes – Normal, Snow/Mud/Grass, Sand and Rock – that alter the vehicle's throttle response, transmission, intelligent four-wheel drive system and traction control to help drivers confidently tackle any situation. For extreme off-road environments, drivers can manually lock the transfer case in low-range four-wheel drive mode for increased control.
These impressive off-road credentials are paired with a new level of ride quality and dynamic handling beyond what consumers have come to expect in a rugged SUV. Thanks to its coil spring front and rear suspension and a Watt's linkage on the rear axle, the all-new Ford Everest provides a comfortable, stable ride with agile and predictable handling in urban environments.
In providing a more enhanced driving experience, the all-new Everest features an electric power-assisted steering (EPAS) system that alters the level of steering assistance based on vehicle speed, steering wheel angle, cornering forces and acceleration. The intelligent system delivers precise steering that feels natural and confident, while reducing fuel consumption and improving refinement by eliminating a belt-driven power steering pump. This gives the Everest light handling at slow speeds, such as when parking, and firmer, more precise steering when moving at higher speeds.
Smart design for utmost comfort and safety
This segment-redefining vehicle also stands apart with a modern, sculptural design that communicates its impressive capabilities and advanced smart technology. A robust front end with signature LED daytime running lights and wide stance gives the all-new Everest a powerful presence on the road, and the chiselled and technical design makes it highly efficient.
No matter how tough it is on the outside, inside the seven-seater, the premium SUV offers the highest level of comfort with luxurious leather upholstery. In addition, more than 30 cleverly designed stowage spaces, multiple power outlets and flexible seating and cargo arrangements, as well as the first SUV in its class in Malaysia to offer power-fold third-row seating, which helps achieve a perfect balance between passenger demands, comfort and packing efficiency. A rear air-conditioning control console adds to passenger convenience. Whether it is people or luggage, the Everest makes it easy to find some extra space at the touch of a button.
The Everest is also big on safety. The vehicle's cage is built using high-strength materials like boron steel, while up to seven airbags provide a network of protection for the driver and passengers in the front and back. There is even an airbag for the driver's knee. The Everest's class-leading combination of safety features earned it a maximum 5-star safety rating from the ASEAN New Car Assessment Program (NCAP), with the highest score of any vehicle in the segment.
Power and efficiency to go further
The Everest's impressive capabilities are made possible with one of two diesel engines from Ford's globally proven Duratorq family, mated to a durable and efficient six-speed automatic transmission. Featuring advanced technologies that improve fuel efficiency, both engines deliver excellent performance.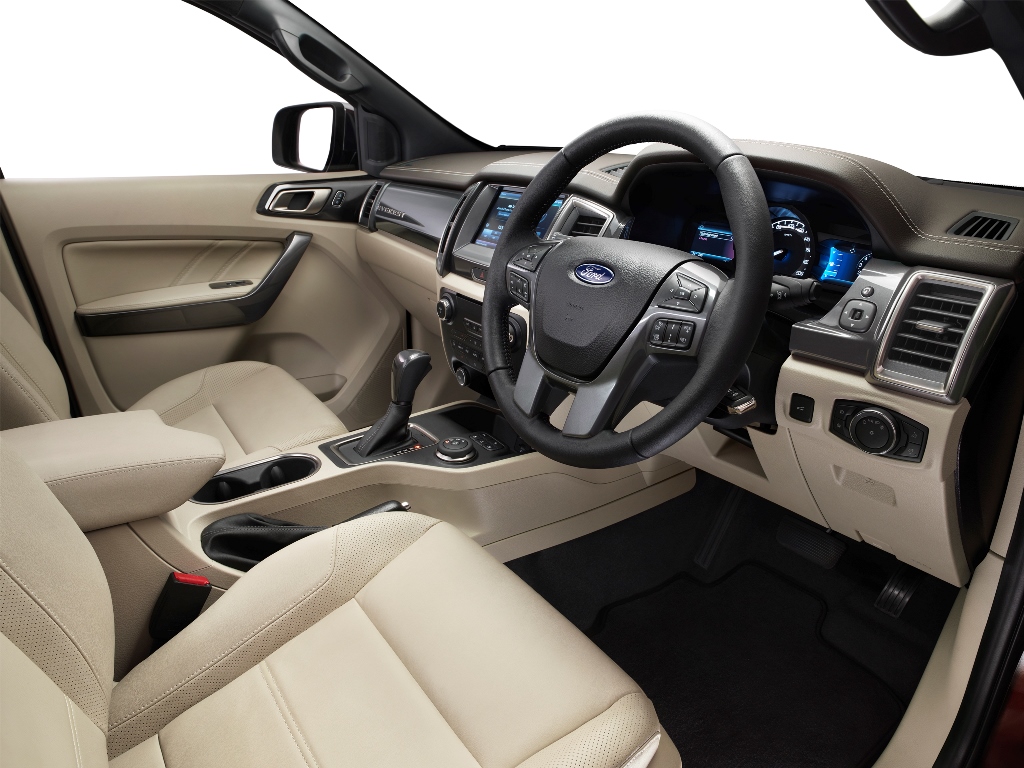 For maximum power and torque for heavy-duty towing, Ford is offering the latest generation of its 3.2-liter Duratorq five-cylinder TDCi diesel engine with 200 PS of power and 470 Nm of torque, giving it more power and more torque than any other SUV in its class.
For maximum fuel economy without compromising performance, Ford is also offering the latest generation of the 2.2-liter Duratorq four-cylinder TDCi diesel, putting out 160 PS of power and 385 Nm of torque.
The automatic transmission on the all-new Everest features advanced driver recognition software. This allows the transmission to adapt to the current driving style by analysing acceleration and deceleration rates, brake and throttle applications, and cornering speed. The system 'learns' the driver's style and adjusts transmission settings according to whether the driver has a more economical or sporty style.
Intuitive technology for a smarter drive
Everest's unshakable toughness and capability are also paired with an array of cutting-edge intuitive technologies, making this rugged SUV one of the smartest vehicles of its kind.
The latest generation of Ford's in-car connectivity solution, SYNC 2, lets drivers use natural voice commands to control the car's entertainment system, climate controls and connected mobile devices.
Another first-in-segment for the all-new Everest is Ford's exclusive MyKey system, which allows the programming of various features, such as setting the maximum speed limit, a seatbelt reminder and the maximum volume of the audio system.
Other key technologies and smart features that come standard in the all-new Everest include:
Electronic Stability Control (ESC) – automatically reduces engine torque and/or applies a braking force to individual wheels if it senses the vehicle is turning more or less than intended
Hill Launch Assist – holds the Everest in place for up to three seconds when the driver removes their foot from the brake
Emergency Brake Assist
Emergency Brake Light
Trailer Sway Control
Roll Stability Control
For more information, please visit http://www.ford.com.my/suvs/all-new-everest.