So, today turned out to be an exciting day for Honda fanboys as news broke out that renowned Honda tuner, Spoon Sports, now has an extensive list of upgrade options for the FK8 Civic Type R – you know, carbon fibre bodykit, carbon fibre this, carbon fibre that, N1 exhausts, SW388 wheels, racing-grade drive shafts and ball joints, and what not.
Does the car look good with all the Spoon bits in it and on it? Of course it does! It looks like it's ready to take on any circuit that gets thrown its way bro…
Although the people at Spoon claim that there is improvement in terms of performance with the kit, we don't know the exact details yet, but its Spoon lah… Not some Sudu Motorsports Bawah Pokok garage. Trust them when they say the car's better than the stock version.
Now, there will definitely be those who feel that the Spoon Civic Type R is too racy and hardcore, and prefer something that just looks visually outrageous, but with standard performance.  The people who're all about the gaya,mutu, keunggulan, you know?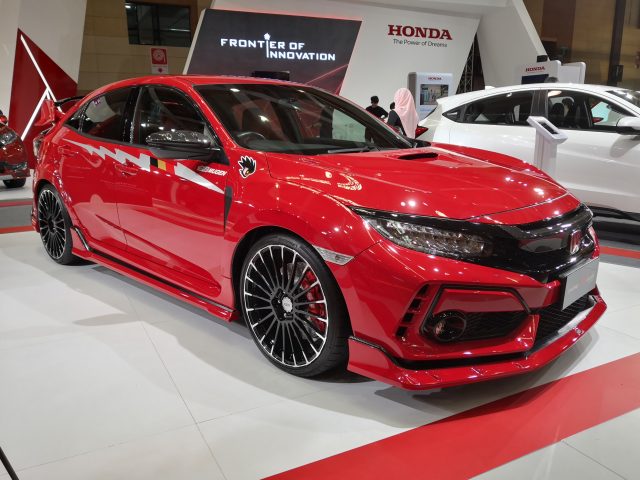 If you fall under this category, then this thing right here might tickle you in the right places. Say hello to the Mugen Civic Type R. Previewed at the 2019 Malaysia Autoshow, Honda Malaysia Sdn Bhd certainly managed to tease the privates of thousands of ricers who set sight on the car.
Unlike the Spoon version, Mugen's version of the FK8 here is all about cosmetics, both inside and outside the car. There are tonnes of additions like the carbon fibre grille, front lip spoiler, rear spoiler, special MUGEN LED lights, insane 20-inch wheels, carbon fibre wing mirrors, red Mugen gear knob, Mugen scuff plates, carpets, and so much more lah. Memang gila…
Now, keep in mind that the FK8 Civic Type R is already an insane car in its standard guise. Ask anyone who has driven it. 306 PS, 400 Nm of torque, 0 – 100 in under 6 seconds, auto rev-matching, blow off valve, Prang exhausts, Nurburgring record, eh,apa lagi you mahu?
So, which one would you go for? "Standard itu indah", Mugen Madness, or Spoon-tuned and ready to rumble?