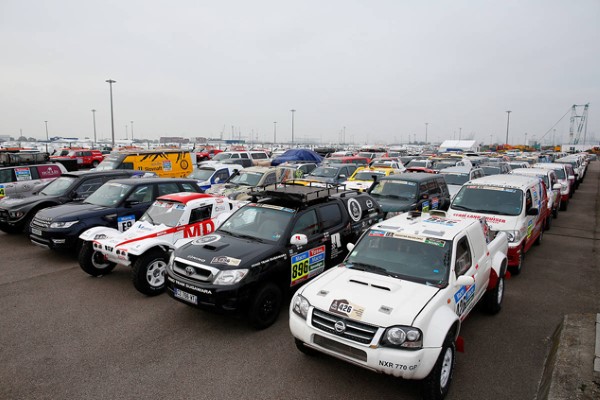 Dakar Rally organizers held a press conference for Dakar Rally 2015 in Paris, the capital of the race's home country of France, where previously unreleased information was announced, including race distances for each stage and the roster of approved entries.
Then during the following weekend of November 22 and 23, the racing cars, bikes, trucks and assistance vehicles came together in the French port city of Le Havre to undergo vehicle inspections.
With the racers to compete over a total distance of 8,159 kilometers, the overall racing distance for the Trucks category in the upcoming Dakar Rally is about 1,000 kilometers shorter than the previous year. This will be the second-shortest course since the rally was relocated to the South American continent in 2009.
In longer races, drivers tend to drive more cautiously to reduce strain on their vehicles and maintain durability to the goal line. Races over shorter distances, such as the upcoming race, conversely result in less accumulated vehicle strain, typically leading to a more speed-oriented, sprint race. Furthermore, any time lost will be more difficult to make up as subsequent race stages will be shorter, meaning this upcoming race is again expected to be a tough one.
In an additional twist, the organizers have stated that the Trucks category will be the only one to not cross into Bolivia in stage 7 on January 10, instead racing a marathon stage* in Chile. The roster of announced entries totaled 416 vehicles (compared to 438 the previous year), with 64 entries in the Trucks category (71 the previous year). The distances for each stage and entries for each category are listed below.
As for the Marathon stage, where two stages are raced back-to-back, racing vehicles are not allowed to receive support from their assistance vehicles, team mechanics or staff members at the camp site between stages. Drivers and navigators must service their own vehicles using only the parts and tools they have on-hand.