Mercedes-Benz Malaysia Commercial Vehicles (MBM CV) the authorised distributor of FUSO trucks in Malaysia, today officially marked the delivery of the 300th FUSO truck to Biforst Logistics Sdn Bhd, a leading one stop logistics solutions provider. At the same event, both parties also signed a Memorandum of Understanding (MoU) to formalise Biforst Logistics' commitment to purchase the first electric-powered truck in Malaysia, the FUSO eCanter upon the vehicle's availability in Malaysia.
A FUSO customer since 2006, Biforst Logistics' fleet of trucks include the FUSO Light Duty Truck models, FE71PB, FE83PE, FE83PG and FE85PG which are commonly used for short distance distribution, inter-state logistic transportation, and FUSO medium duty truck model, FM65FM and Mercedes-Benz Actros for long distance logistics. MBM CV's authorised 3S dealer, Bumi Asia Auto Sdn Bhd, provides vehicle sales, complete after-sales support and vehicle maintenance for Biforst Logistics' fleet.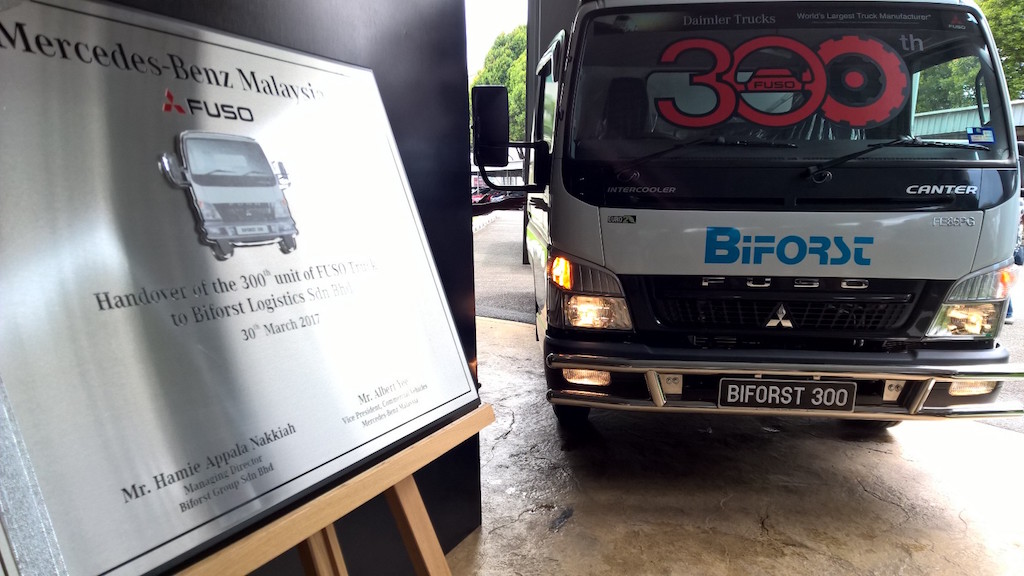 "Given the nature of our business, we need to ensure maximum up-time of our fleet.  MBM CV is a natural first choice for us as they have a deep understanding of our need for safety, reliability and economic efficiency.  As a result of our robust business growth we need trucks which are dependable, and have plans to further increase our FUSO truck fleet over the next few years," said Biforst Logistics Group Managing Director, Mr Hamie Appala.
The delivery of the 300th FUSO truck was followed by the signing of a MoU between Mercedes-Benz Malaysia Sdn Bhd and Biforst Logistics Sdn Bhd to formalise Biforst Logistics' intent to become one of the first Malaysian companies to purchase the electric-powered FUSO eCanter upon the vehicle's availablity in Malaysia.
Unveiled at the 2016 International Motor Show (IAA), the FUSO eCanter truck is the brand's first electrically-powered light duty truck, a zero-emission drive that offers economic efficiency and an attractive alternative to diesel engines.
Suitable for urban transportation and short radius distribution, the FUSO eCanter has a battery modular concept that allows flexibility for customers' needs. Designed for comfort and functionality, customers can opt between more battery packs resulting in more mileage; or less battery packs but greater payload.  Biforst Logistics is set to gain first-mover advantage in acquiring the electric-powered commercial vehicle upon the official launch of the FUSO eCanter in Malaysia.
"MBM CV is a long-time trusted partner of the nation's haulage and logistics industry.  The MoU signing with Biforst Logistics today reaffirms our commitment to the Malaysian market to continue providing trucks of the highest quality that offer reliability and economic efficiency. This MoU also demonstrates our support of the Malaysian government's aspirations of becoming an energy efficient vehicle (EEV) hub in line with global standards, and commitment to contribute towards reducing carbon emissions in the transportation sector," added Yee.
Biforst Logistics is currently subscribed under Mercedes-Benz Services Malaysia's customised total financing solution packages, Hire Purchase Classic and Hire Purchase FlexiPay Payment Holiday. Since 2013, Mercedes-Benz Services Malaysia has financed more than 200 units of FUSO Trucks. In addition, Mercedes-Benz Services Malaysia provides Biforst Logistics' comprehensive insurance protection underwritten by Allianz General Insurance Company (Malaysia) Berhad and AXA Affin General Insurance Berhad to further safeguard their FUSO trucks from any unforeseen incidents and economic losses.
With a nationwide network 55 FUSO dealers and 44 FUSO service facilities, MBM CV and its dealer partners continue to offer peace of mind and convenience to its customers nationwide.
For more information on FUSO vehicles, Mercedes-Benz Malaysia Commercial Vehicles and Mercedes-Benz Services Malaysia, visit www.mercedes-benz.com.my, www.fuso.my and or call 03 – 8074 1188. To learn more about Biforst Logistics' scope of services, visit http://www.biforst.com.