All-New 2020 Toyota Mirai Unveiled
While most manufacturers are busy developing pure electric vehicles in line with the direction of global automotive landscape, Toyota has been exploring the possibilities of using hydrogen in the mix quite some time.
Having begun the development of a hydrogen fuel cell electric vehicle from as early as 1992, only in 2014 the world understood how serious Toyota was when the brand unveiled the Mirai sedan.
The tech that the Mirai brought with it was definitely groundbreaking as all we had at the time of its debut were Hybrid Electric vehicles (HEV), Plug-in Hybrid Electric vehicles (PHEV), and Battery Electric vehicles (BEV), and now, there is also a Fuel Cell Electric Vehicle.
Toyota did sell the Mirai in markets like the United States, but due to limited availability, not many were sold.
But that is all going to change as Toyota has officially unveiled the latest, updated second-generation Mirai with a comprehensively redesigned fuel cell system, intelligent packaging, and aerodynamic efficiency help extend the driving range to around 650 km, with no other emissions than pure water.
Built on Toyota's modular GA-L platform, The 2020 Toyota Mirai's fuel cell stack has moved from beneath the cabin to the front compartment, allowing for a more spacious, five-seat interior with improved legroom for rear seat passengers.
As for the powertrain, the Mirai comes with Toyota's new fuel cell stack and fuel cell power converter (FCPC), which has resulted in increased power, improved hydrogen fuel capacity, improved efficiency, and better aerodynamics, contributing to an extended driving range by 30% to around 650 km.
The new Mirai is equipped with lithium-ion high-voltage battery in place of the current model's nickel-metal hydride unit. Although smaller in size, it is more energy-dense, giving higher output and superior environmental performance. While the overall weight has been reduced from 46.9 to 44.6 kg, the output has improved from 25.5 kW x 10 seconds to 31.5 kW x 10 seconds.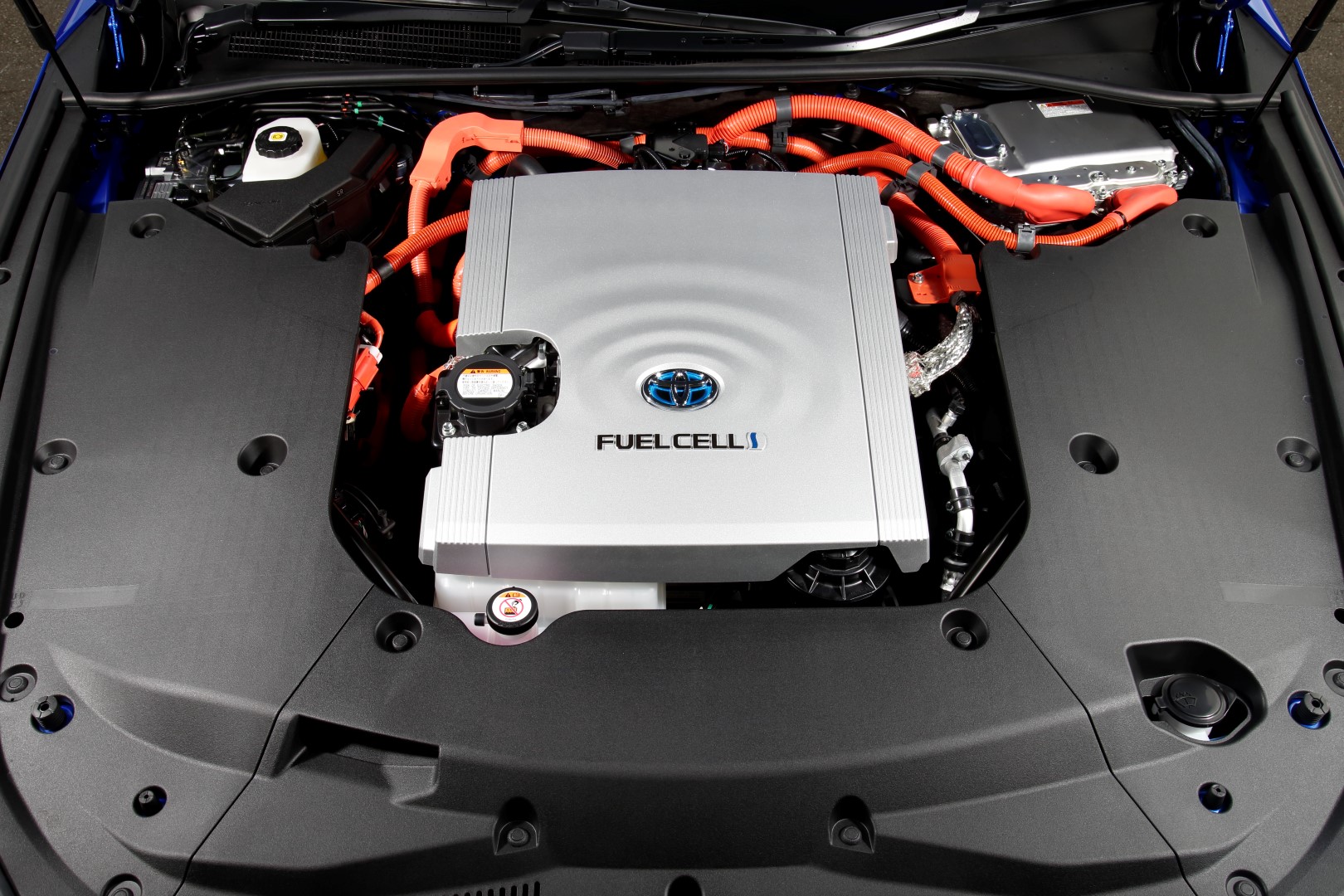 The new platform also accommodates new multilink front and rear suspension in place of the previous front MacPherson struts and rear torsion beam arrangement. This set-up provides a high level of stability, controllability and ride comfort.
The new Mirai also displays more attractive vehicle proportions. Overall height has been reduced by 65 mm to 1,470 mm, and there is a 140 mm increase in the wheelbase (2,920 mm). With the rear overhang extended by 85 mm, overall vehicle length is now 4,975 mm. A 75 mm increase in the track width and the use of larger, 19 and 20-inch wheels add to the lower and more dynamic stance and visual sense of the new Mirai's lower centre of gravity.
Further benefits are gained from new Mirai's use of larger wheels and tyres. The 19 and 20-inch wheels are fitted with 235/55 R19 and 245/45 R20 tyres respectively, with low rolling resistance and quiet running, contributing to fuel efficiency, handling quality, stability and a quiet cabin environment.
The car's improved aerodynamics, with a lower roof line, full under cover and lower drag coefficient figure, plays its part too in raising the quality of handling and stability, and achieving the longer cruising range.
The new Mirai also delivers rewards from its improved driving character. The extra power produced by the new fuel cell stack and battery are harnessed for smooth, linear take-off, with acceleration harmonised with the driver's use of the throttle.
Last but not least, the environmental benefits of driving the Toyota Mirai go beyond zero emissions to "negative emissions" – as the car is actually capable of cleaning the air as it moves.
A Toyota innovation, a catalyst-type filter is incorporated in the air intake. As air is drawn into the vehicle to supply the fuel cell, an electric charge on the non-woven fabric filter element captures microscopic particles of pollutants, including sulphur dioxide (SO2), nitrous oxides (NOx) and PM 2.5 particulates.
The system is effective in removing 90 to 100% of particles between 0 and 2.5 microns in diameter from the air as it passes into the fuel cell system.
In case you're wondering if Toyota can actually sell this car, the company is targeting deeper market penetration with a 10-fold expansion in sales volume.
According to Toyota, this growth will be supported by the new model's stronger performance, greater customer appeal, and a selling price that will be reduced by around 20%.
9 total views, 2 views today