The ceremonial start for Dakar Rally 2015 was held in the Plaza de Mayo facing the presidential office in Buenos Aires, Argentina. The event of the day was ceremonial in the literal sense of the word, with racing vehicles returning to the vehicle storage in the Technopolis after they were paraded to the audience at the podium.
The contestants started the rally and raced their first bivouac early in the morning yesterday. An audience of reportedly several hundred thousand people gathered at the square and lined the streets, making this start a befitting one of a South American country.
The contestants started on their first day of the race to Villa Carlos Paz on the outskirts of Cordoba, Argentina. Although the SS makes up only 170km of the total distance of 833km for this day, crews had to stay on their toes as the segment featured risky high-speed sections consisting of straight tracks and right angle turns on ranch roads.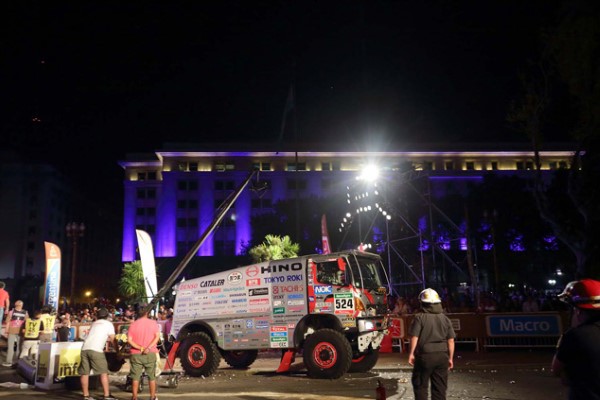 Yoshimasa Sugawara of the Hino team said, "I never cease to be awed by the passionate support of the Argentinian fans. I will be taking it easy early in the race as this is the first year where I will be driving on XZL+ tires (Michelin), and also because our suspensions have undergone major modifications."
ather sprint oriented. That said, we won't have to push too hard for speed because our truck's performance potential is much higher now. To that extent, I think it will be that much more straightforward for us. Our major concern is running into trouble so we will take it easy in the early part of the race.