UD Trucks and its sole distributor partner, Tan Chong Industrial Equipment Sdn Bhd presented the all-new light duty truck, Kuzer, a truck that is made to deliver extra for customers. Kuzer is the newest member of the UD Trucks range joining the popular heavy-duty Quester and the medium-duty Croner in the list of offerings by the leading Japanese truck manufacturer.
Exhibited for public preview at the launch of the highly anticipated Kuala Lumpur International Motor Show (KLIMS) 2018, Kuzer, the new light duty truck combines a powerful and robust engine with agile and practical design for exceptional performance and maneuverability. Kuzer is made to deliver extra with its robust build and design, modern solutions and strong engine power.
Made to Deliver Extra
"We are very happy to be to be back for the 9th KLIMS and to showcase our latest innovations in trucking solution for smart logistics. Together with our long-time partner, Tan Chong Industrial Equipment, our participation in this important industry event is a response to market demand for logistics solutions that can maximize productivity and uptime. As such, we are proud to put on public preview our latest addition, the all-new light duty Kuzer in Malaysia. Following the vision of UD Trucks' founder, Kenzo Adachi to make the truck the world needs today". Kuzer is the perfect truck for urban driving, especially the narrow roads of inner cities," said Steve Hedouin, Managing Director, Hub Malaysia and Oceania, UD Trucks.
The name 'Kuzer' is inspired by the Japanese onomatopoetic sound of wind, taking on the meaning 'run as if flying swiftly against the wind'. Kuzer is the ideal truck for urban distribution and a perfect combination for both business owners and truck drivers as it delivers reliability, durability, fuel efficiency, power, performance, comfort. Kuzer comes with a modern touch and carries the UD Trucks' heritage and design of the hexagon grille, a family look that can also be found on the Quester and Croner.
Built with the latest Japanese technology, Kuzer is flexible enough to pass through tight and limited road access, maneuver optimally with its short radius, providing a pleasurable journey. Kuzer has the largest cab in its class, providing the driver a spacious and comfortable environment when driving or taking a short break. Combined with a new generation of CRS engine, the Kuzer offers superior power and performance, taking the light duty commercial truck productivity to the next level.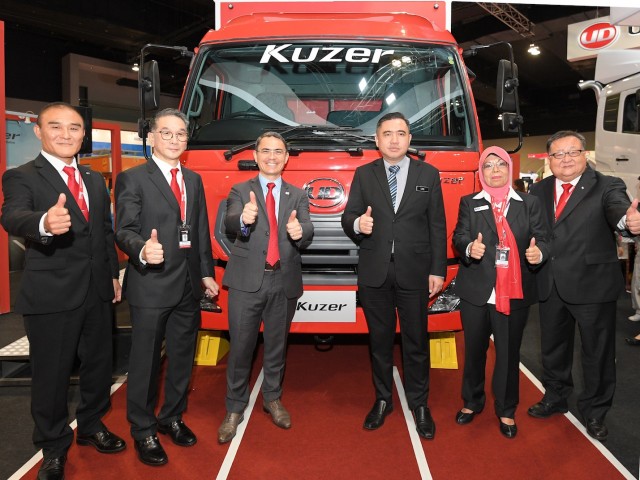 Kuzer is set to revolutionize customers' day-to-day business and it is the perfect light duty truck for modern city distribution. The optimized engine, gear ratio and aerodynamic cab design of the Kuzer gives superior fuel efficiency, hence lowering cost and increasing profitability.