Having been around since 2005, the Toyota Aygo is a small city car that is quite popular in Europe. Currently in its second generation, the car was co-developed by Toyota and the PSA Group and was also rebadged and sold as the Citroen C1 and Peugeot 107 in many parts of the world to those looking for a zippy and reliable little city car.
Appealing to a young and style-conscious audience, the Aygo's lively character and engaging driving dynamics have attracted many new European buyers to Toyota, and in an effort to take things a notch higher, Toyota has given a glimpse at the future of the car through the Aygo X Prologue which was unveiled yesterday.
No technical details yet
No technical details have been disclosed yet as what we're seeing here is a preview of what are set to succeed the Aygo in Europe in the near future. One thing is certain though – it will look more like an SUV than a car as there is such high demand for SUVs these days.
Designed by Toyota's European Design Headquarters ED2, the Aygo X Prologue features a very radical design, with significantly larger wheels and higher ground clearance than the current Aygo.
A bold bi-tone execution creates a unique graphic profile that grabs attention in the street by emphasizing the car's readiness to leap forward into action.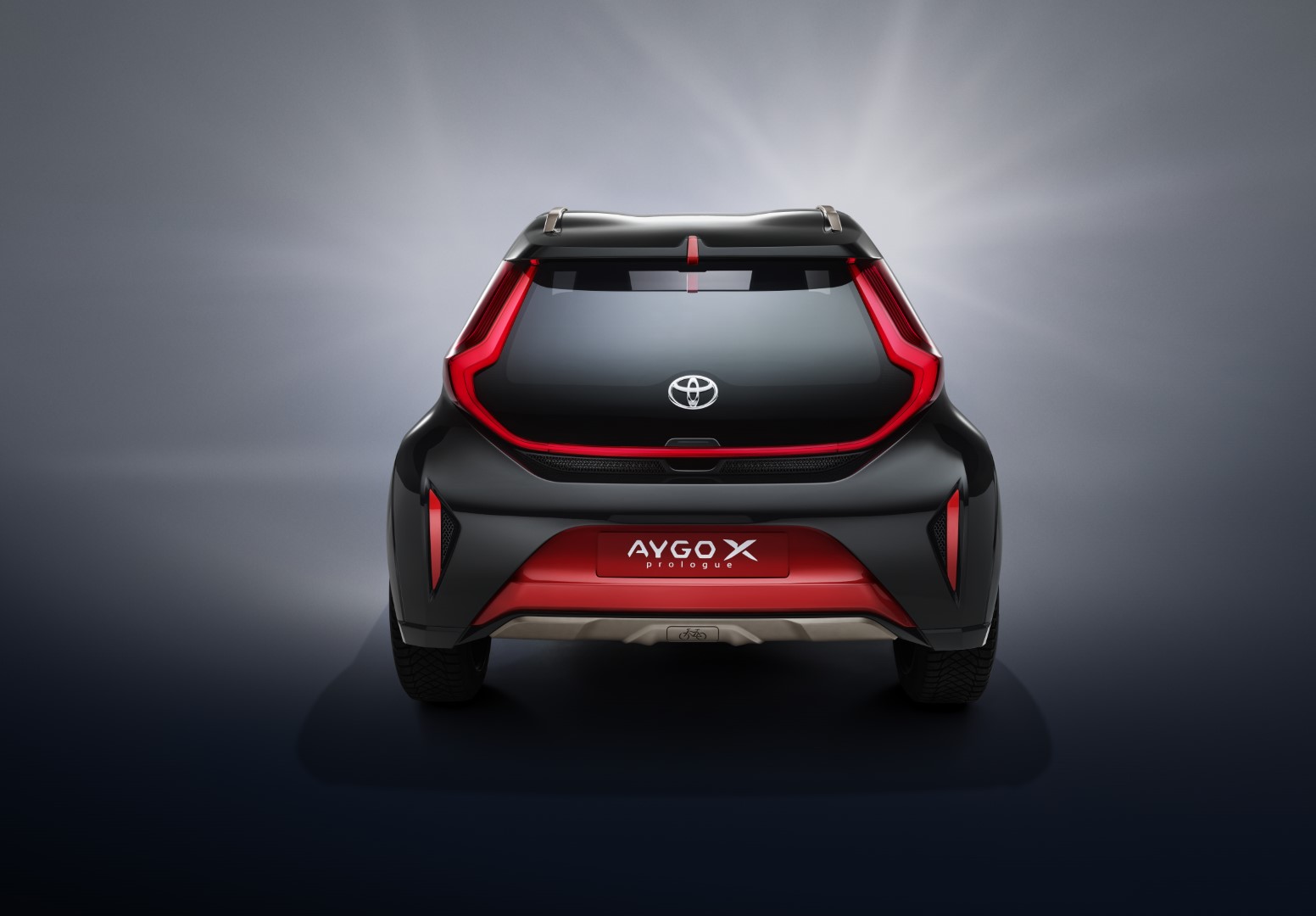 A new wedged roofline also increases the dynamic feeling for a more aggressive sporty image. While at the front, high-tech lamps hug the upper hood to form a wing-like shape. Lower to the ground, the large grille, fog lamps and skid-plate all build on the hexagon theme, showing that this car is ready for some action.
And then we have a rear skid plate which houses a bicycle-holder mount, an action-camera mounted on the door mirror, an integrated roof rack and the hexagon tail lamps inspired by the existing Aygo.
Blue metallic flake
The body colour we see here is taken up yet another notch by the inclusion a fine sprinkling of blue metallic flake into the paint mix. The resulting dazzling effect makes the colour fully deserving of its name of "Sparkling Chilli Red."
According to Toyota, the Aygo X prologue is a bold illustration of just how much attitude a small car can have. With this prologue, Toyota reimagines how the A-segment could be spiced up.
Unlike previous generation models, the Aygo X will not have any French co-developed sibling models as both Peugeot and Citroen are no longer interested in the European A-segment market.
That being said, watch this space for more updates as the interior, powertrain options, and many other details will surface in the near future as we approach the global unveiling.