I am sure some of your reading this have ridden in the Coaster shuttle bus used by Jaya Jusco supermarket or your town council. More than 550,000 have been sold globally since the model name was adopted in 1969, doing service as hotel shuttles and private minibuses in more than 110 countries. Having clocked up 24 years of loyal service, the current Coaster is being replaced with a safer, more spacious new model.
As in the car world, people expect modern shuttles to be safer, cleaner and roomier than their predecessors. Not only does the new Coaster need to tick all these boxes, it needs to be ready to serve for decades to come, just like the long-lasting current model.
On the safety front, the Coaster makes use of a new ringed body frame which bonds the roof, sides, and floor into a rigid body for better rollover safety performance. Toyota has fitted stability control to make sure keen bus drivers don't overcook things while they're trying to slide around, too, and all seats are fitted with pre-tensioning seat belts, although only the driver and passenger get airbags.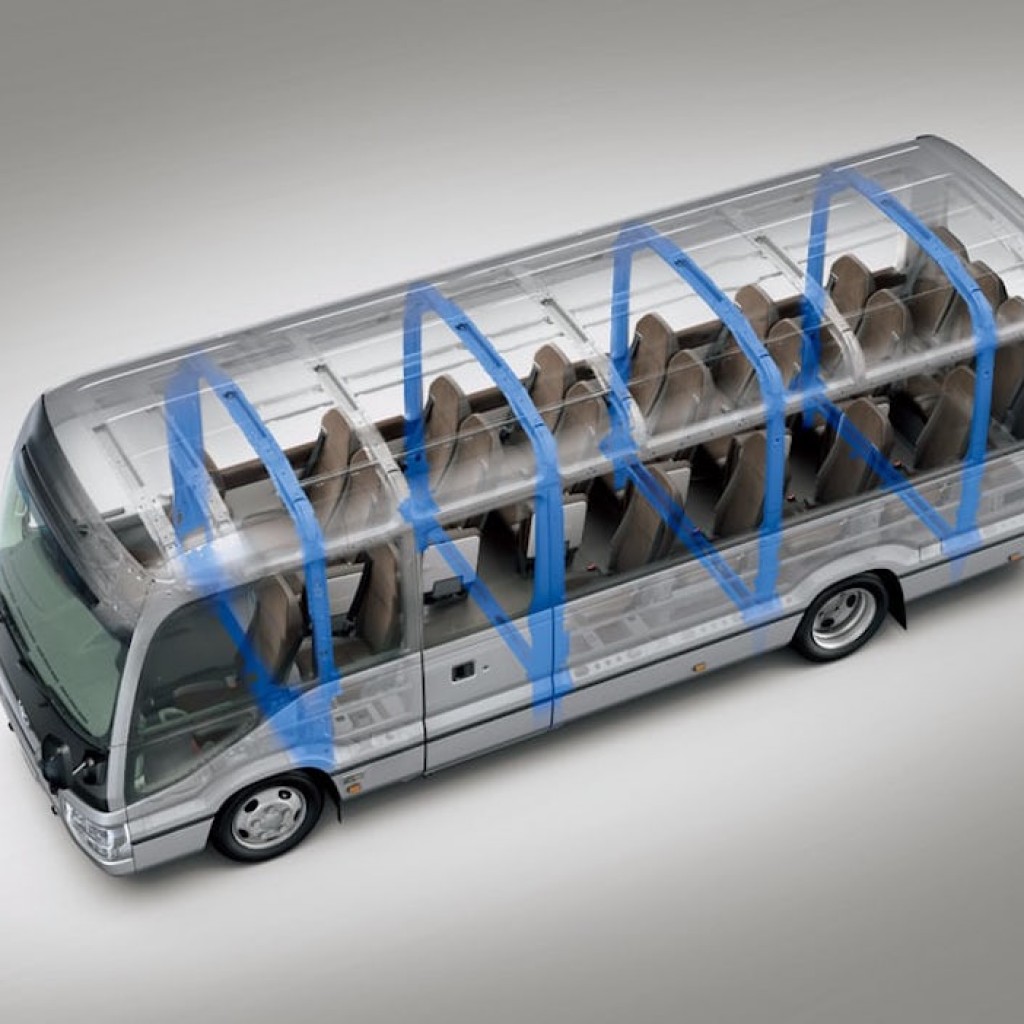 The ringed body frame should also help to improve ride quality and refinement, as will new sound deadening materials, a new engine cover and enhanced body seals. Front and rear stabilizers along with new shock absorbers should help the bus ride nice and flat, even when it's loaded up with screaming school kids or merry adults on a winery tour.
All those passengers get to enjoy a roof that's 60 mm (2.36 in) taller, a body that's 40 mm (1.57 in) wider and side windows that are 50 mm (1.97 in) higher than before. UV glass will keep the cabin cooler, and the leather/fabric seats with low-rebound cushions have been designed for extra long-range comfort.
Although styling isn't the number one concern with buses – they are long boxes on wheels, after all – Toyota has put some thought into the way the Coaster looks, with new lights and character lines running along the side.
There's no word on how much the new Coaster will cost, but Toyota is hoping to sell 160 per month in Japan.