Scania Delivers Malaysia's First Temperature Control Boxed Truck
Scania Malaysia recently delivered the brand's first temperature- control boxed type Rigid P250B4x2NZ New Truck Generation (NTG) in Peninsular Malaysia to Bengteng Truckking Services Sdn Bhd (Bengteng).
This delivery completed the latest purchase of five Scania New Truck Generation units made up of three prime movers G360 A4x2NA and two Scania P250B4x2NZ boxed type rigid trucks.
Bengteng's first heavy-duty trucks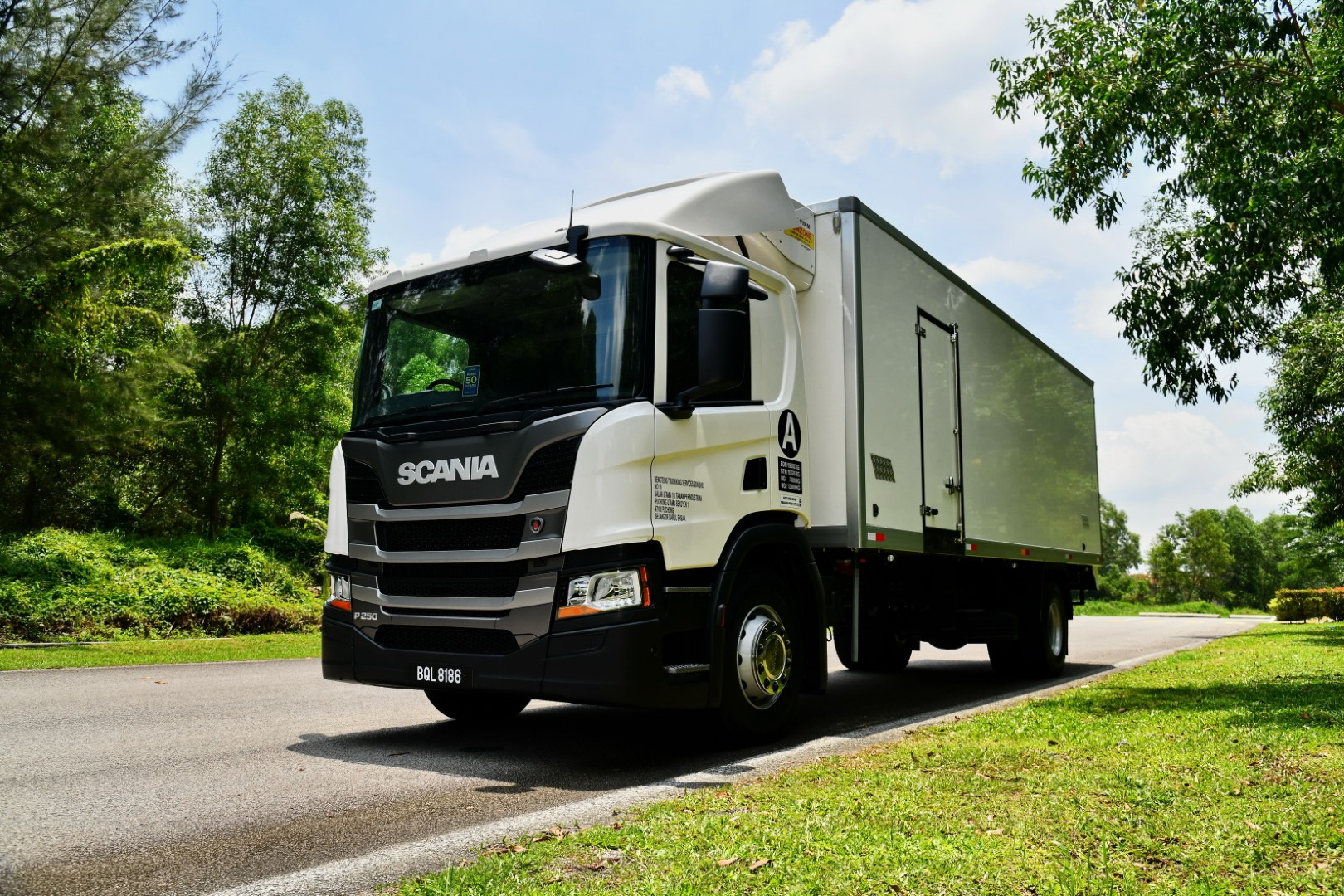 The Scania prime movers will be the first heavy-duty truck that Bengteng will be using since inception.
In conjunction with Scania's First 50 Years celebration the key was handed over by Gary Chin, National Sales Manager for Trucks, Scania Malaysia to Chong Wai Choong, the founder and owner of Bengteng.
"The decision to invest in the Scania New Generation Trucks was a wise one as Bengteng's orders from Singapore have picked up and the volume have increased amounting up to five (5) 40-footer container loads per week, justifying the first three (3) Scania prime movers purchase," said Denice Chong, Business Development Manager, Bengteng Truckking Services Sdn Bhd.
Temperature controlled rigid truck
"The temperature-controlled Scania rigid trucks are best suited for the transportation of frozen, chilled, fresh, dry and other temperature sensitive and perishable products," added Denice.
The Scania Rigid has a cabin that is one of a kind with adjustable seat that is close to the door, ergonomic instrument panels and a large windscreen with extended view making it easier for the drivers to operate in a comfortable and safe environment.
The Scania rigid is also designed to give truck owners better fuel efficiency and lower CO2 emissions as it is equipped with advanced powertrain and aerodynamic solutions that improve fuel economy by up to three percent.
Bengteng Truckking
Formerly known as Bengteng Trading, family-owned Bengteng Truckking was established in 1990 and operates a fleet of more than 100 trucks, ranging from 1ton, 5ton, 10ton and 40ft trailer based chartered service.
The main specialisation is the transportation of food products by using temperature-control rigid trucks of various sizes to the four corners of Peninsular Malaysia, Pangkor and Langkawi Islands and Singapore. And now the Scania prime movers are transporting with temperature-controlled containers ensuring customers perishable goods arrive at its freshest.
"Both the prime movers and the rigid trucks give excellent fuel economy and the best uptime any truck operator could hope for. In fact, the customised flexible financial solutions provided by Scania Credit Malaysia, gives predictable cost over the vehicles' lifecycle."
"We are pleased Bengteng has put in an order for two more prime movers signifying the satisfaction in the level of services that Bengteng and its customers are beginning to experience," concluded Gary.
616 total views, 1 views today