Porsche has unveiled arguably the most insane version of the Cayman ever – the Porsche 718 Cayman GT4 RS.
The new flagship model in the 718 family is powered by the same 4.0-litre NA flat-six engine as the 911 GT3 which produces 500 PS and 450 Nm of torque. Like every modern RS model, the new 718 GT4 RS is exclusively available with the Porsche dual clutch transmission (PDK).
Weighing 1,415 kg, the Porsche 718 Cayman GT4 RS sprints from 0 to 100 km/h in just 3.4 seconds, and has a top speed of 315 km/h.
Compared to the 718 Cayman GT4, the 718 Cayman GT4 RS has an extra 80 PS, resulting in a weight-to-power ratio of 2.83 kg/PS. Maximum torque has been increased from 430 to 450 Nm.
On the Nürburgring Nordschleife, it outperforms its sibling, the 718 Cayman GT4, by more than 23 seconds.

Among the striking features of the new, top-of-the-range 718 are the process air intakes behind the driver and passenger windows. The 718 Cayman normally has small side windows here.
In typical RS style, lightweight construction is a defining element of the new 718 Cayman GT4 RS design, resulting in an overall weight that is 35 kg less than a PDK-equipped 718 GT4.
The new fixed rear wing, its swan-neck attachment and aluminium wing supports, are a distinctive element of the exterior design. This highly efficient wing principle is derived from the Porsche 911 RSR GT racing car and was first adopted in a Porsche series production car with the 911 GT3.
In combination with the 30-millimetre-lower ride height compared to the 718 Cayman, the vents on the front wheel arches, the underbody panelling with connected rear diffuser, the multi-adjustable front diffuser, and the new front spoiler lip with flow-around side blades, generate 25 per cent more downforce than the GT4.

Modifications to the chassis also contribute to its greater performance. Ball joints bind the chassis tightly to the body to deliver even more precise and direct handling. The adjustable, circuit-ready chassis has an RS-specific shock absorber set-up, as well as modified spring and anti-roll bar rates.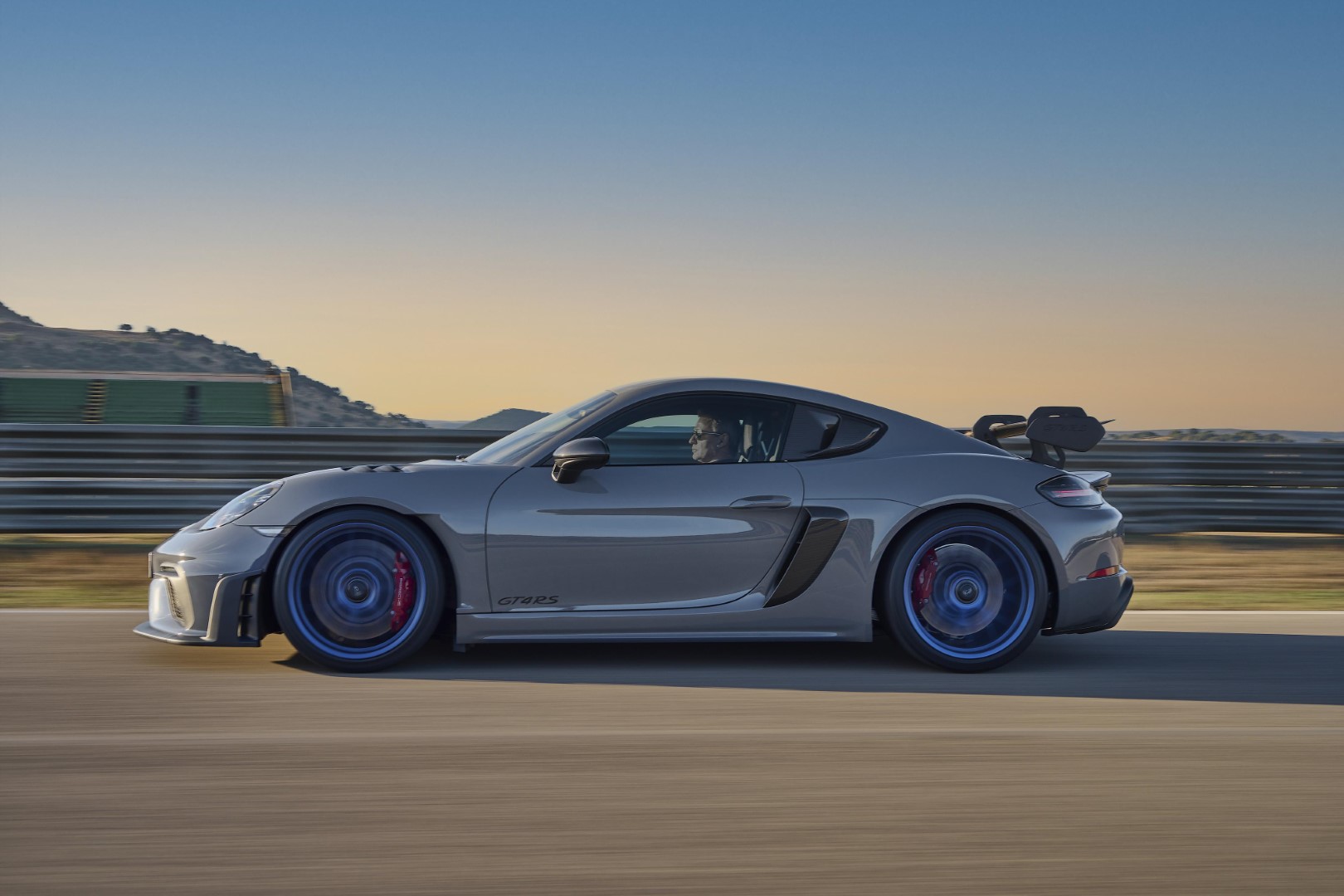 The titanium tailpipes look similar to the exhaust system on the Porsche 935. The fitted roll cage at the rear is also made of titanium. The upper section of the dashboard is upholstered in Race-Tex material and a large Porsche logo is integrated into the rear window.
All of these enhancements compared to the 718 Cayman GT4 make the GT4 RS the most uncompromising and sharpest member of the 718 family.