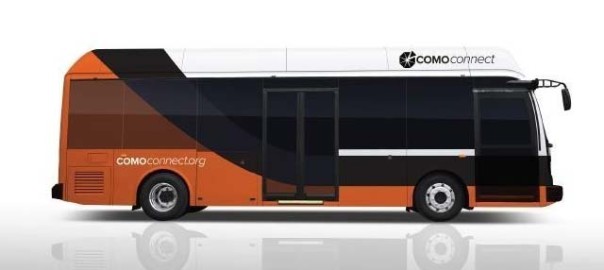 COMO Connect today announced that it is expanding its fleet by adding zero-emission, all-electric buses into service starting in June to better serve customers and reduce operational costs. The three (3), 30-ft, low-floor, all-electric transit buses will be supplied by BYD, the world's largest manufacturer of electric vehicles, with a battery that provides 144 miles per charge and can be recharged in only two to three hours.
The three, all-electric buses will provide significant cost savings in addition to dramatically improving local air quality by eliminating tailpipe emissions. The emissions benefits of operating one all-electric bus are so great that COMO estimates that it is roughly equivalent to removing at least 70 passenger vehicles from the road daily. Once in service, COMO Connect's three electric buses will be equivalent to removing 210 passenger vehicles from the road in the community daily. "These new all-electric buses match COMO Connect's goals and vision for creating a transportation system for the future in Columbia," said Drew Brooks, multi-modal manager for COMO Connect. "We leased an all-electric bus from BYD earlier as a demonstration and were very pleased with the results. The electric buses provided operational and fuel cost savings, were reliable on our service routes, and eliminated emissions thereby helping to improve our local air quality."
"BYD's all-electric buses provide a multitude of benefits to operator and passenger," said Macy Neshati, vice president of Coach and Bus for BYD. "The operator enjoys having a reliable bus that saves money and the passenger enjoys having a quieter, comfortable bus that is helping the environment by eliminating harmful emissions that cause air pollution." The buses are equipped with BYD-designed and built Iron-Phosphate batteries, delivering 197 kWh of power that come with a 12 year warranty, the industry's longest electric battery warranty available.
For more information, visit www.comoconnect.org