While ministers, celebrities, the rich, and the powerful with G-Class SUVs, Hummers, and Ford F-150 Raptors in their garages took like a week to even "react" to the recent floods, many unsung heroes have stepped up and won our hearts with their heroic acts, and on top of the list right now is none other than "Abang Viva" Aswan Omar here.
The 29 year old lad from Melaka went viral on Social Media after driving all the way from Melaka to Shah Alam last Saturday to help rescue victims of the flood in a Perodua Viva with a boat tied to the roof of a car.
"Equipped" with nothing more than RM50, a loaf of bread, and drinking water, Azwan decided to come to the aid of flood victims in Puchong and Sri Muda, Shah Alam the moment he read about the disaster on social media.
Realising that things were going from bad to worse very quickly and that help was taking time to arrive due to the dangerously high level of water, Azwan, who had just purchased a small boat a couple of months ago, knew that his boat can actually be used to rescue stranded victims.
Without wasting any time, he borrowed his sister's black Perodua Viva and his friend's motorboat engine, and drove straight to Puchong where his boat was used to rescue many flood victims who were stranded in their houses.
From Puchong, he went straight to Sri Muda and helped to rescue and send aid to even more victims of the floods. The best part is that Azwan didn't know any of the people he decided to help.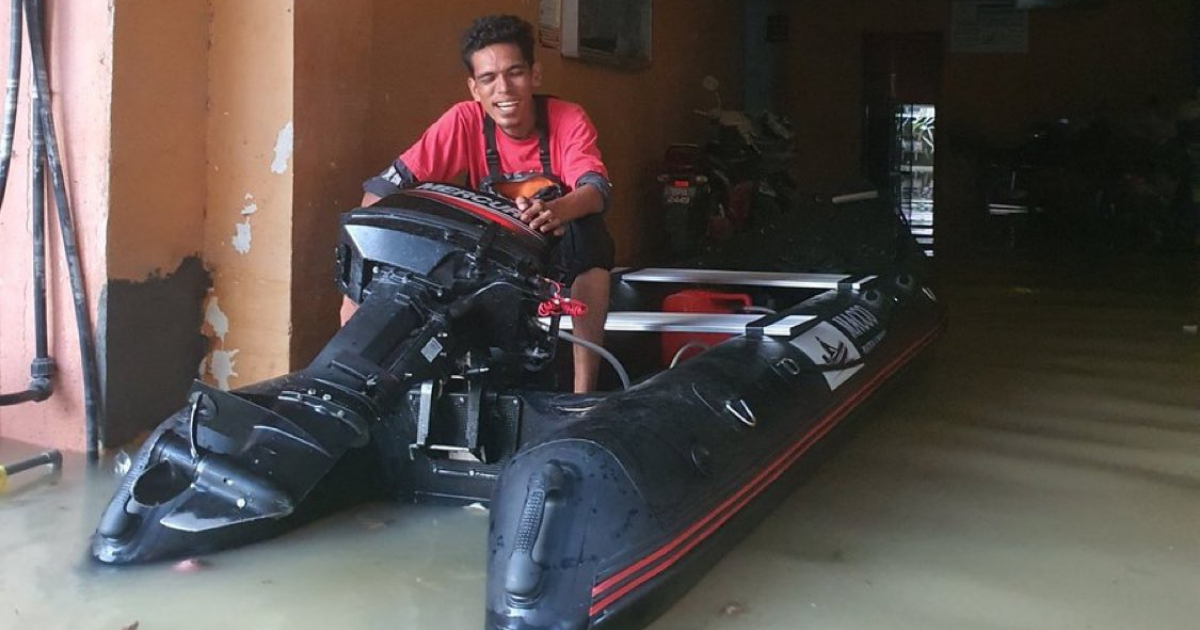 "I was actually shaken and shocked when I saw how bad the flood was in Selangor via social media. When I read that boats were needed to rescue those who were stranded, I knew that I could lend a helping hand," said Azwan when he was interviewed by Astro Awani recently.
"After having a quick word with my father who was actually using the Viva at that time, I borrowed the car and got one of my friends to lend me the engine for my boat, took the RM50 which I had for emergency expenses, and headed straight to Selangor as the victims were in a desperate situation."
As more people started noticing Azwan and his good deeds in various locations, photos of his Black Viva with the boat on the roof started going viral on Facebook and Instagram as netizens started praising him for his kind heart and selfless nature.
Azwan, or "Abang Viva" as he is fondly called by everyone now, then decided to continue his efforts and headed all the way to Pahang to help victims in Temerloh and Mentakab.
As his popularity grew, many people and organisations approached Azwan and offered him with funds in return for his good deeds, but in typical "Abang Viva" fashion, he channelled all the financial assistance he received to the flood victims.
"I never asked for any form of help or assistance. I don't need it as I am able-bodied and I have a job. So, when people transfer money into my account, I distribute it to all the victims who I come across who actually need the money more than I do," said Azwan.
Just as many of us were beginning to believe that humanity is dying a slow death, it feels very heart-warming to know that there is still hope, and that there are many amazing human being among us who are actually real-life superheroes without costumes and capes like "Abang Viva" here.