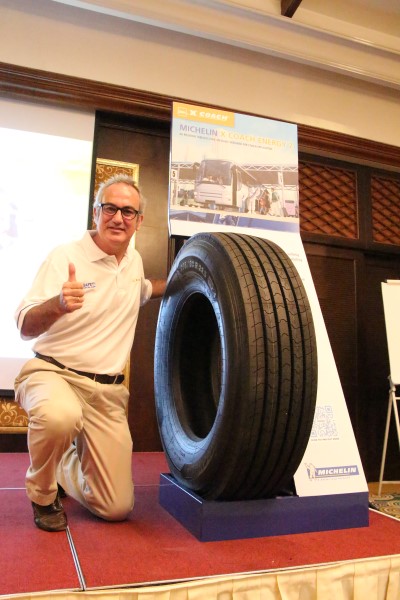 Tyre manufacturer supremo, Michelin showcases its latest innovation in the Asian market through their new coach tyre the Michelin X Coach Energy Z.
The French based company illustrated that their new tyre was especially designed for comfort and safety of coach passengers. By using the latest in tyre development technology, Michelin was able to create a tyre which is robust and resistant to road hazard damages.
Thanks to its innovative energy casing design, the tyre also promises to help operators to reduce downtime and costs through better fuel efficiency, without compromising tyre life and durability.
"When designing Michelin X Coach Energy Z, the main concern for us was how we could address the current needs of coach operators. This is important because when transporting people, safety cannot be compromised. The X Coach energy Z is al able to offer all of this with fuel savings, reduced downtime and a hugh tyre mileage. The combined performance is evidence of Michelin's goal of total performance in tyres which endures customer and their passenger's satisfaction" said Beltran Yturriaga, Managing Director, Michelin Malaysia Sdn Bhd.
At the launch, Michelin mentioned that improvement in resistance to its crown has been increased by 20 per cent compared to previous models. This translates into 20 per cent less tyre failure and related downtime, which include extreme accidents due to mishaps from crown area impact and failure.
The improvement in casing durability through reinforced bead and crown areas has also increased the ratio of retreadibilty of the X Coach Energy Z casing, which also helps operators to reduce costs through long lasting usage.
Not only is the X Coach energy Z durable and long lasting, it is also fuel efficient as the new casing and tread design lowers rolling resistance to improve fuel efficiency up by 10 percent compared to standard radial tyre. Reducing rolling resistance is another key performance characteristic of Michelin tyres which allows users to save fuel and reduce the environmental impact of their vehicles and operations.
Michelin X Coach Energy Z all position tubeless tyres will be available in 295/80R22.5 size from May 2014.